I have been MIA this week, laid out with a combination ear infection/tooth infection. Multiple dentist and doctor trips and a few more to go kind of got me down, but not for long...
It is hard to feel sorry for yourself when you have so many awesome people helping you out (thanks for the chauffeur and babysitting services this week Dad!).
But enough about the bad, let's talk about the good. I have been meaning to show you a few things for a couple months!!! The first being the new buffet in our dining room. There wasn't anything wrong with the white one that was previously in there, except that it wasn't long enough to really fill the wall (you can see that one here). I wasn't actively searching for anything but one quiet evening in June I stumbled across this wood cabinet in the back of a clearance area in HomeSense. It didn't jump right out at me as something I adored, but I found myself staring at it for a more than a few seconds.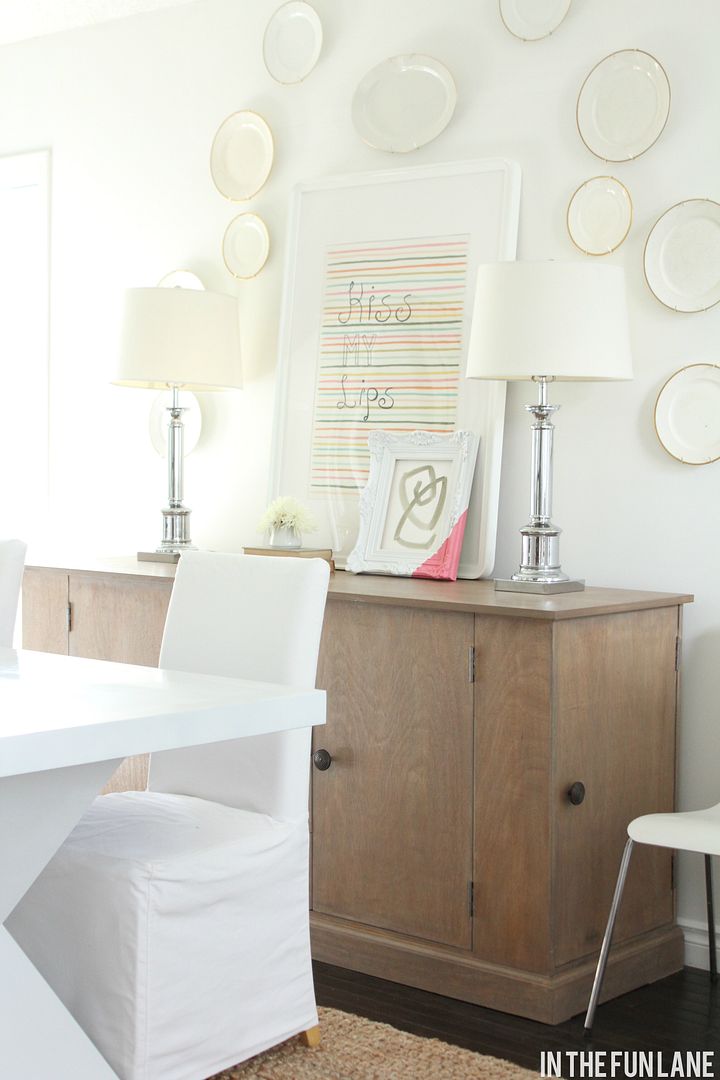 I knew I loved the color, but I wondered what was drawing me to it... I realized after continuing to browse the rest of the store that I loved it's simplicity. I liked that it wasn't a certain style. I tend to float around between eclectic, minimalist and vintage styles so this is a great basic foundation for whatever direction I feel like I'm currently pointing. The price tag read $500 which is a great price, but I will admit I've only ever spend that much money on three piece of furniture in our home (our living room couch, the dining room mirror and our master bed frame) so I did hesitate. But in the end I decided that at nearly 30 years old I should have a handful of decent (read non-ikea/thrifted) furniture I love so it came home.
The only thing I was not happy with is the hardware, but I haven't yet decided what knobs I want to replace them with.
The second shake up happened without any notice. I was out thrift shopping for books with my Grandma in late July when I saw this super sculptural wood table. I was big, chunky and NOTHING like something I would buy.
When I got home I kept thinking about it and decided that at $50 I was a fool to not buy it! So I went back a few days later, loaded it up and spent the next 2 weeks transforming it from a dinged up wood table to a sleek white statement piece.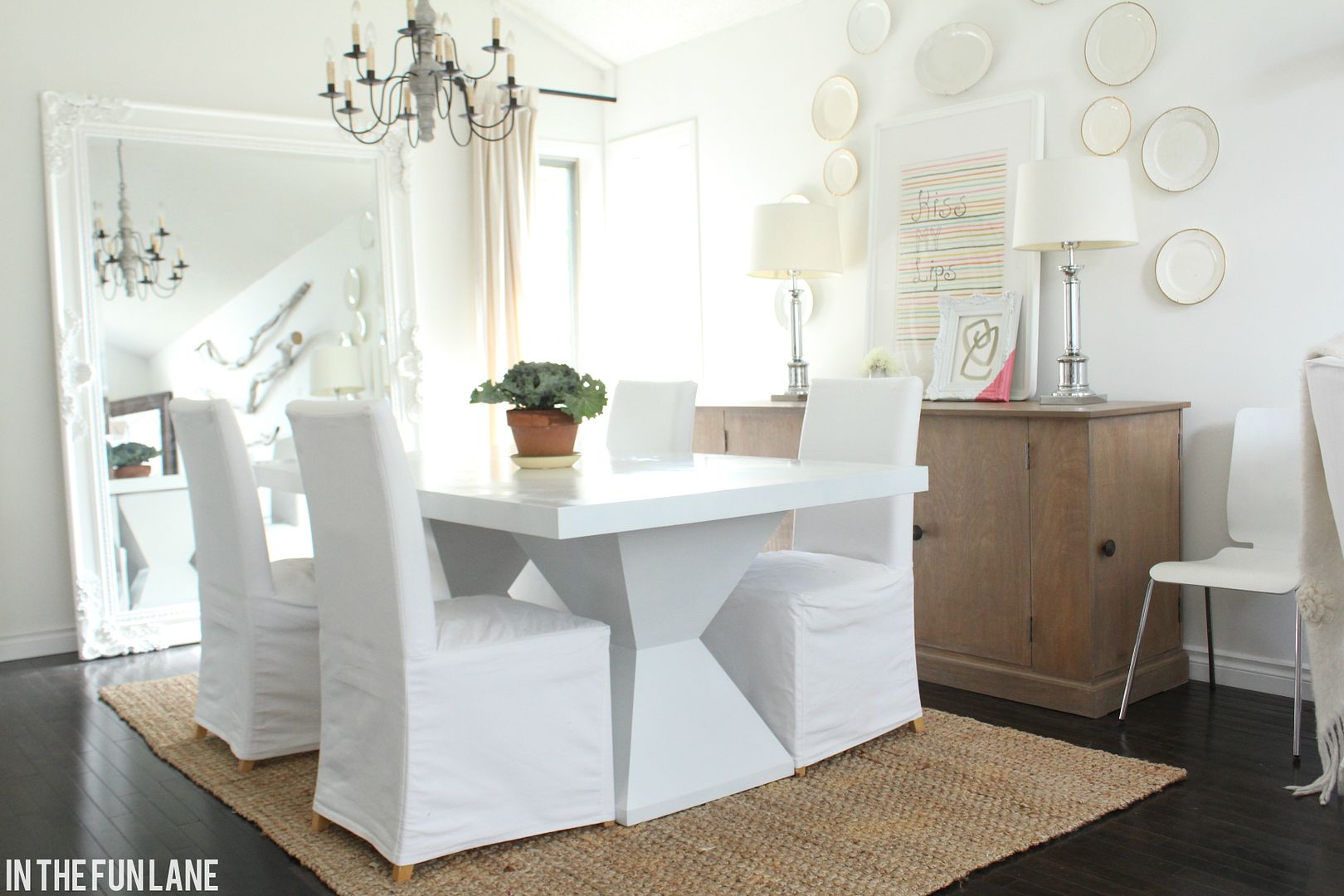 My family knows me so well, I found this cool vintage frame in a box of trinkets my Aunt sent over last year.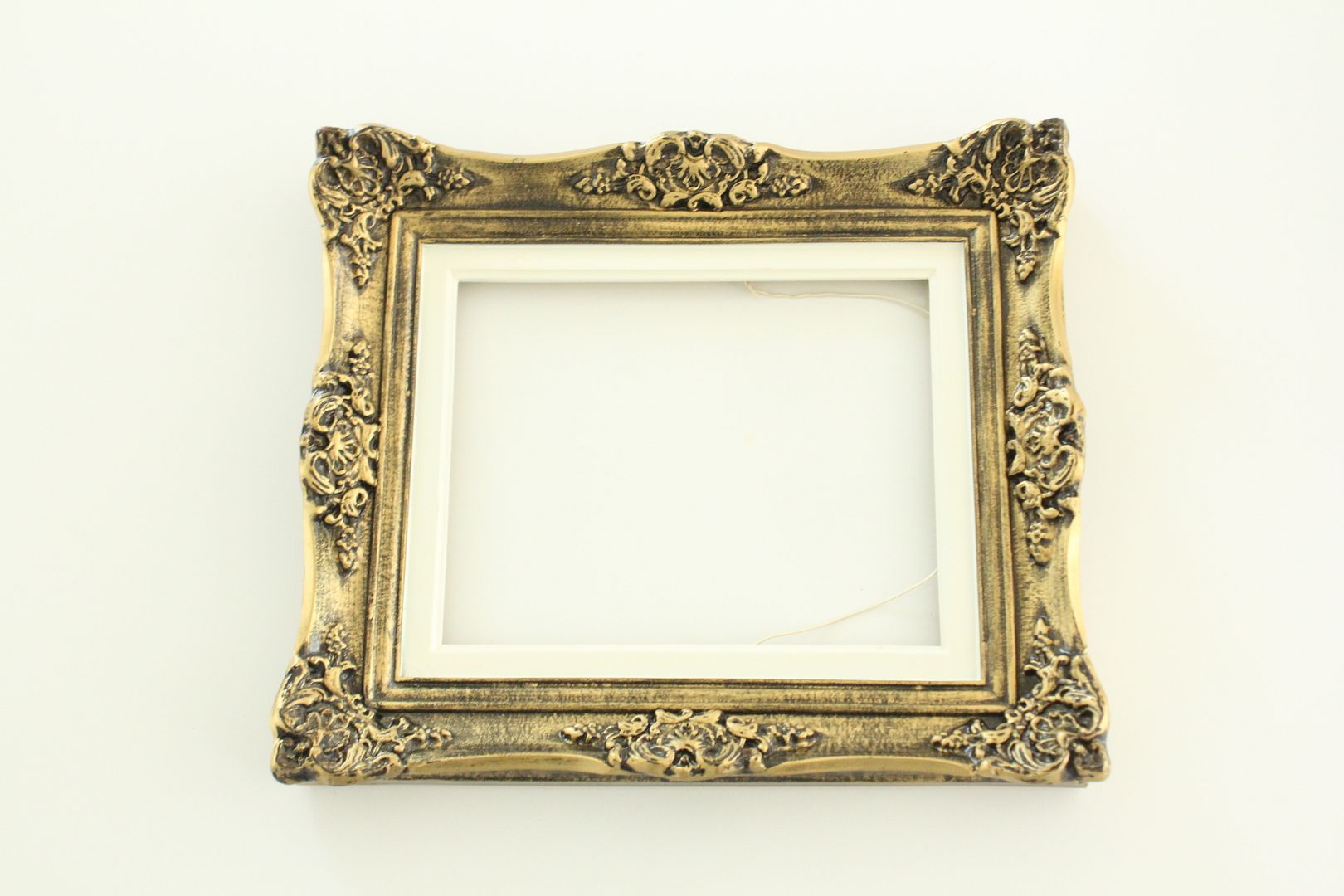 I finally knew what I wanted to use it for when I reorganized the room, so I painted it up. I love that it mimics the lines of the huge mirror in the back of the room.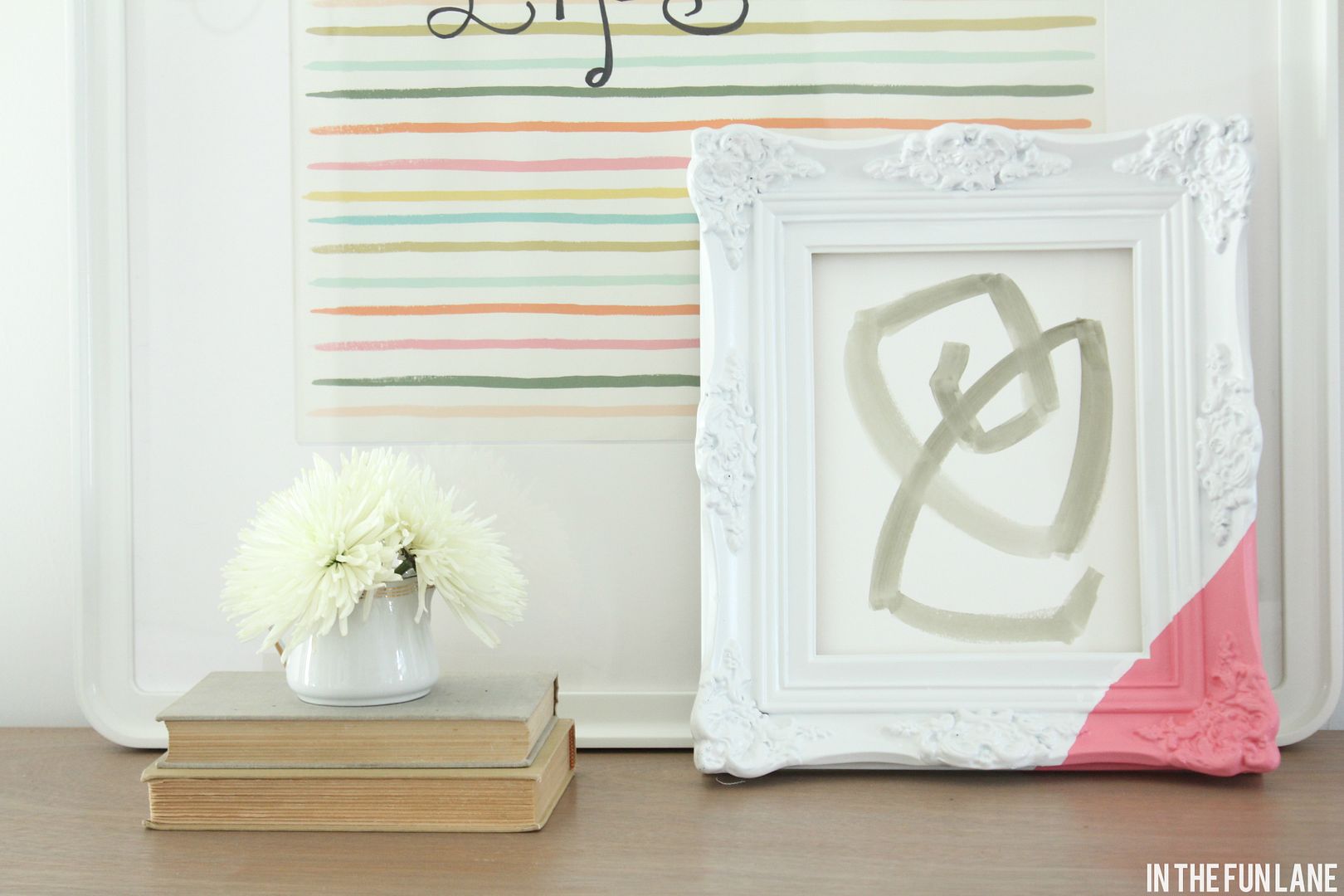 I have been on the hunt for a larger, longer light fixture for close to a year (ironic that I've replaced nearly everything else, right?) but I do kind of like how unexpected the table is with the light.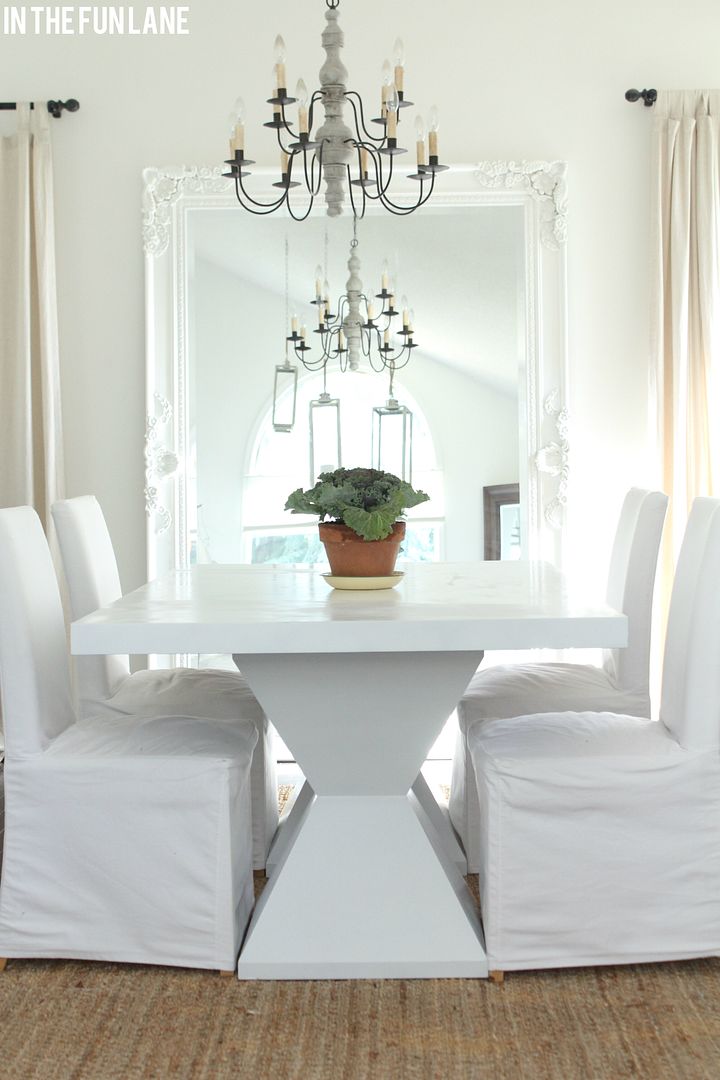 If you're wondering where the last table went, it's now up in my office where Wren and I have some serious room to get our craft on!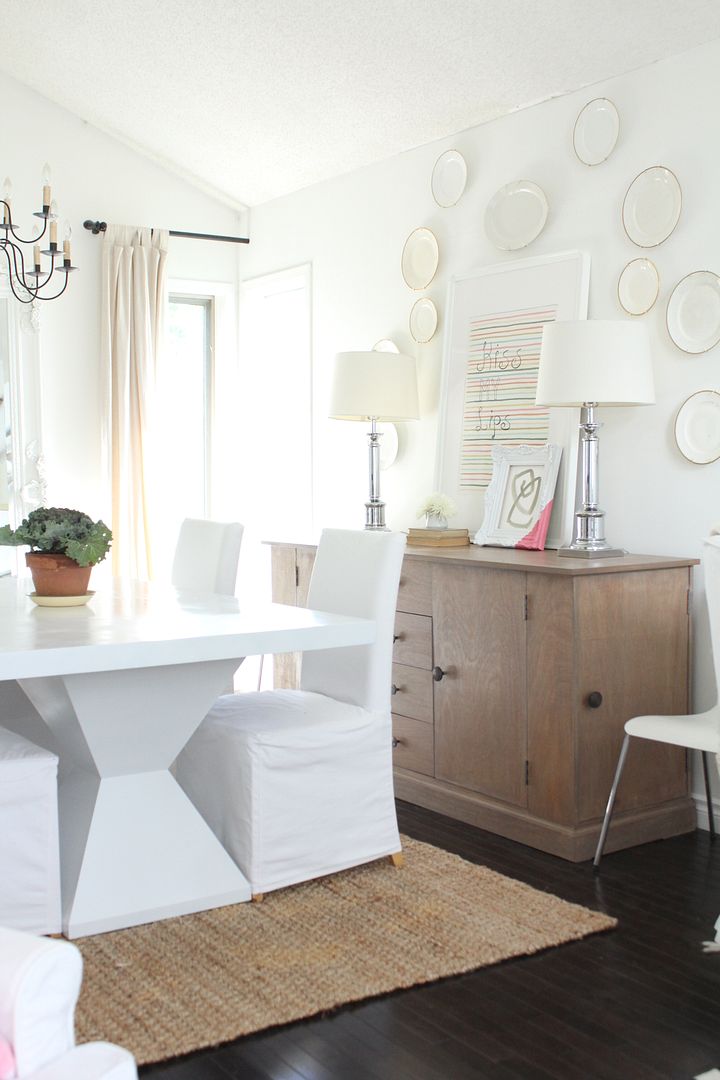 Old habits die hard for this girl, and the shuffle is always ongoing... but I know this is the happiest and best this big room has ever looked.