Wren and I made a strictly girls only house call yesterday to Cottage K. It was warm, sunny and I decided to get snapping my final exterior shots before the big fluffy stuff comes along, which could be any day now.
If you ever see one of my projects on MLS you will probably recognize all the shots! I like to take my own photos and send them along to my realtor. It isn't that her's aren't good or even great actually... it's that I am little overprotective of my creations. I like to make sure the light is perfect, the angles display everything the best and that it comes across in photos exactly how it feels to me in person. Crazy? Controlling? maybe... but it is just another part of the process that I highly enjoy. And I do this mainly for the fun and creativity, profits and business come second.
Long story short, we got our good outside shots out the way.
Then we hopped inside to touch up some paint and before you know it we were table sawing ourselves silly getting the shelves up!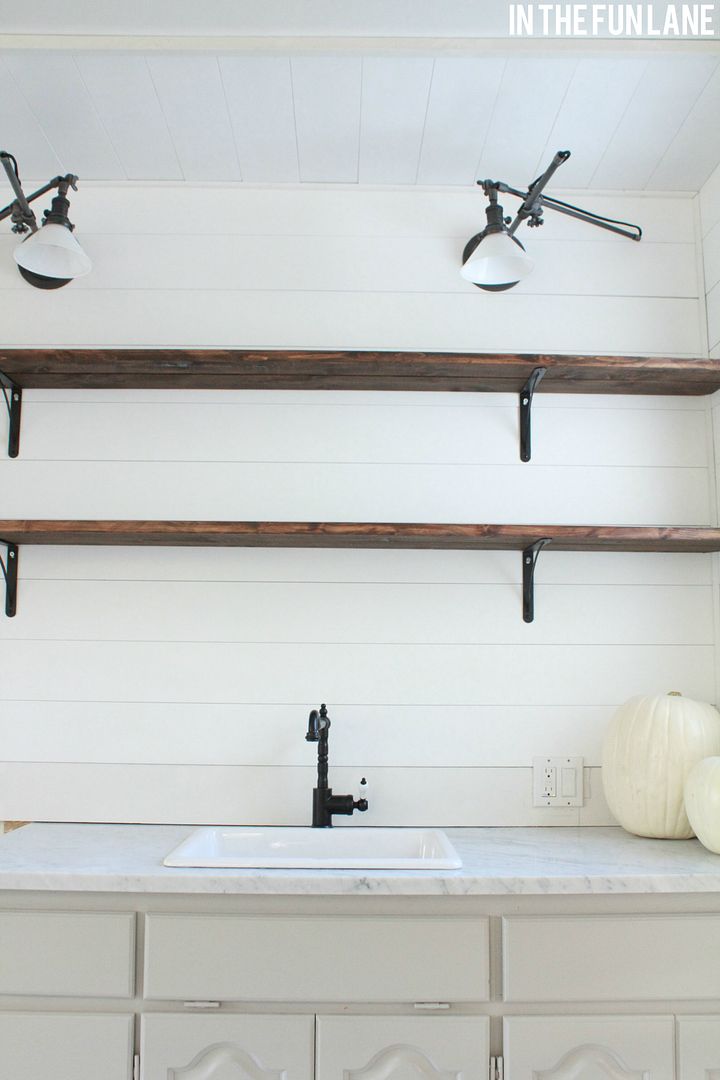 I was just tired of seeing it look a little sad and blank here (although infinitely brighter and cooler looking than before, if I do say so myself).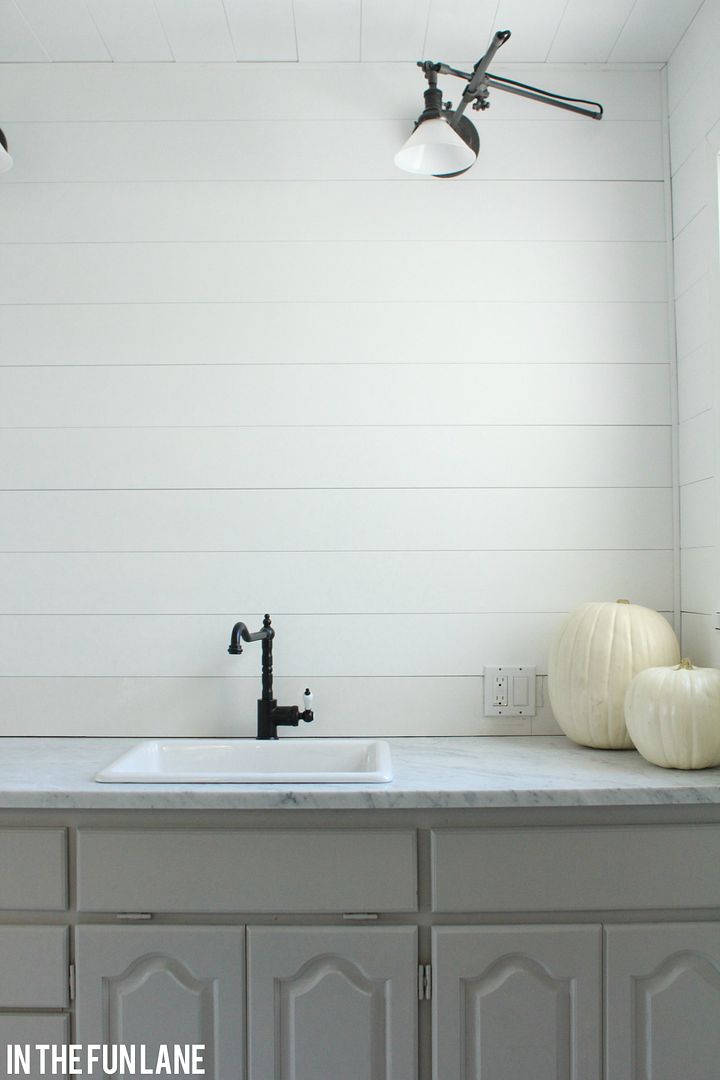 Also, ignore all the pumpkins, those were from the front porch for our photos. I swear I haven't been Fall-decorating a renovation!
I am so happy to see our plank wall 95% done (just trim in bottom of the window remains).
It was Sean's idea to run it up around the ceiling too and I love the 'alcove' is creates. Nice touch, Mr. B!
I am so happy with how it turned out, and even happier with the cost. This whole wall of shelves came to less than $50. I found these simple and classic brackets at Lowes for $1.58 each, and then custom cut and stained 10 foot long planks of cedar. I sourced some beautiful reclaimed and raw woods but they were going to be a minimum of $300 for planks long enough to cover this wall seamlessly... NOPE! So a few $15 planks of cedar decking I ran through the table saw for a nice straight edge did the trick (I didn't like the slightly rounded edge on pre-cut wood).
And yes, I did get around to my paint touch ups too! The bedrooms are as good as done once the new doors go in. I could seriously slap who ever decided a metal window would be a good replacement in the middle of the beautiful old wood ones, but there's not much I can do about it now. Either way, I am thrilled with how the windows POP! It will all come together entirely when our white and black decor starts to fill the rooms.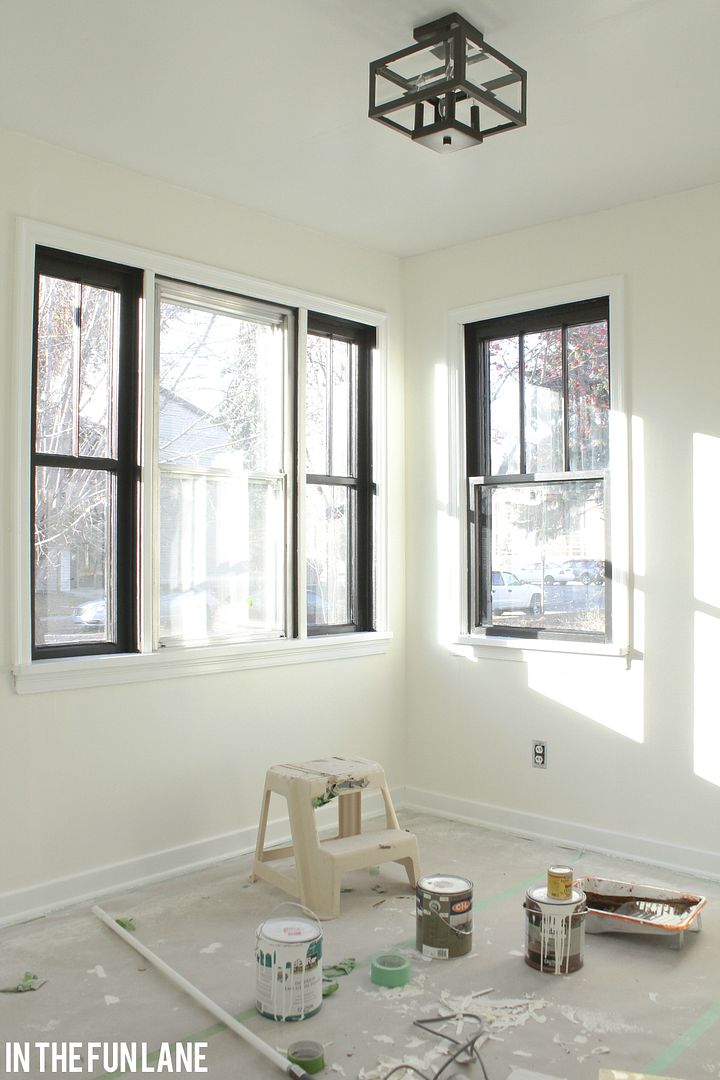 I love these Home Decorators lights from Home Depot, they are the perfect geometric touch to compliment all the squares and rectangles in the window.
The finished back room has been designated Fairytopia by Wren, who I will admit has enjoyed 1 or 2 treats from McDonald's this past month which is exactly how many times a year she usually has it. So you can imagine how much she has been loving hanging out in here.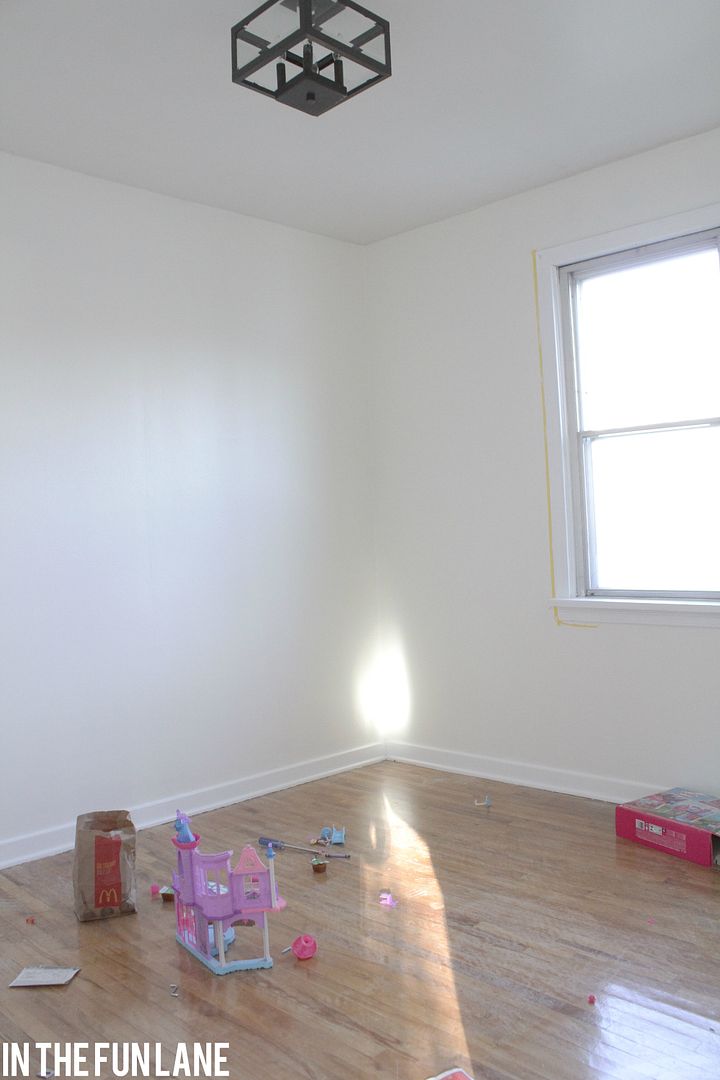 The boys are working on the rough plumbing for the bathroom (BORING, but so necessary) and then I can start rebuilding in there!