Thank you so much for your patience while I took a little sabbatical last week. And by sabbatical, I mean a chance to catch up on the disaster that has become my own home, as well as all the the odds and ends over at CottageK.
I am SOOOO excited to share the finished house! The only difference from previous reveals is that instead of doing it in one big, long, epic post (that seems daunting to write, let alone read) I am going to share a room or two every day this week. This gives me a chance to cover all the sources as well for anyone interested.
Today we are going to talk about the office, which may be my favorite room in the whole house. It is just so bright and happy, yet still light and airy.
You probably remember the before. It was filled with a giant old cabinet which had been there so long that the floors underneath had a totally different finish (forcing me to spend a few extra days refinishing them) and an abundance of 70's curtains.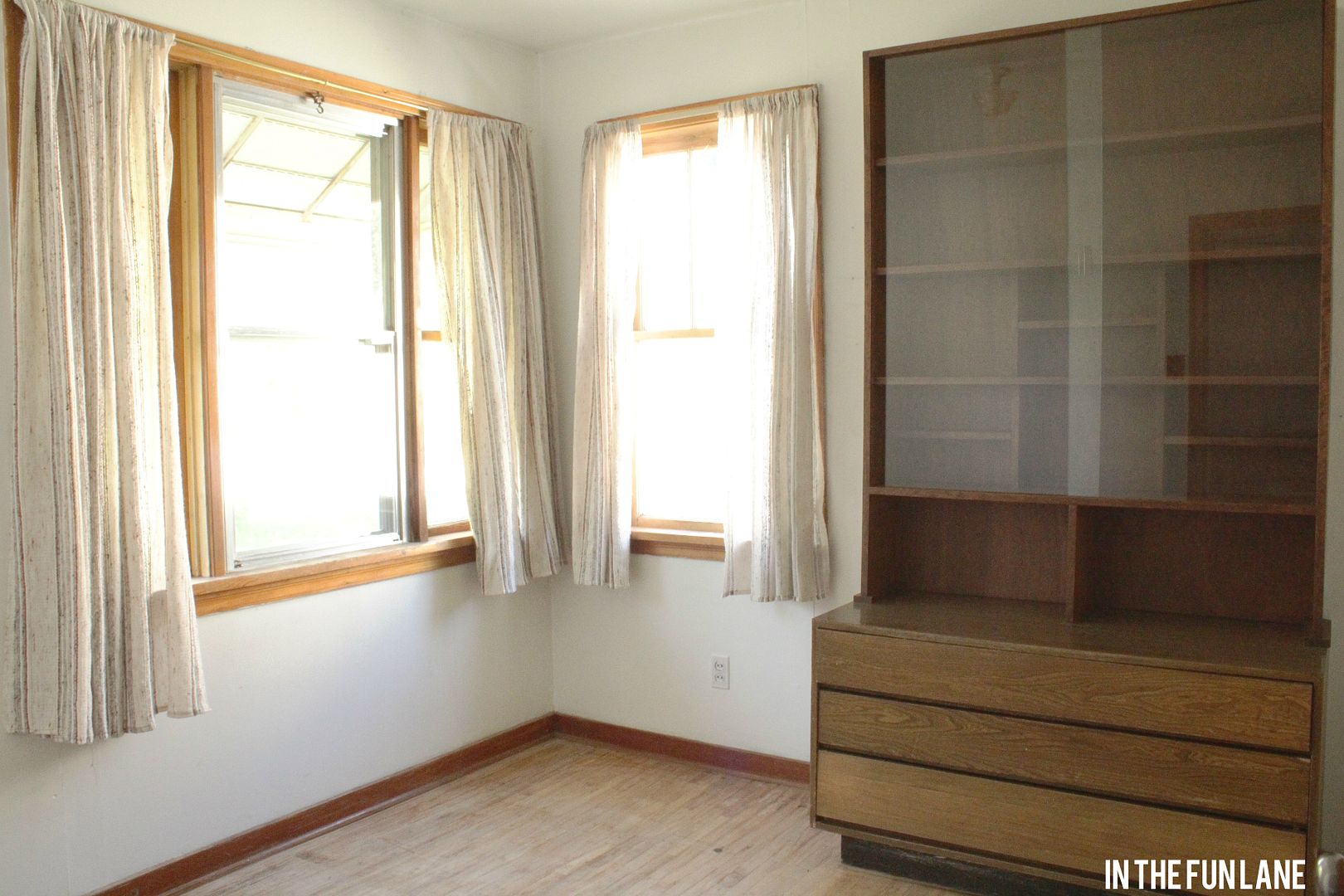 What did we do as far as renos in here?
I installed some simple millwork to the ceiling for extra detail and to add some dimension. I love the continuation of the squares and rectangles from the windows in the light fixture ($79, HomeDepot) and the new ceiling trim.
And as I mentioned, I refinished the floors, and then everything else was just paint (LOTS and LOTS of paint!).
The walls in the entire house are painted in a soft cream called Vermont Cream by Behr, the black is all Franchesca by Martha Stewart, and the white trim and ceilings are all untinted white paint.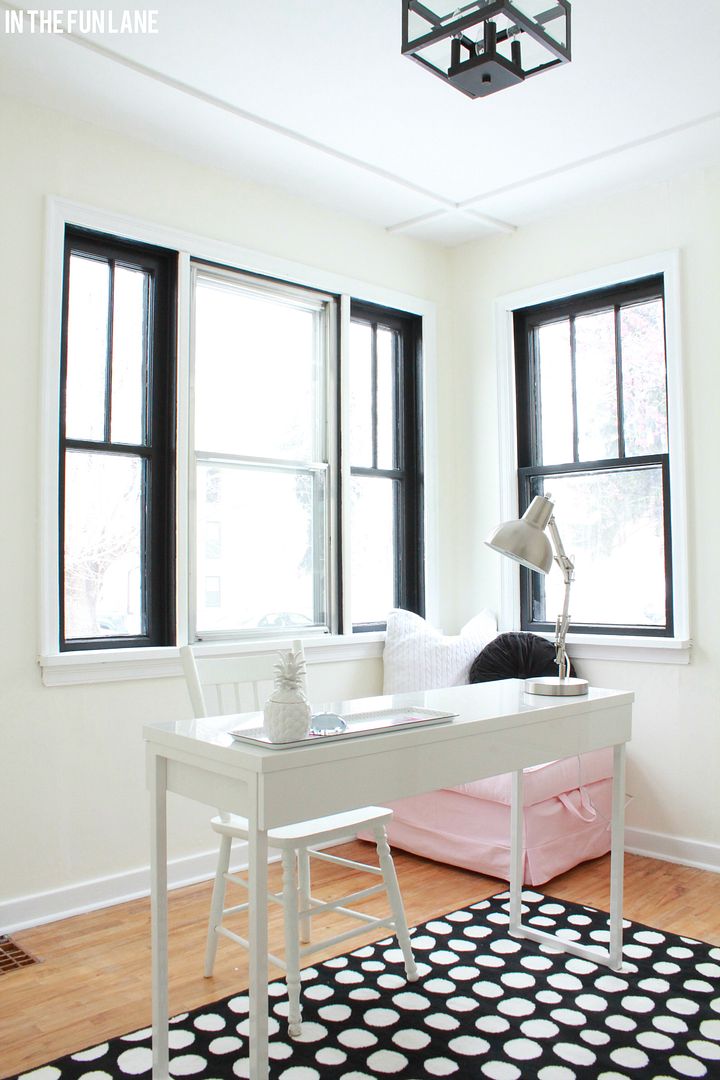 A sleek desk from Ikea and a vintage chair from a local thrift store make a sweet little work station.
(flamingo tray is also from Ikea this past summer)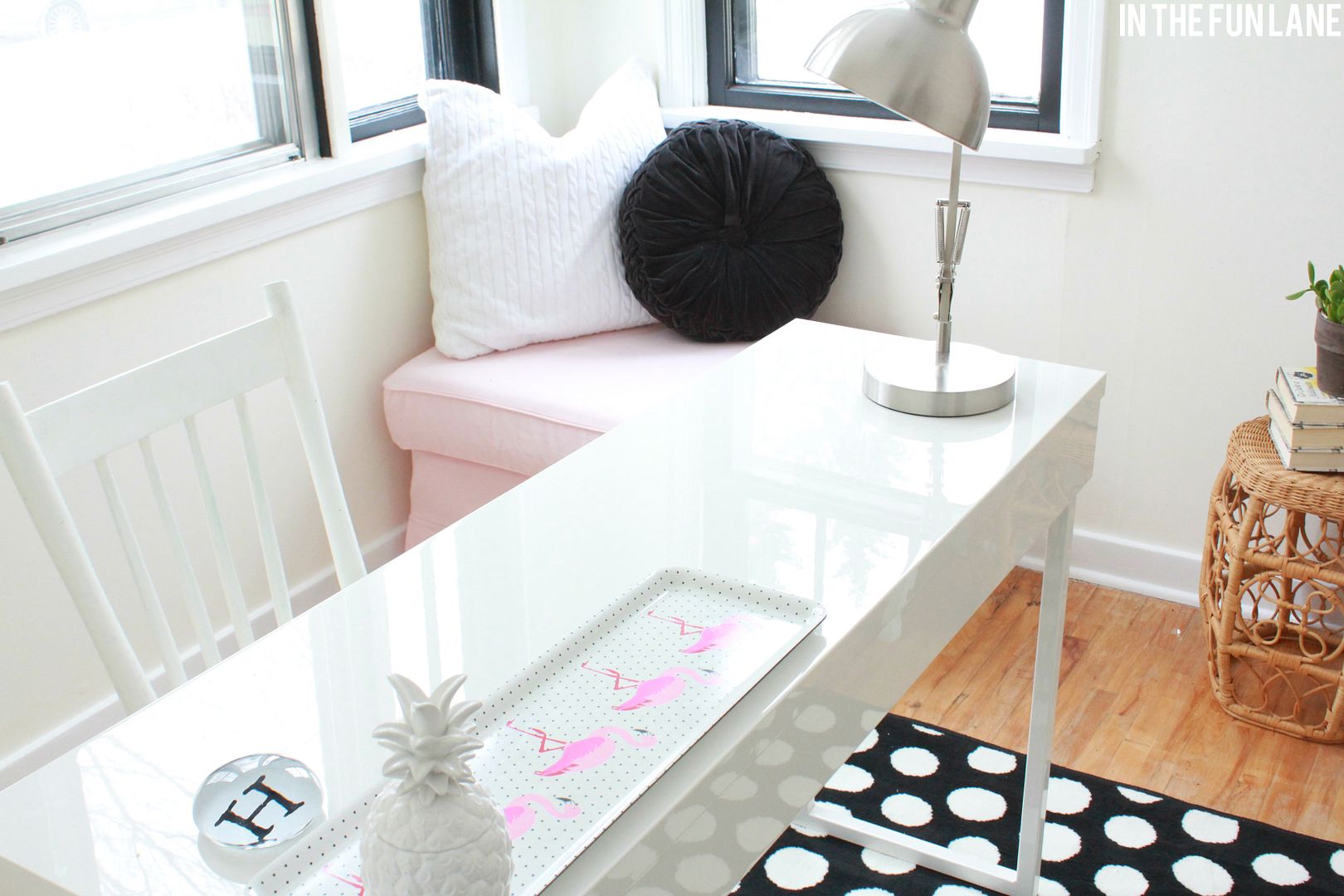 The black and white rug was in my cart at Ikea the second I saw it, even before I saw the price tag, knowing it was the perfect fun touch for my otherwise square-filled room. But then I saw the price ($29.99) and I loved it even more!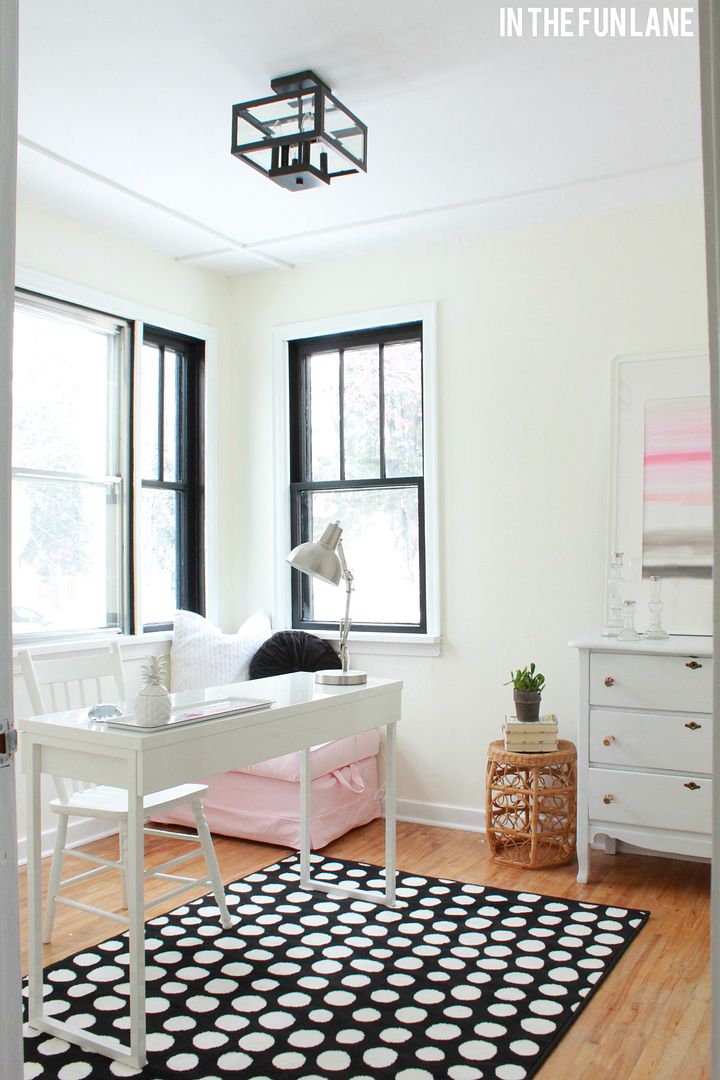 I picked up the little wicker stool at a thrift store for $5 and everything else you see here was rounded up at our own house.
Lamp is from Target, and I know exactly where it will go when it comes home... I have been wanting one of these for ages.
The ottoman and pillows were all rounded up from our own house as well, but in the event they are still available, the black pillow was from Urban Outfitters, the white one from Ralph Lauren, and the ottoman is the Ektorp from Ikea (the pink covers were on sale for $5 a few years ago, so I'm not sure they still come in that color).
I can already tell you that while this is the smallest house I've done, it is my absolute favorite by a mile.
And I can't wait to show you the living room tomorrow!!