Remember those 3 antique chairs I said I bought last Saturday? Well here they are!
I saw them at a yard sale but they were not marked with a price. One of the chairs had a broken back plate and all of them we dirty, scratched and in a general state of disrepair. I offered the woman $10 for the 2 good ones, but she insisted I take all three. So $10 it was for the 3 chairs.
My plan was to paint them cream (no surprise there LOL) but I have been on a real big turquoise and teal kick lately (the color of my chalk board and Wren's room) so I wanted to incorporate one of those colors in the fabric for the seats. I had seen a wonderful selection of designer upholstery fabric on sale at a favorite local furniture store recently so yesterday my Mom, Wren and I journeyed down to assess the selection. As soon as I saw this ticking strip fabric I was in love!!! It is actually intended for
patio furniture
or exterior pillows so any spills or spots will repel right off. And I was happy to see it was 50% bringing it down to only $20 per meter! 1 meter is the minimum purchase so I purchased it but really only needed half that.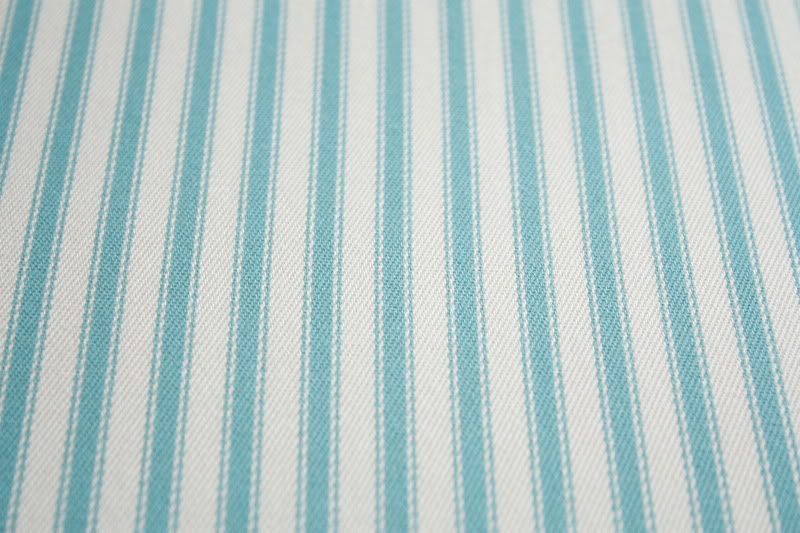 So now I have these three chairs (I will share what we did with the broken one tomorrow) and really no where to put them until we finish up some more rooms. I did have a spot for one though. I picked up an antique children's school desk at a barn sale about 3 years ago for $10 and painted it white previously (in it's former life it was a night stand in our master bedroom). I have been wanting to put it on a blank wall in Wren's room so that when she is a little older she has a spot to color, craft and generally to call her own and one of these chairs just looked darling with it.
After seeing how well the colors in this painting matched Wren's bedroom I thought it should temporarily be hers to enjoy~