Odalie, meet my friends! Friends, meet Odalie.
She is named after Odalie Fox, a character in The Foxes of Harrow by Frank Yerby. And if you have read it by chance you most definitely understand why the name suits her.
As soon as we pulled into the driveway I began scurrying about the house collecting my paint brushes and painters tape. I had doubts about putting a white mirror on a white wall. I had picked up a very nice "greige" recently and had enough to do the whole wall... but Holy, Big Job Batman! I decided to bring her in and take a look before tackling our 18 foot ceilings!
And I am uber thankful we did! Because while it is definitely white and our walls are most definitely white, you can see that there is a subtle difference. Enough to feel peaceful but not too boring. Plus I hadn't taken into account that surprisingly NOTHING else in the room is white! WHAT??? I am scratching my head on that one still...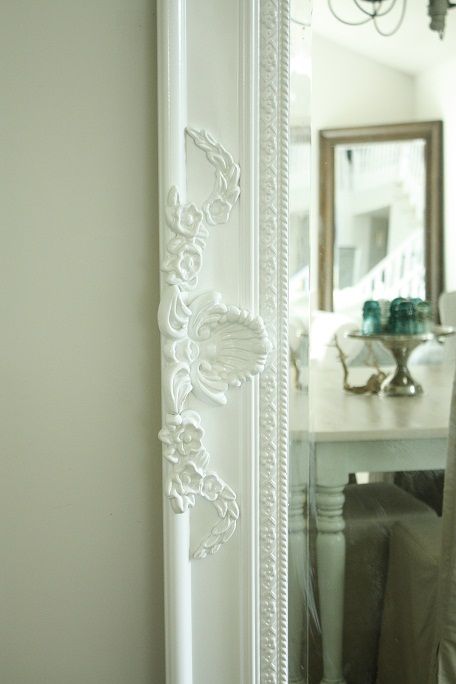 She will be hoisted and mounted about 2-3 feet higher for a more dramatic view from the living room and doorway and then it will be time to work on accessorizing some final touches!
I can't wait to show you a couple other things I have been working on for the dining room, one of which is pretty visible in these shots, the other is a little more elusive!