From WhiteBerry furniture transformations to my wedding dress, you guys have asked it all. And now I am going to try and answer it all! So grab a cup of hot chocolate, curl up in your favorite chair and enjoy.
Please keep in mind that this not a "how to" on refinishing furniture, it just covers the basics. Why, you ask? Mainly because I am not one for following rules, and I tend to "wing it" with most projects. I hope you learn something new, but the best piece of advice I can offer is to just have fun.
What do you use to paint your furniture?
While whipping out a brush or roller is still the norm for most, I neither have the time nor patience to do multiple coats in teeny tiny cracks and corners on these bigger pieces. This is where the right tools really make the difference. I use a paint sprayer attachment for an air compressor.
This is an air compressor for anyone unfamiliar with one. It can be used with a variety of tools: hardwood floor nailers, trim staplers, screw drivers, etc.
They range in size and price, so be sure that if you are looking at buying one you first consult the sales person on what type of uses you will be needing it for. Not all compressors are compatable with sprayers and will ruin them if the compressor is too powerful.
This is the exact sprayer I use: a Campbell Hausfeld gravity fed.
Using a sprayer reduces paint time, as well as drying time. Often my pieces take about 30 minutes of actual spraying and are completely dry within 20 minutes.
I am regularly asked about the all in one units you can buy in the paint isle. I actually own one and completely packed it up and gave away after 5 minutes of using it due the splattered and uneven finish. However, I do regularly talk to and hear from people who LOVE their all in one. My best recommendation would be to go to your local home improvement store and rent each before you commit to buying. They literally cost only a few dollars for 4 hours which is a small cost to feel reassured with whatever you choose.
What colors do you use?
I really and truely wish I could answer this question, for my own sake!!! The reason I can't answer it is because I only buy mistints and mix my own colors. To keep my costs as low as possible (more money to do more projects with!) I love buying mistints. Often a gallon only costs $5!!! I also love buying them because it is so much less intimidating to pick a color. Too often a color is not what I envisioned on the tiny little card so with the actual paint painted on the lid I can see a true look at how the mixed paint feels in different light and finishes.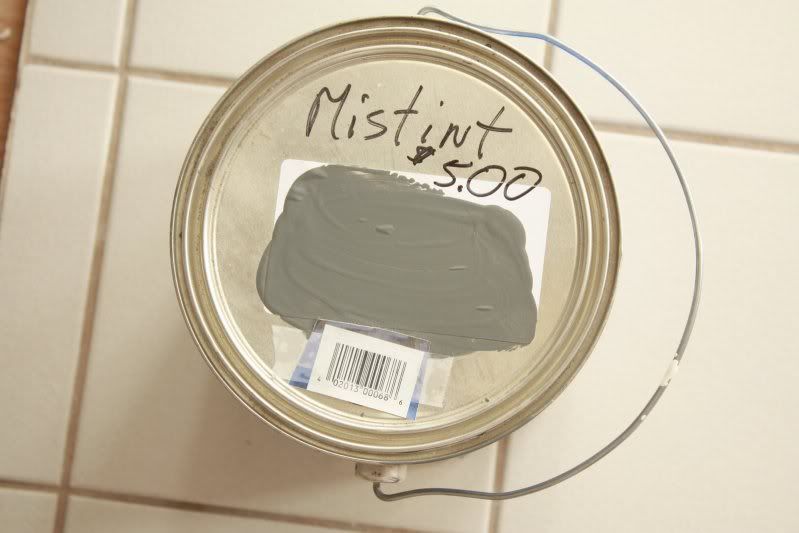 The other good news? Most people stick to shades of white, beige and cream for walls and trim so there is usually a pretty good supply to choose from in those shades.
The only downside is that unfortunately I have to rely on color matching (which still isn't 100% accurate) when I find a color I love, or if I need more.
What do you use to fill holes?
I always use wood filler.
Where do you paint in the Winter?
Sean (the brains and muscle of this whole operation!) rigged up an expertly constructed "studio" in our garage. Since it is fully insulated and drywalled in there I am free to paint to my heart's desire, even in the dead of Winter! To keep warm I do use a propane heater, but please be careful of where you are working because many fumes are flamable when you are working with paint, paint thinner and cleaner, etc. I highly recommend you do your research before working indoors!
What type of paint do you use?
Since I buy mistints I don't have the luxury of choosing. It varies from semi-gloss to flat most of the time. Because I finish of all of my pieces with several coats of semi-gloss verathane it really doesn't matter anyways, but I always tell people that if you don't want to do the verthane step just stick with semi-gloss paint.
Do you sand and prime everything?
The honest answer is no. Unless I have some repair or holes to fill I skip the sanding step. I prefer to just gently rough up the surface with some 220 grit sandpaper instead of completely stripping the old finish off. If I do any type of sanding I usually stick with a basic primer. Other times if there isn't any sanding I use Kilz no-sand wood primer. This has always done the trick, infact I even used it on the railings when I redid them and not a scratch or chip is to be seen.
Do you put primer in your sprayer?
NO! You can, but I just find it a real pain to clean the nozzle afterwards. The other reason is that you do have to thin your primer in the sprayer and that can be tricky sometimes! I use the spray cans of Kilz primer, which are also really fast drying (which is great when you need to work on multiple pieces in a short time frame). I know it isn't the most eco-friendly option, but I do make sure to send along all my used cans to the eco-station.
Do you paint the inside of the furniture?
No, I usually don't like my clothes and stuff to smell like paint LOL. I do paint the insides of cabinets when there are glass doors, but other than that I leave well enough alone!
How do you work with laminate or veneer finishes?
So far I have only worked on solid wood pieces so unfortunately I don't have any advice on this front. But a little paint never hurt anything right?
What do you use to distress the furniture?
I use 320 grit sanding blocks. Going over the most exposed areas, like corners and edges, gives you the most realistic look. I know it can be intimidating to scuff up your freshly applied paint, but trust me, once you start it is hard to stop!
What do you seal your furniture with?
I use Verathane brand water-based sealant. I usually work with semi-gloss but occasionally use satin as well. It is VERY IMPORTANT to try and find this type of sealant (I buy mine at HomeDepot) because everything else I have tried does turn the paint yellow over time. Sometimes you can see the yellow fairly soon after it dries, but other times it takes a few months to see (even when the can specifically says non-yellowing). So now I am very loyal to only buying Verathane, especially since I primarily paint in shades of white and any amount of yellowing is definitely not good. I usually do two coats to give it a nice, even finish.
How do you pick the pieces you work on? What should I look for?
I generally have 2 criteria:
1. the piece must be in generally good condition structurally. If there are problems with drawers or anything I stay away, but a few minor fixes like broken hinges or closures are not a big deal.
2. the piece should be solid wood. I can easily work with adding or removing anything as long as I am working with real wood.
If you are a beginner at refinishing I would recommend that your first few pieces just be things that will look like new with some fresh paint and new hardware. The more advanced work or removing or adding detailing or trim usually require more tools and time and can feel overwhelming if you are just starting out. But soon enough you will be jazzing up even the ugliest of old furniture!
Where are you located so I know if I can buy your pieces? How much do you usually charge?
I am located in Edmonton, Alberta. If you are in the general area definitely get in contact if you have any inquiries. My prices range from $150 to the mid-$400's. I like things to be accessible and affordable so depending on my time and the hardware I try to keep them priced decently.
Where do you get your hardware?
I get all of my hardware from
http://www.leevalley.com/
. They have an unbeatable selection!
What color are the walls and trim in your house?
Every wall in our house (with the exception of our dark grey master bedroom wall) is painted in Seed Pearl by Pratt & Lambert. I highly recommend them for interior wall painting, even though they are a little pricey, because the finish is really beautiful and the coverage is great! Our trim is mostly unpainted still, but we have chosen Mirage White by CIL for the trim. It is a bright, fresh white.
What kind of Camera do you use?
I use the Canon Rebel. It takes a while to learn (I still am learning actually!) but it is very user friendly. For most photos I use a Canon 2.5, 55-300 mm lens. If you have invested in a fancy-shmancy camera you need to work your way out of the green box zone!
Where do you get your slipcovers?
All of our upholstered furniture, with the exception of our wingback dining chairs and our living room couch, comes from Ikea. It is affordable and the covers fit like a glove, pretty much the perfect combination! As for our
wingback chairs
, we picked them up from a Craigslist ad for $20 and had a local seamstress do the covers. It was a bit of a splurge, but totally worth it for the perfect fit and look we wanted. Our living room couch (
seen here
) was another splurge when we bought our first house and was custom made by
Urban Barn
. The cover is a surefit cover I bought on clearance for $30 that I bleach white and then nipped and tucked a little for a perfect fit. Want more ideas on how to make store bought covers look custom?
Click here
to read a previous post I did on the topic.
You have a toddler and two dogs, you must be crazy to have a white house!?
I will leave that issue to the professionals, but for a run down on our life in white, check out
this previous post
.
Where did you get your
silver poufs
?
HomeSense (aka Canadian HomeGoods), where else! They were on clearance for $70 each and I just loved the paisly pattern that is embossed on the leather. It is a unique take on the typical pouf.
Did you make your wedding dress?
Hehe, I always chuckle a little when I am asked this. You guys must really believe I can do anything (which is totally making me blush)! While I can sew a relatively simple pillow sham I am nowhere near the skill level of making actual clothes. My dress was made by Vera Wang Lavender Label, from Spring 2007 if I recall. As soon as I slid it over my head I knew it was perfect for me! A little unexpected and unique, and the perfect mix of shabby (unfinished seams) and chic (black lace=pure romance). Totally my personality!
Where did you get this shirt?
My everyday uniform is pretty much centered around this equation: Romantic, Breezy blouses+ ripped and torn jeans=pure comfort! This particular blouse is by design duo
Christopher Deane
and was purchased about 2 years ago from my favorite online store
ShopJinny
. I admittedly splurge on designer clothes, just not that often. Knowing how I wear my clothes I prefer to buy quality, long-term pieces that I will get a lot of wear out of. But of course I would rather be spending $$$ on stuff for the house~
Want to know more random tidbits, like where we got Wren's name and how we fell in love?
click here
for the juicy answers to your most random questions!