Even though I have primarily been sharing my furniture lately, it has been business as usual as far as our renos are concerned. We have been working on the not-so glamorous aspects like recessed lighting, baseboards and adding plinths to the bottoms of the doors. All necessary, yet not so exciting parts of renovations. But as we tie up the various loose ends we are looking to start our next room reno. Lucky for little Wren that happens to be her bathroom. It is a room we nearly forgot existed since it was piled to the rafters with boxes, mattresses and bed frames from our bedroom and the guest room as those rooms had flooring installed, etc. Just this week Sean cleared it all out as the time came to set up the guest room now that it is done and we were amazed at just how big this room was. We had barely set foot in it since last August if you can believe it!
Here is a look at the frilly shower curtains, dated wallpaper, and pink counters that currently inhabit the room: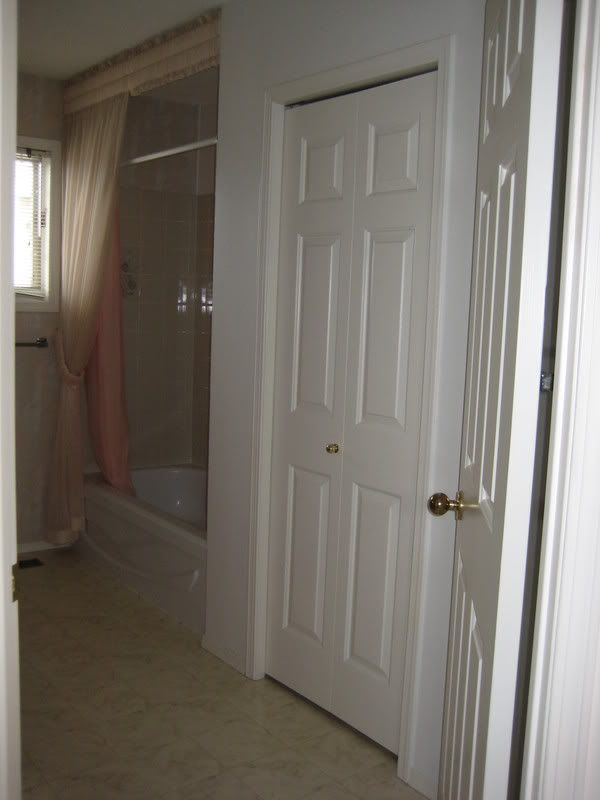 We plan to do this bathroom on a shoestring budget (like usual), the biggest splurge will be a custom marble counter top for a dresser I am turning in to her vanity. Everything else will be done by us!
On the agenda:
-find, paint and convert dresser into vanity
-rip out and install new marble tiles for floor
-rip out exsiting tile surround on tub and install subway tile
-remove wall paper and paint walls
-remove mirror and hang the black mirror from our old dining room
Sounds simple, huh? It always does until you are living amidst the chaos that is renovating.
But we hope to start the demo in the next week!