I want to thank you all again for all your suggestions for the bedroom! I have pulled a few things together and WOW! You were definitely right about the nightstands~
Before we get down to Masterbedroom business, I want to share a picture of Wren's future comforter that I mentioned last week. I got a lot of emails and comments asking about it thanks to the incredible sale price of $20, so here she is:
Cute, huh? I like that it has a masculine vibe to it so it will contrast well with a couple flowery pillows and the rest of Wren's room. Now it has to sit in the closet for little while longer until she is ready to move to her big girl bed someday.
As for the bedroom, I shuffled this mirror and dresser into place in an effort to balance out the window issue. We are adding a window in the kitchen when our reno happens so I am going to ask the contractor about adding one in here too eventually, but for now this makes a HUGE improvement! (yet again, all thanks to you!)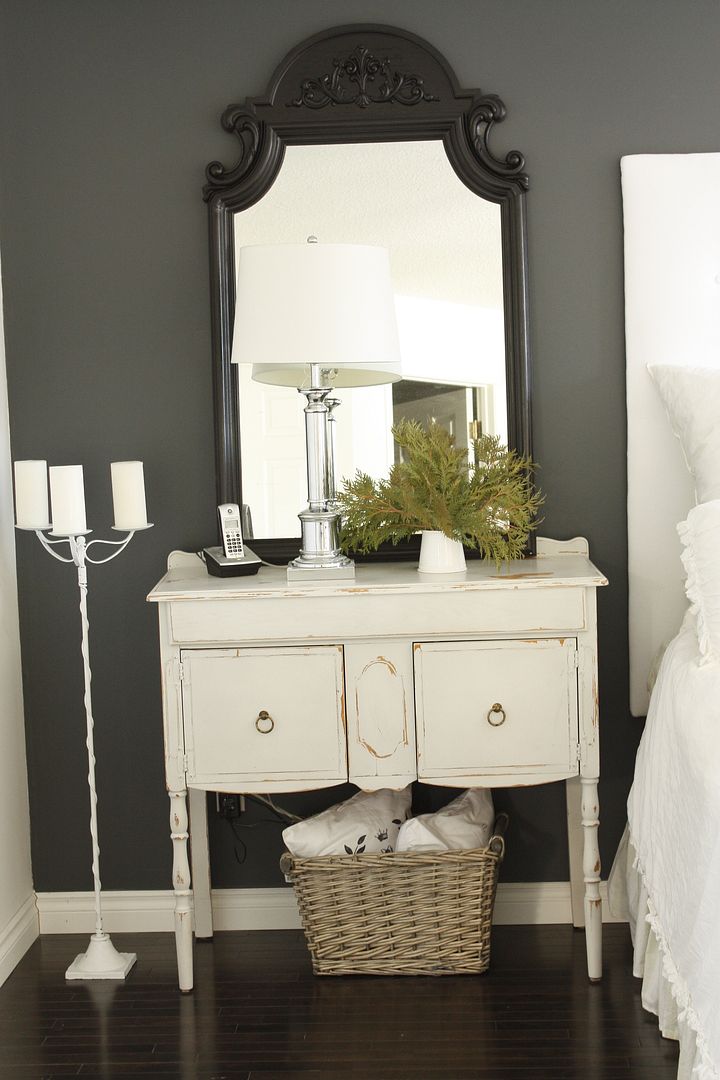 Now that it is done and in place I LOVE this dresser, but the day I picked it up we were worst enemies. I saw it pop up as I was browsing craigslist for only $15! When I called about it I knew that at that price it wouldn't last long so I said I would pick it up right away. It was halfway across town, and I never pick up anything without Sean and his truck but in this situation I thought my SUV would be fine. When I got there the owner and his son did all the heavy lifting but would not really shove it in the cargo area far enough. They were convinced that they would snag the carpet or something so they just half closed the trunk and used one of those bungee cords with hooks to hold the trunk down.
All was going well until I was about to merge onto the freeway when suddenly the trunk flies up, while I'm driving!!! My heart just about jumped out of my chest. So I pull over, at rush hour, on Friday to figure out what to do. When I get back there I see the cord is still attached, it just stretched or something so I go to unhook it when it snaps back and the hook slices my thumb open from the nail down to the knuckle. Great, now there is blood gushing all over this thing and my car and I am scrambling to get going again. The only thing I had on hand to wrap my thumb with is one of Wren's diaper wipes, which is stinging the hell out of me due to the fragrance and alcohol....
Finally someway, somehow I tie it all up and make it home. I refused to even look at the darn thing for a month I was so mad at it. But here we are 3 months later and I think we are close to being back on speaking terms again.