As soon as I saw this one at the back of the Salvation Army my heart skipped a beat! It had all the right stuff, and I just had to add a little pizazz.
It was cute already, huh? Just not the right color, and the scratches along the bottom cabinet would have been hard to restore.
So I gave it a dose of my usual white treatment, added a little distressing, then once again lightly glazed.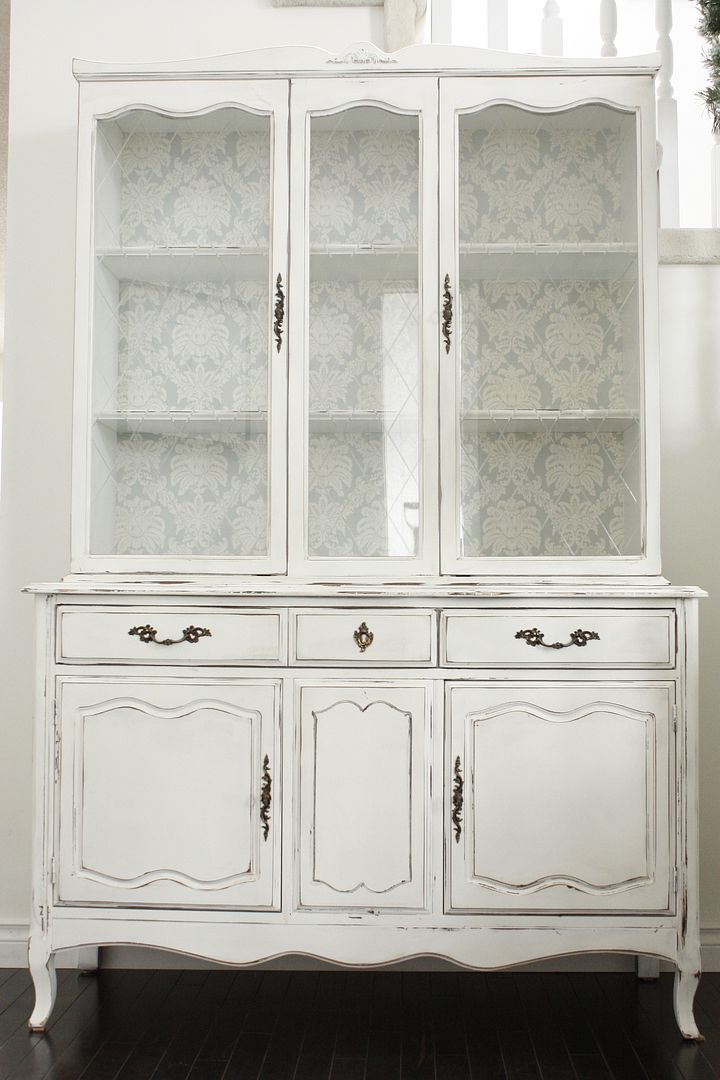 I have gotten a TON of emails about the glaze I use on furniture, and since I am WAYYYY behind on my emails I will tell you right now! I use a brown paint that I chose at the paint store, but instead of having white paint tinted you ask them to tint a clear base. From there you decide how and where you want it. I like to just add a little color to a bit of water and brush it on the cracks and crevices, but you can do the whole thing or just a little too!


Lastly, I added a little whimsy by wallpapering the back of the cabinet with my favorite brocade paper (found at Home Depot of all places!).

I think I will be sad when this one decides to eventually move on...
And finally I wanted to leave a little note for all our new readers and friends! Thank you so much for taking the time to read our blog and email me with your questions and comments~ Lately I have been getting many many emails asking about the paint colors I use on everything from the blue frames to my gray wall, but unfortunately I cannot tell you the colors. Not because they are a top-secret issue of national security, but because I started out by buying mistints, and I have now evolved to mixing my own colors. All the shades of blue, white, cream, and gray are all my own creations so you may have to just guesstimate a similar color from one of your local paint sources. Sorry I am of no service in that department, but thank you for your praises!!!