We hope you are having a nice Wednesday!
Wren wants to say hello to her Grandma, who has been out of town for a few weeks working on her latest renovation!!! Wren has been very enthralled with peanut butter and strawberry jam pitas lately (
much
less mess than sandwiches!) and her new shoes grandma got her.
She has to practice her lady-like walking because we learned that she going to be a flower girl this time next year! Her auntie Torri is now engaged (welcome to the family Braden!) as of last weekend~
I am so blown away by the interest many of you have in this easel! I didn't look at it twice until it came up for bidding but like you, Sean thought it was a unique piece and was happy to see it come home. There was a small repair to make to the bottom ledge, but it was easily fixed with some wood glue and clamps.
And I think our new loveseat has a favorite family member! Mung kee has taken up residence underneath and seems to find it very cozy under there.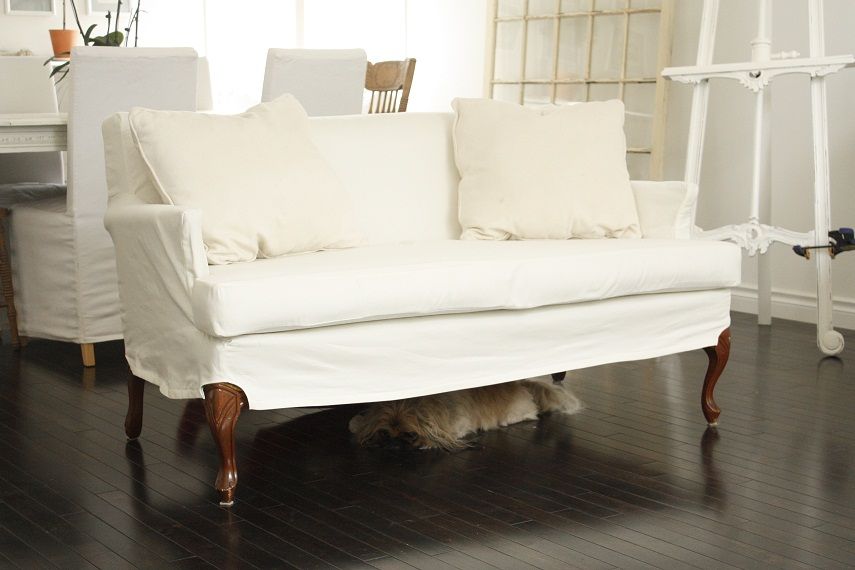 I am washing rugs today so it looks a little bare in here, but I think the legs would probably be best with a coat of paint to add some character.
So many of you are interested in slipcovers but are hestitant to invest or look into them, but I would highly recommend calling a few seamstresses and just get a quote! You may be surprised how affordable they are, in fact they are probably equivalant to professionally cleaning your furniture yearly. As for fabric, it really depends on your needs. I went with a sateen cotton because I felt it was a little less rigid than denim but you can use twill, denim, even linen if you are fairly good to your furniture. Including fabric (which I spent $120 on at Chintz design center) the slipcover came to exactly $300.