Today we are mourning the loss of our favorite rug. Melodramatic? yes. Catastrophic? no.
As the rug in Wren's room, it had been well loved, and therefore well washed.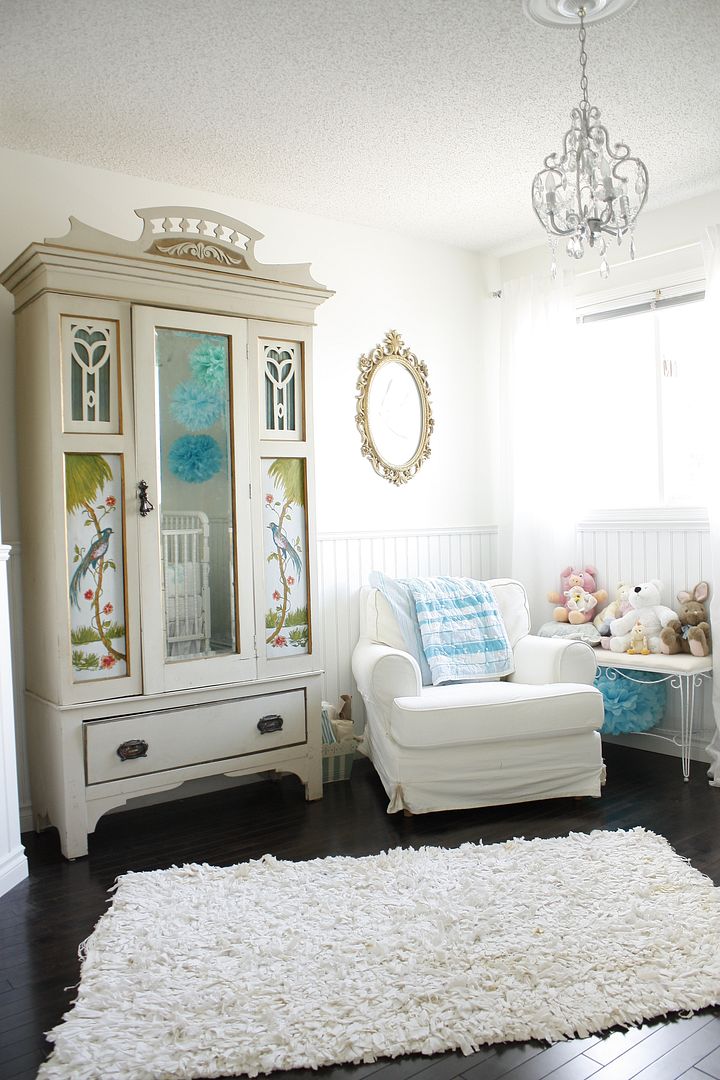 It originally looked like this, until we decided to
give it a makeover
for Wren.
But now it looks like this.
It was a little dusty after all the laundry room reno dust settled while we were away so I threw it in the wash, as I usually do every few months. When it came time to move it over to the dryer things were still good, but when I came in to check on it half way through the cycle I could see tiny strips of cotton flying about. When I opened the door I discovered that the adorable little rug was already self-destructing!
I guess it just decided it was time to go to that cloud in the sky...
One of your most common email topics lately have been where I get our rugs since I mention washing them quite regularly. Besides our now extinct shaggy raggy rug I get all our rugs at Ikea. Why? It is purely economical:
1. They are cheap. Like REALLY cheap. I'm talking $60 for a 12x8 white cotton rug. And you know I am all about white and cheap.
2. Dogs, Wren and guests. As I am sure you can expect, white rugs tend to get a little dingy when you have things with fur and/or jam on their hands. So I need to be able to wash them. Thankfully we have a fairly large capacity washer and dryer so I can wash large rugs here at home. So my only concern is making sure the rugs are cotton (not wool).
3. If worse comes to worse I can bleach it/power wash it outside (yes, I have done this and it works like a charm!) or even toss it. But before I resort to tossing it I actually like to use it on the deck over the summer (we have a fairly covered deck area), which is gives Wren a nice spot to play outside.
So if you are in the market for a good, washable, CHEAP cotton rug definitley hit up Ikea!

Now, I am off to pick cotton shreds out of my lint filter.