I admittedly forgot the before shot again... but thankfully this dresser has a partner in it's crime of ugliness that betrays it's cute new look. Here is the yet-to-be painted vanity. It's clear that these antiques had seen some good days, but as of today they were in rough shape.
Like I mentioned with my last dresser, since we've been back home I've been feeling a little bit creative and felt like pulling out some other colors (besides white and grey) and adding a few personalized touches by hand painting.
Maybe it was my time spent re-connecting with the ocean, or the arrival of cottage season, but I really wanted to go beachy with this dresser.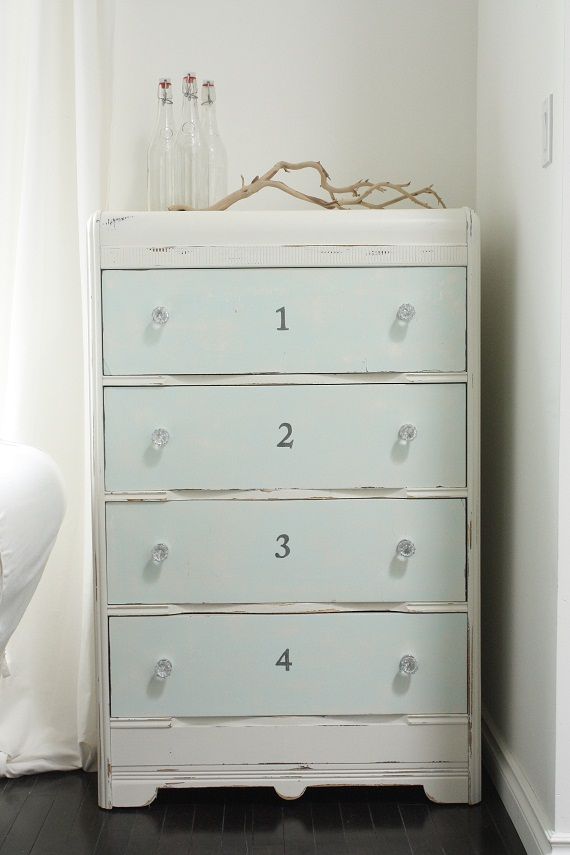 Even though they aren't "necessary" on a waterfall dresser, I wanted to add really chunky glass knobs. No beach is complete without sea-glass!
The numbers are all hand painted and distressed for a fun touch. I love seeing dressers with numbers, particularly in kids rooms. It is such a good tool for learning and counting, or for us adults it is kind of a whimsical touch or a nod back to our days spent at the city pool.
I think the numbers would be great in a busy cottage where a single bedroom has 2 or 3 guest bunks in a room (like ours should have, it's like grand central station out there!).
But I would be happy to just let it sit in the living room forever more, bringing a smile whenever I walk by, reminding me of sunny days and cool water.