I have a lot of dedications for today's post, so feel free to breeze through and get to the fun stuff if you are short on time, but they all relate back to the dresser in question.
My first is an apology to a wonderful client by the name of Jill (who has the sweetest daughters, and the most beautiful kitchen). She emailed me about 6 weeks ago congratulating me on scoring a cute dresser with birds on it that was sitting at a local thrift store with a sold tag reading Holly. I lamented that I missed out on said dresser... until last week when I realized that I didn't miss out, I just hadn't taken time to notice the birds. I promise I wasn't secretly hoarding the dresser, I was just having a blond moment. Thanks Jill!!
My next shout out is to the fabulous ladies working at my local polling station (yay for voting!), you guys totally caught me off guard and made me blush!!! Thanks for doing your civic duty as well as making my day~
And the last shout out goes to the wonderfully patient Suzy who awaited our arrival tonight after we wandered around her neighborhood like lost puppies for close to an hour! I just know this dresser has a fantastic new family to love it.
Here are the birds in question. They are very quiet, yet they make the dresser.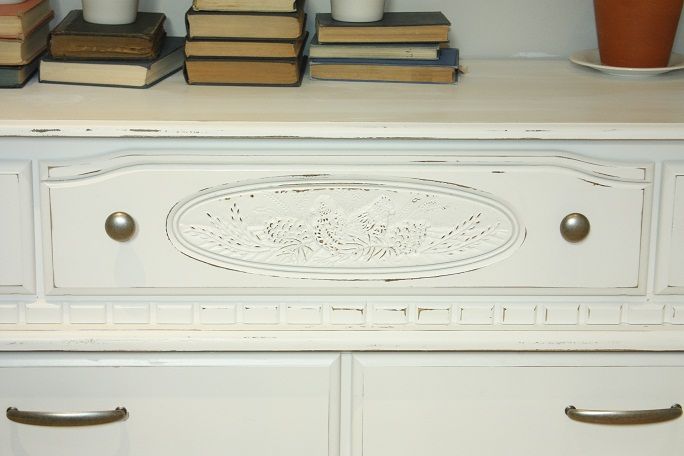 Between my Greenleaf diffuser and these candles our salmon dinner didn't overpower the house tonight! The dresser went to a nursery and I think that it will be the perfect piece to grow with a little person.
For those of you interested in the accessories, I wanted to add some subtle color and some variation in height (which is usually one of my goals). It would still look nice to line all the candles up, but differing heights create a lot more interest and make it a little unexpected. And I always love to add a little greenery. For someone with a recovering black thumb I just can't resist adding some plant life. Simple, but different is usually my aim.
Besides a few WhiteBerry errands I am setting aside all of tomorrow for our anniversary. A nice dinner and some entertainment will probably be the game plan but I won't complain if we end up eatting pizza out of a box in our almost finished closet as we work on it~