My 10-11:30 schedule consists of lots of reading these days. Not by me! No, I have the luxury of being read to. I learn all about cows and sheep and the cat in the hat.
And hugging and kissing and laughing.
Later in the day I am usually the subject of laughter though, as Sean finds it quite hilarious that I consider a ba-jillion candles as decor. But I am happy I am not alone because it seems that many of you share the same love of something so simple as wax and braided wicks.
For those of you who have asked about where to find similar candles, I bought all of these at Michael's. I admittedly know nothing as to how organic or clean burning they are, but I do know that they were on sale and with my coupon for 15% all items they were right in my budget. And don't forget to check the clearance because many of them were a scent called Fresh Linen that was 70% off.
If you have attempted to count how many are here I will make your life a little easier: 6 tall, 12 medium, 9 small. I noticed that at most Michael's there is a lot of variation in color of the same scents (because I think many have sat there for years!), but don't worry about it because it looks more interesting that there are variations.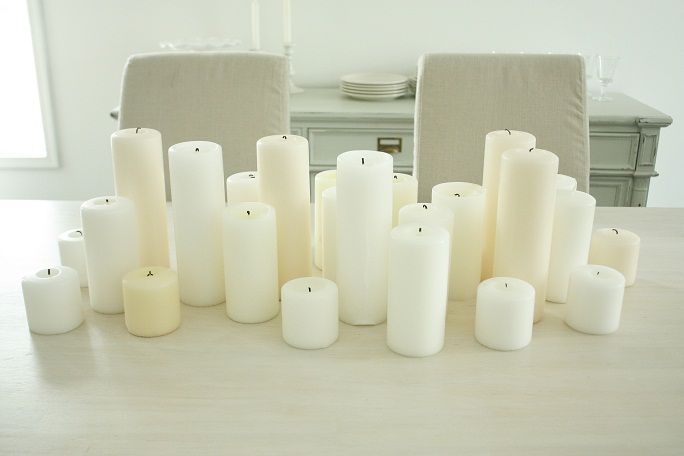 Another item I am slowly piling up is stoneware. I have read about it, drooled about it on other blogs and seen it in tons of movies and magazines, but really haven't looked for any.
Until now, and I'm hooked.
It all started with my bug plates for halloween. I picked up a beautiful set of 5 cream plates for $2 for the project. Once I got home I realized they were freakishly heavy! So I googled a few things and realized that I had brought home a set of stoneware plates. The next week I found another set for $2 and today another for $1.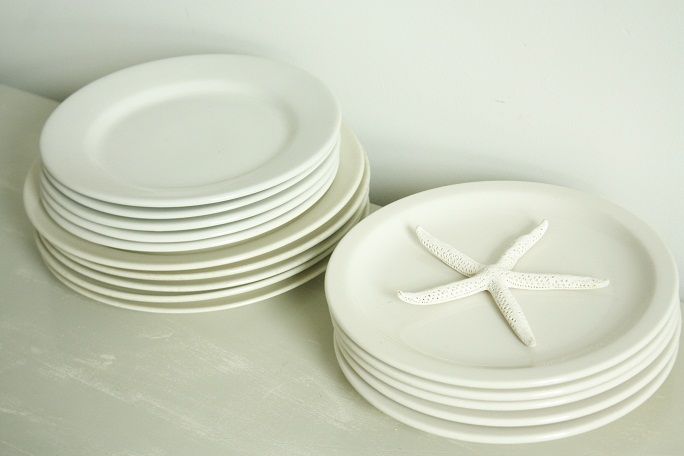 We are including some glass doors in our new kitchen and I have been dreaming about stacking them all, in varying colors of cream and white a la Meryl Streep's kitchen in It's Complicated (yes, I am obsessed with that kitchen).
And yet again, the varying shades of cream and white aren't perfect, but completely ideal.
And now I am off to finish Wren's bed, and work on some fun, (not too perfect!) projects I will be sharing ASAP!