We absolutely love having greenery throughout the house, even though we have black thumb tendancies.
And it wasn't until the evening before we left for Palm Springs that it hit us: we forgot to make arrangements to have someone water the plants! If it was just a few little blooms I wouldn't have panicked but when I mentally tallied how many plants I would have to replace if we came home to crunchy brown leaves it was quite staggering. It would have been about $200-$300 worth of plants to replace, definitely money I would rather put towards a kitchen sink or new faucet...
Of course I should have thought about it sooner or even popped out to grab some of those water globes but at 10:30 pm I didn't have many options so I had to get creative.
If you are like us then you probably have a container full of recycle-able bottles and cans waiting to go to the bottle depot. Sean had taken ours all out the day before but completely forgot one tupperware container (everything happens for a reason, right?). Using the same principle as the water globes of inverting a water source into the soil I set about washing and cleaning everything from wine bottles to olive oil containters (like the one below). I even used a 2L pop bottle for the biggest plants.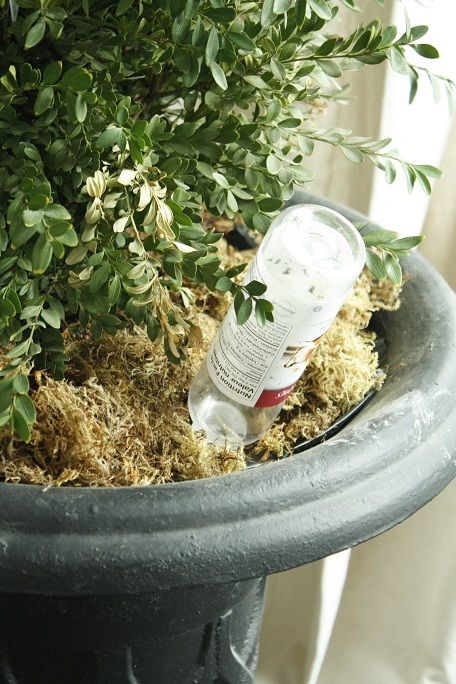 It was a bit tricky to quickly flip the containers and shove them in the soil without spilling too much, but after 2 I had the hang of it. It was still a gamble to leave, not knowing whether they would last the whole 15 days or if they would just drowned the plants the first day or two. But upon returning all our plants are healthy and happy and the soil was remarkably still damp, even though the containers were emptied.
So if you need a cheap plant sitter definitely consider recycling a few bottles before your next trip! Of course, we would still recommend giving them a test run before leaving so you know how much or little water your plants will need. But I may just resort to using them all the time so I don't forget to water them (or over-water them which is my usual crime against botany).