I am one of those not-so-rare birds that hate to admit defeat. Even worse? Admitting I was wrong. And when it comes to our projected budget of $15,000 for this kitchen I was DEAD wrong. I thought I knew what we were getting ourselves into ( I did know enough to expect to go over budget!), but I really didn't anticipate blogging with my tail between my legs telling you that we are twice the original budget.
If there is one thing I love about blogland it is that you can live vacariously through reading other people's blogs, get great feedback and ideas on your own blog, and learn some things in the process, hopefully avoiding the same pitfalls. So not only did I intend to bore you with every decicion, purchase and obsticle when I started blogging about this kitchen, but I also wanted to share where every penny went. I guess magazine worthy, drooled over kitchens do cost more than a little blood, sweat and tears. Plus, I am always nosy like that when I am reading someone else's blog.
This was our intended spending plan when we went into the project. We did our research, planned on doing everything ourselves and aimed to keep it looking like a million bucks while only spending $15,000.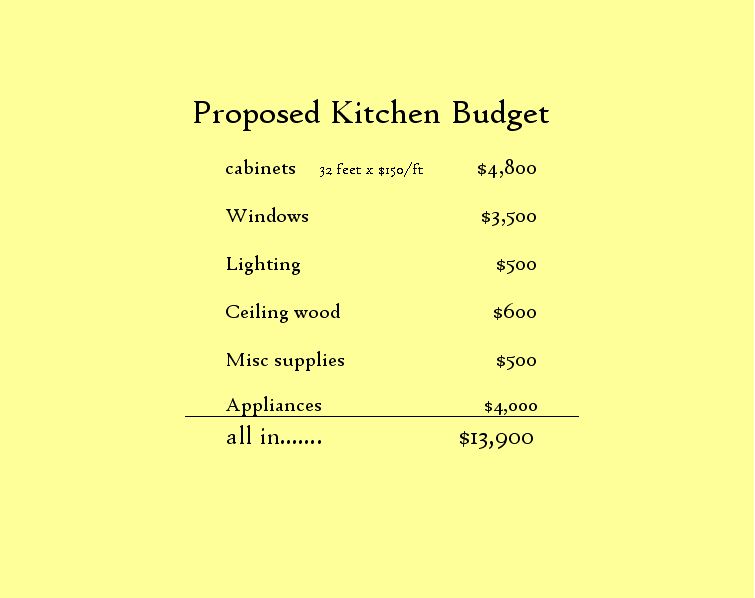 Embarassingly enough, a bachelor's degree in business didn't help me too much when it came to remembering all the components of a kitchen. Hello, where are countertops and sink on that budget???? Right there I under budgetted $6,000. Whew, I'd rather be over budget thanks to a math error than a judgement error.
We were sorely under estimating cabinet costs due to a few factors:
1. When we had our cabinet quotes done by various local suppliers we did not yet decide on adding the peninsula (an additional 9 feet of cabinets that also require a pretty, finished backside=$$$$). We went from 32 feet at $150/ft to 54 feet at $194/ft
2. When you see the listed price per foot of cabinets that basically means you get 2 doors. Obviously we wanted some drawers as well! Any extras only add to that price.
The other contributing factor to our over spending was our decision to call in some help. After talking with several people who have been through kitchen renos we thought it was well worth the expense to have the cabinets installed professionally. And after having them piled up in our garage for a week now I can understand why! It is the biggest, most annoying looking puzzle ever made. We also made the decision to hire an electrician to move all the necessary outlets and lighting. This is something that Sean could have done, but we thought we should at least get a quote for the work and once we did it was a no brainer. We would have spent half the cost just on supplies at Home Depot so it made sense to just pay a few hundred dollars and have the work done fast and right. As for plumbing, it is still in-progress. But we would definitely be doing it ourselves if Sean didn't have a commercial contact that was willing to take us on the side for a fraction of the price because the other quotes we've gotten are through the roof over $3000!
Here is what we're really spending to pull this kitchen together. All the grey items are things we still need to pay for so they may be slightly more or less.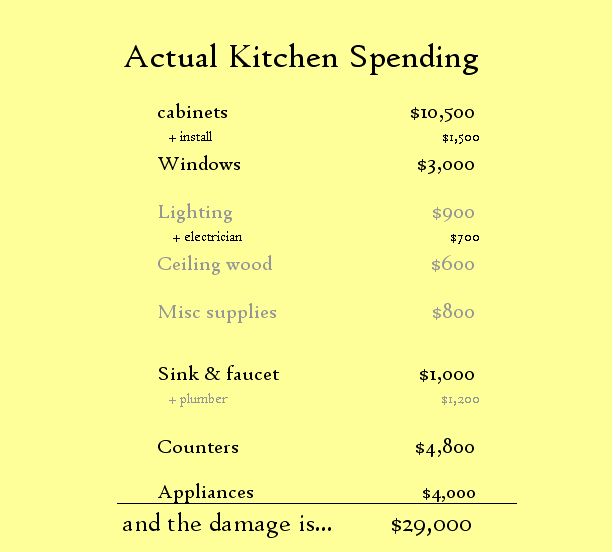 We've surprisingly spent less on counters than I thought we would. And the windows also came in under budget thanks to a credit they issued us for all the delays. YAyyyy!!
At the end of the day we are still happy with that number because we honestly feel like we are getting the kitchen of our dreams. Some of that money was also spent in the family room (like the ceiling, lighting and electrical) so we are kind of getting 2 rooms for that price, at least thats what I tell myself. Once it came down to actually making our dream come true we figured we should LOVE everything. Spending an extra thousand dollars or so on adding nicer baseboards, trim and doors to our cabinets seem money well spent in the long run.
We aren't at the finish line just yet so stay tuned on how the final tally adds up!