I am such a proud mama this week! Wren announced to the world last Monday that she was going to go get her hair cut, which was news to me since she barely lets me wash it. On Wednesday, our first day back home, I got us all loaded up into the car and drove over to a local kids salon. I decided not to book an actual appointment, thinking it would be better for her to just get a feel for the whole thing first before I commit to it specially since I knew she was having a somewhat diva-ish day (the fact she insisted on toting her favorite purple purse during the whole ride there was another dead giveaway). But as soon as we walked through the doors and she spied several kids sitting in cars while getting their hair cuts she was totally game and the salon was nice enough to squeeze us in. Fast forward 10 minutes later when they are putting the smock on her and I was wishing we would have drove straight on to the park! She wanted nothing to do with anyone touching her hair, but with a few bribes, a sucker and a promise of a new coloring book she caved.
And I am so happy she did! There isn't a whole lot of hair on that smart little head yet, but I think it needed a little style and she is beyond smitten with it now along with letting me wash it and style it. So much so that she has been hijacking all my attempts at taking blog photos in order to model for me.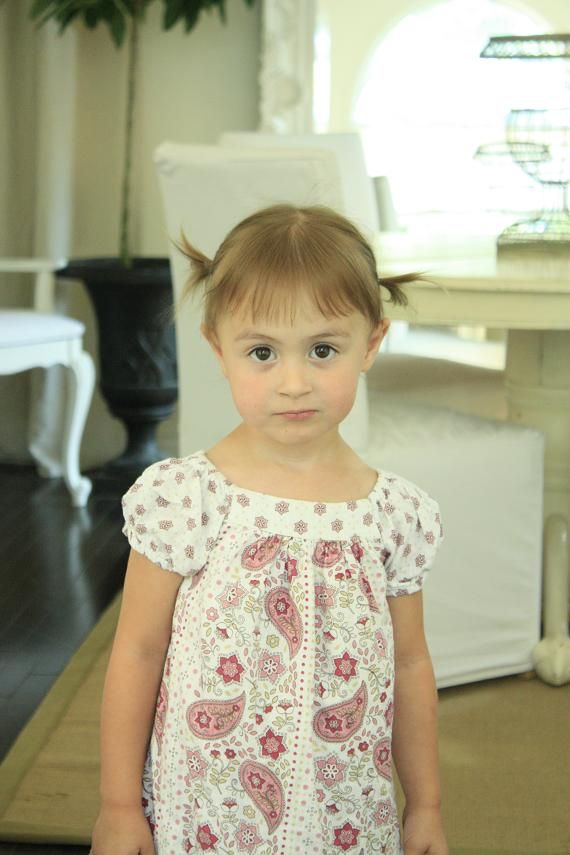 And speaking of makeovers, our dining room was due for one. I was so dead tired of the situation around here that I felt I needed to jazz something/anything up. You may or may not remember our dining room of last spring (if you are wondering were my pink table is, I'm saving it for an upcoming birthday party *wink*). Fairly muted, a few pops of black with linen drapes and slipcovers.
While I still have a massive metal rack serving as my pantry along the wall formerly situated with a dresser/buffet, I spiffied up the room by pulling it together with the living room a tad more. In the living room we have all white slipcovers so I went back to my white Ikea dining chairs for a little more modern feel. I also switched back to our OLD pedestal table because I think I am digging round tables just a tad more these days.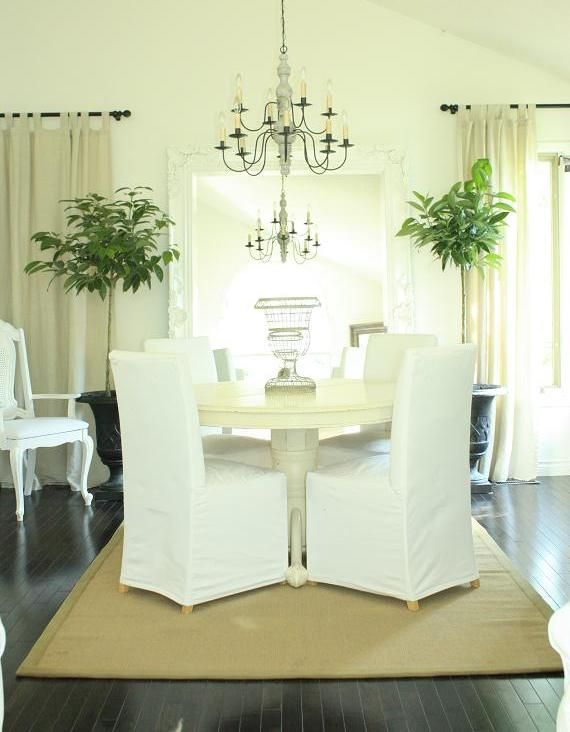 Once the replacement cabinets arrive and all the dust FINALLY settles I look forward to using my $10 HomeSense urn for holding fresh fruit. Until then it looks more like an architectural element.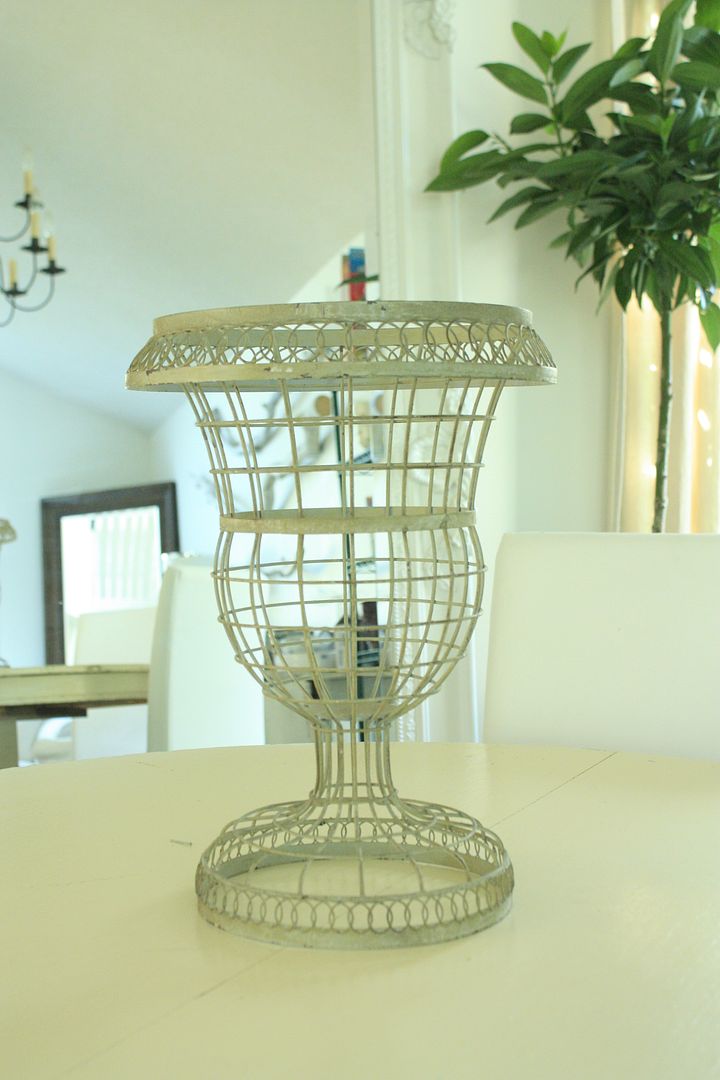 The only things I actually purchased for our mini-makeover were these two trees ($39.99 each). I had a bit of a blonde moment and threw out the buckets they came in on trash day before I remembered to check what kind they were. All I know is the garden associate assured me they would be fine in low light so I hope they live for at least a year or two! I like how they add a lushness to the room and add some height and scale at the same time.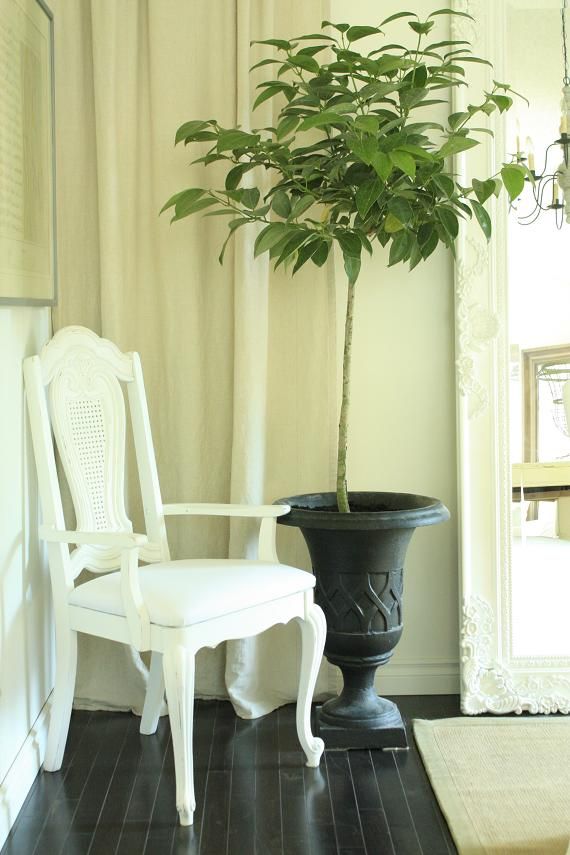 My model hijacking another shot!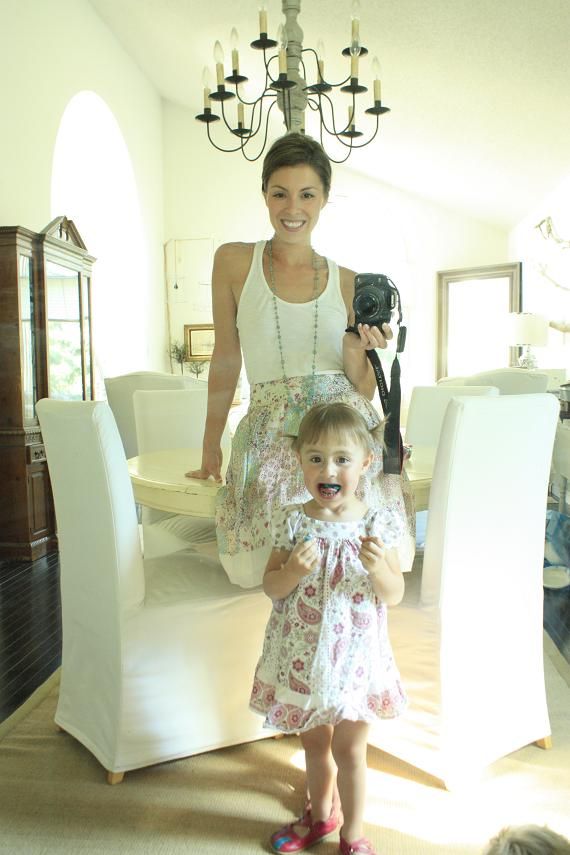 Does the change in seasons have you itching to make a few small changes of your own?