I am hoping it will only look like this for another week and a half at the most, but like everything else I am sure it will be delayed in some way.
The installers have left the 2 offending cabinets that needed to be reordered in place and the longer I am living like this the more I hear myself saying "it's not that bad, we should just leave them". But I know in the long run I will be happy I waited a few extra weeks for new cabinets that aren't slightly warped (which makes them impossible to level correctly apparently).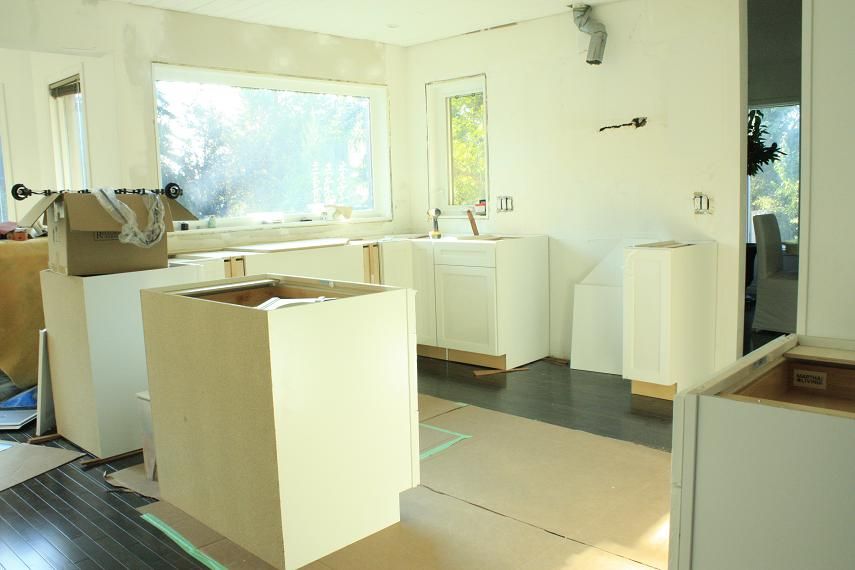 Looking in from the dining room now!! Before I only saw ugly pantry doors. Now it is bright and open.
As you probably noticed, the sink is not centered in the window. This was our BIG point of contention. Do you center the sink in your window or in your cabinets? We obviously wanted as much countertop space and storage as possible so centering both cabinets and sink wasn't going to happen. We decided to center it with the cabinets and then run our lighting off that new center point as well. And once the counters are in the corner can be filled with cannisters and such that visually balance it.
We are soooooo happy we splurged with the windows. It was a little extra but we also brought our windows lower by 3.5 inches. You don't really take into account how close to the house you can't see when you were standing there before. With a 2 year old I want to be able to see every inch of yard if she is out there by herself while I'm in the kitchen and from 24 inches away (the depth of the cabinets) I could only see about 20 feet from the house and farther until now. It does make it difficult to decide on new trim though, so we are waiting until the counters are in to do moulding.
(and no! we aren't keeping that hideous light in the nook. We are just waiting to put in our hanging fixtures.)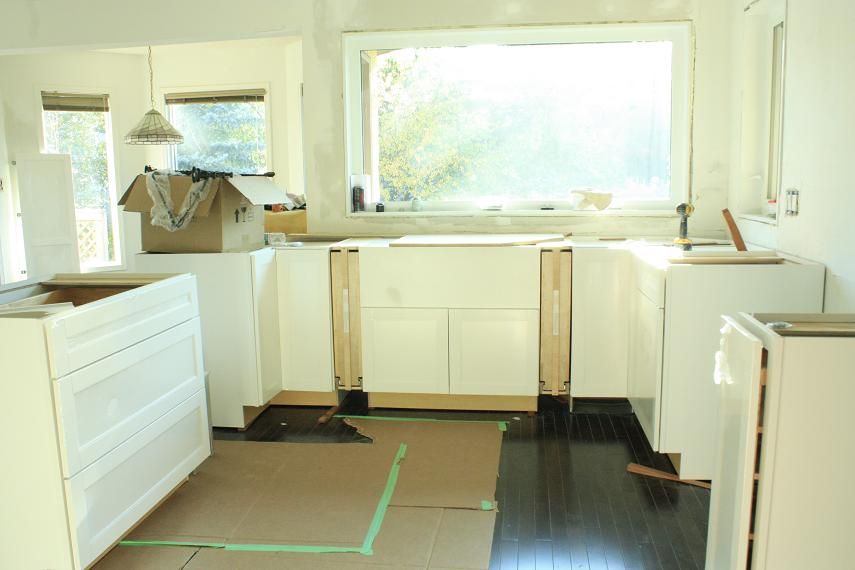 The pantry cabinet on the left is the other offending warped cabinet. We LOVE that instead of simple shelves there are big wood drawers that pull out so we won't lose stuff in the back!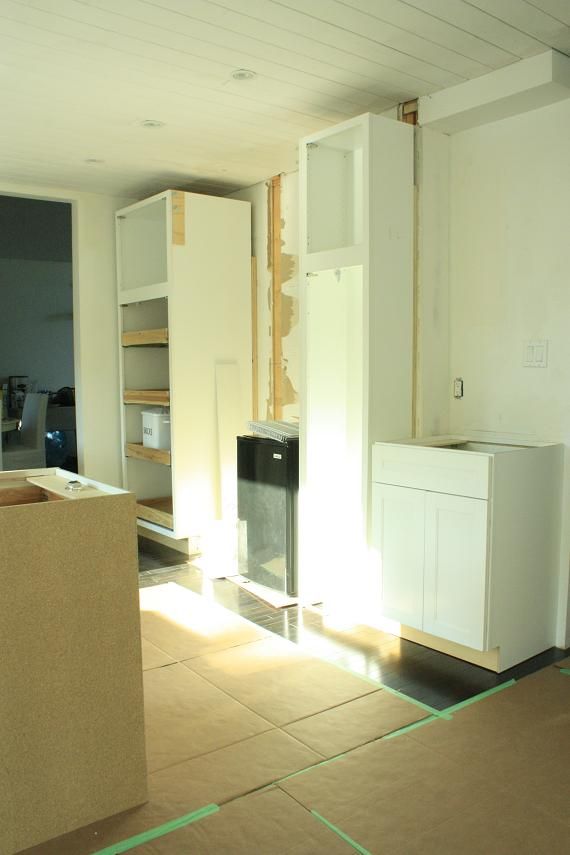 In fact, besides a couple warped cabinets we have been blown away with the quality of Martha's cabinets. We thought we ordered the most basic of basic cabinets, splurging on finishing touches instead, but it seems even her basic cabinets are really nice.
This cabinet beside the stove surprised us by also having pull out wood shelving.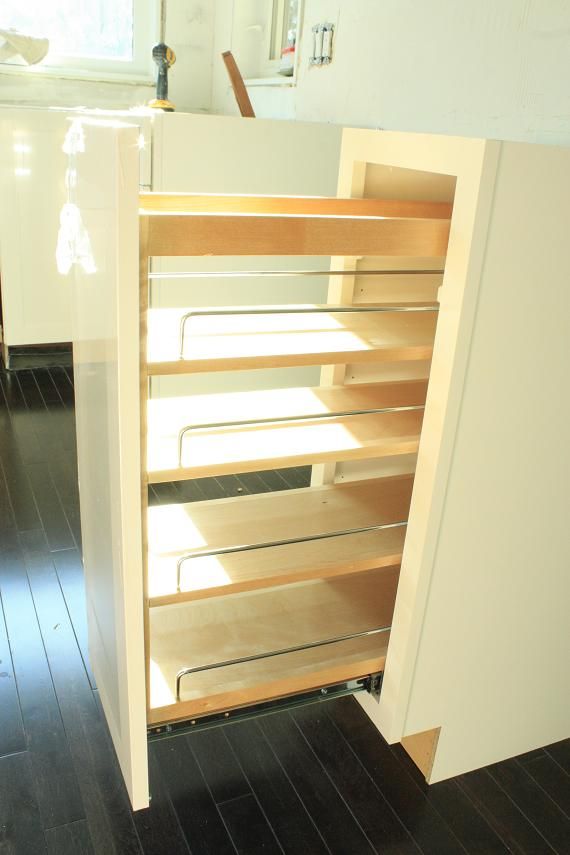 And the insides are nice, solid wood.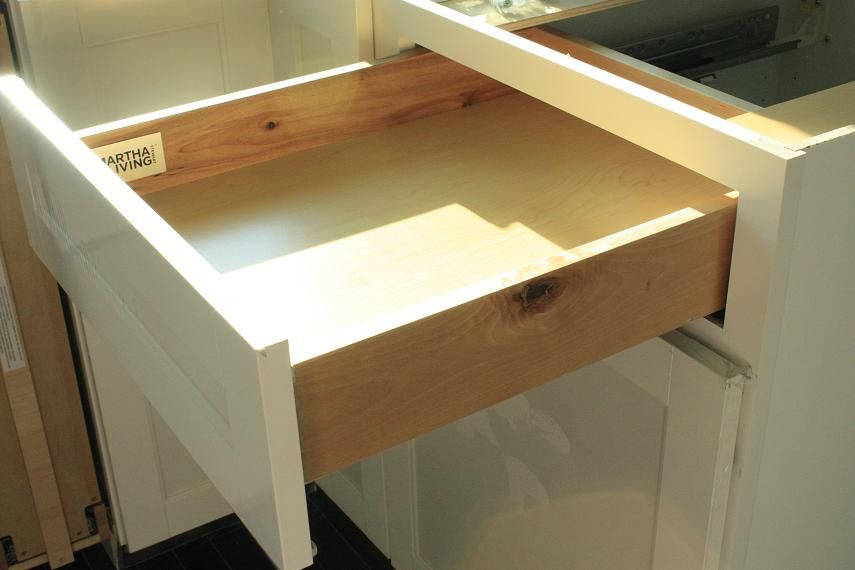 (if any of the cabinets look funny in the photos it is the cellophane wrap we've left on them for now. It freaked me out when I first saw it because I thought the doors were all funky LOL)
(one of) The last frontiers: painting the walls. I've settled on the color on the far far right. Barley Beige by CIL. We wanted to go with something other than white to off set all the white cabinets and the board and batten in the family room. So I don't think it will darken up the room too much, just give us some contrast.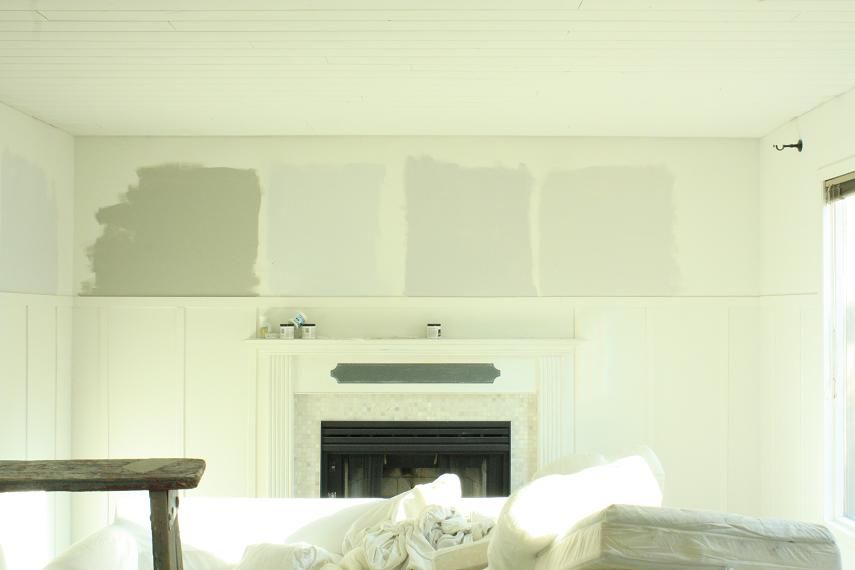 Our dirtiest, most time consuming project in this whole reno (besides removing floor tiles) has been the pine ceiling, but we are the most thrilled by this feature. We like how it sits quietly up there, making the room feel a little more homey and adding texture. I will do a fully detailed post on the whole process after everything is done (and the ceiling trim is done) for anyone interested.