A BIG congratulations to our donation giveaway winners!! Tara Jamieson, you are our first winner so please drop me a line at inthefunlane@gmail.com so I know which prize to send you! And Carmen Judge, you are our second lucky winner. In the event I don't hear from Tara within a week I will allow Carmen to choose the prize she prefers so she doesn't have to wait an eternity to get it in the mail~
THANKS again to every who supported us! As promised, here we were freezing our tails off pre-run at about 8 am.
But between moving around and all the body heat generated in this crowd we were warmed up and happy campers in no time at all!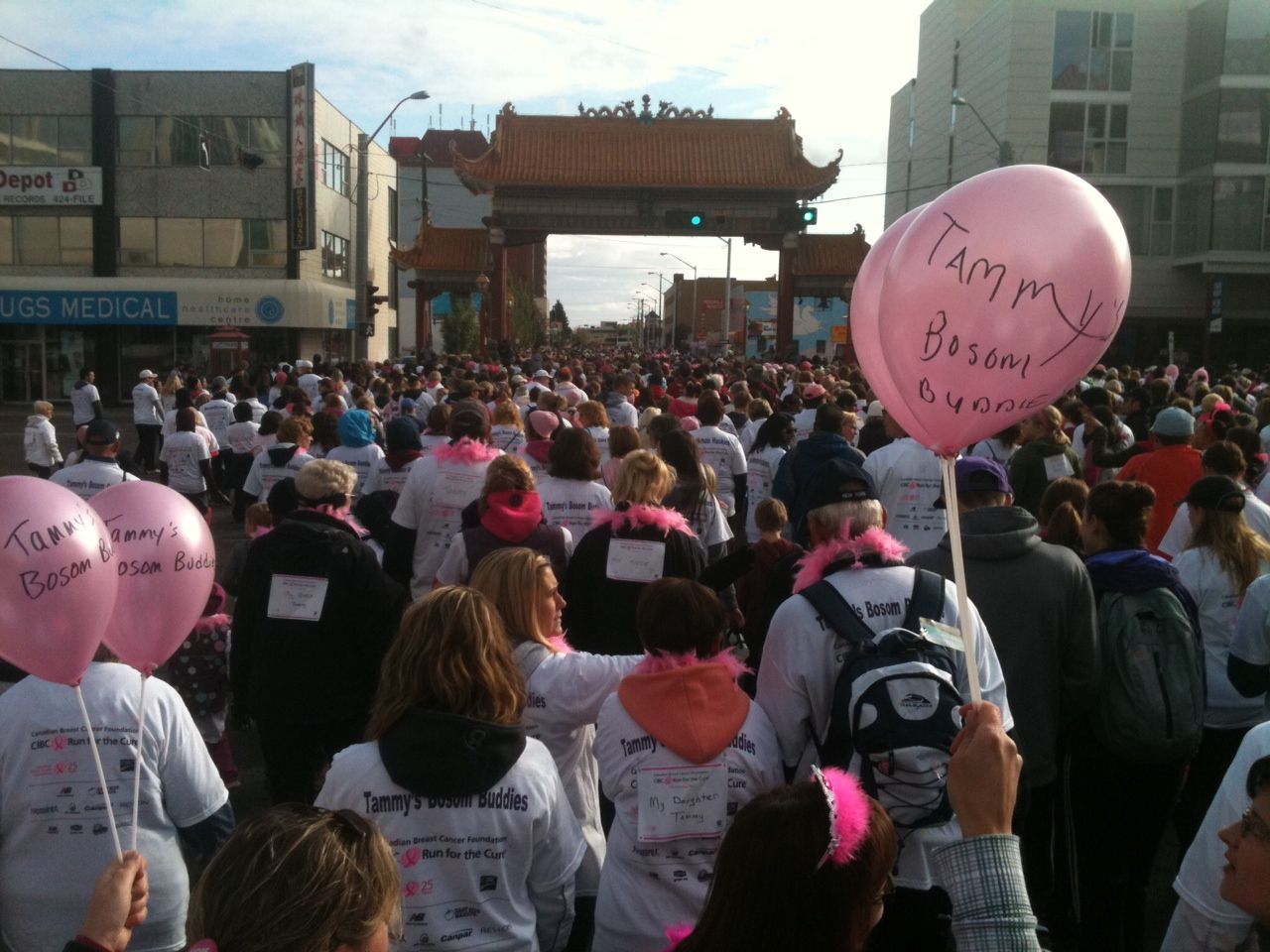 It was so much fun (we walked with about 20 other people we knew) and we will definitely be back next year!
But besides doing a run 2 weeks ago you are probably wondering what the heck has happened to us? I promise, the kitchen renovation that never ends is very close to actually ending!!!
The week after the run we had cabinet installers here all week replacing busted and defective cabinets... then we came to a bit of a stand still with our sink. It seems that our cabinet installers didn't approve of putting it in the appointed cabinet... and our counter top measuring guy hated the thing because it required special notching in the marble to be made. After a full day of phone calls, pleading, begging and demanding, everyone eventually decided to play nice and get the sink in for me. But if you plan on using this thing to save some money over other apron sinks (this one is from Ikea, $400) I will tell you right now it isn't worth the trouble unless you are installing an Ikea kitchen. It was a nightmare all around, but in the end it is in and I love it.
Then last week we finally got countertops!!! Just to see them in place made my heart skip a beat, I am so in love. So we were able to bring in our appliances and finally get back to normal life.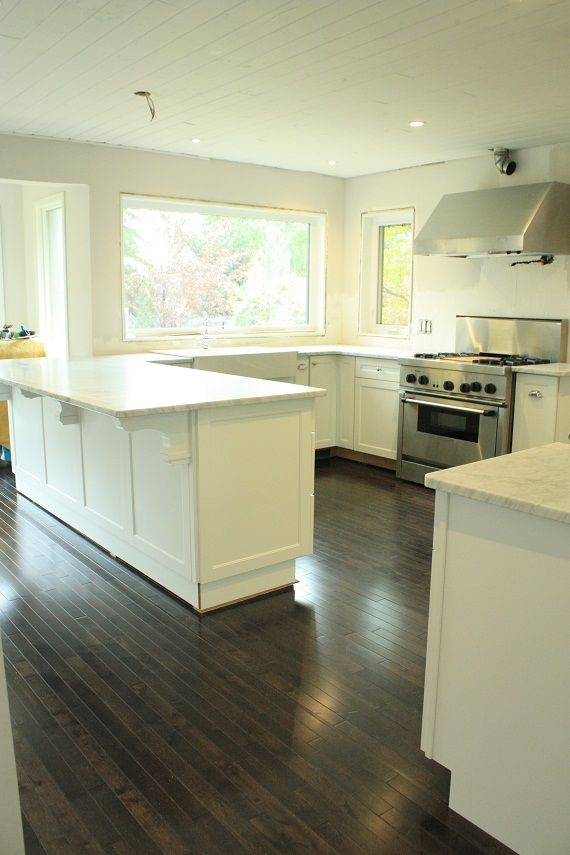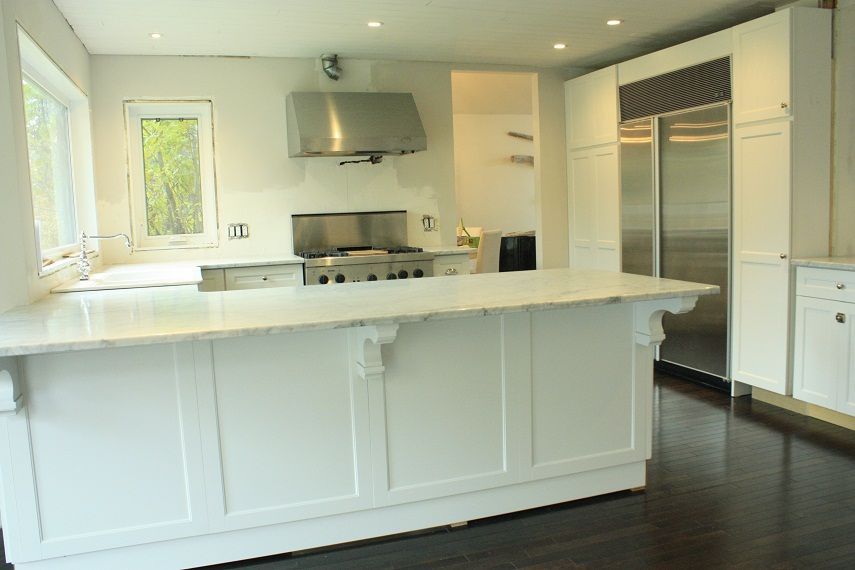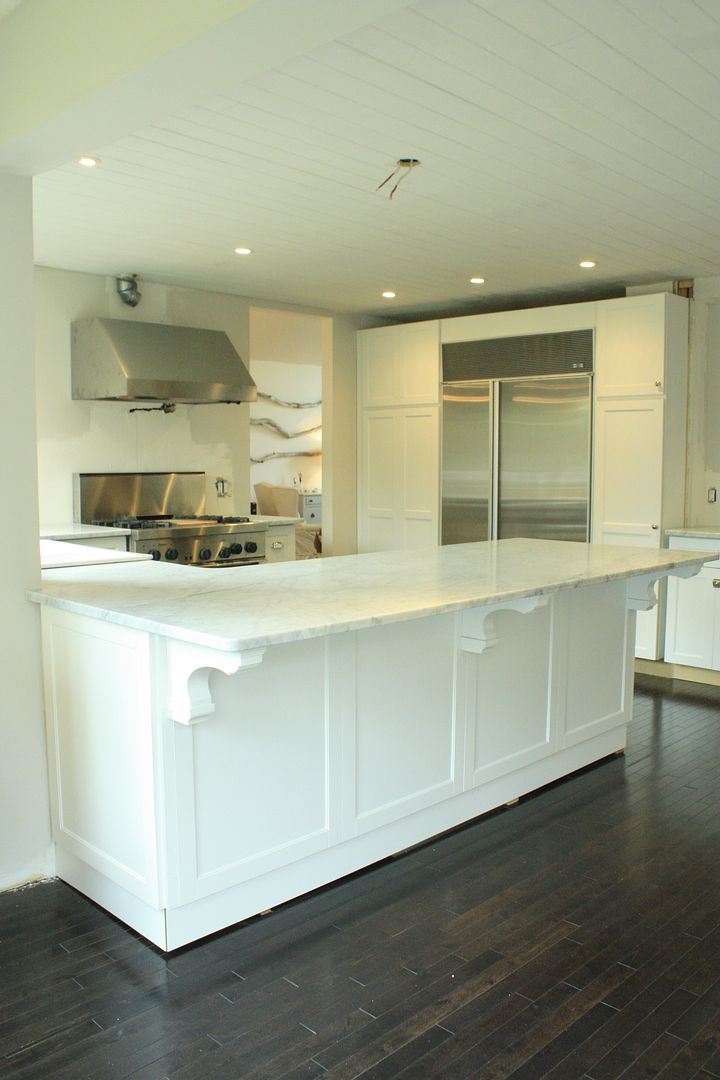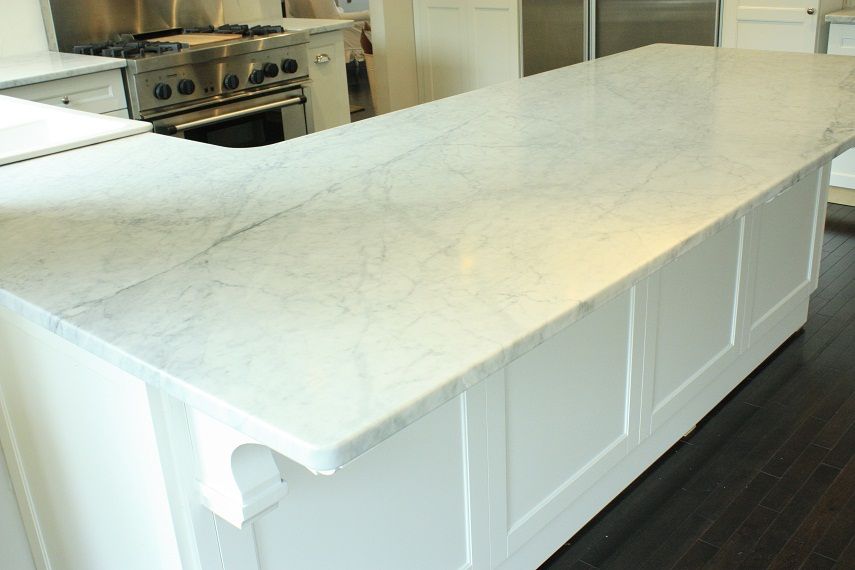 So for the last week we have been busting our tails to get party ready! We are pretty close, at least close enough to not be too embarrassed at the state of things.
I took these photos at about 7am this morning before the sun was up so excuse the slightly greenish tinge.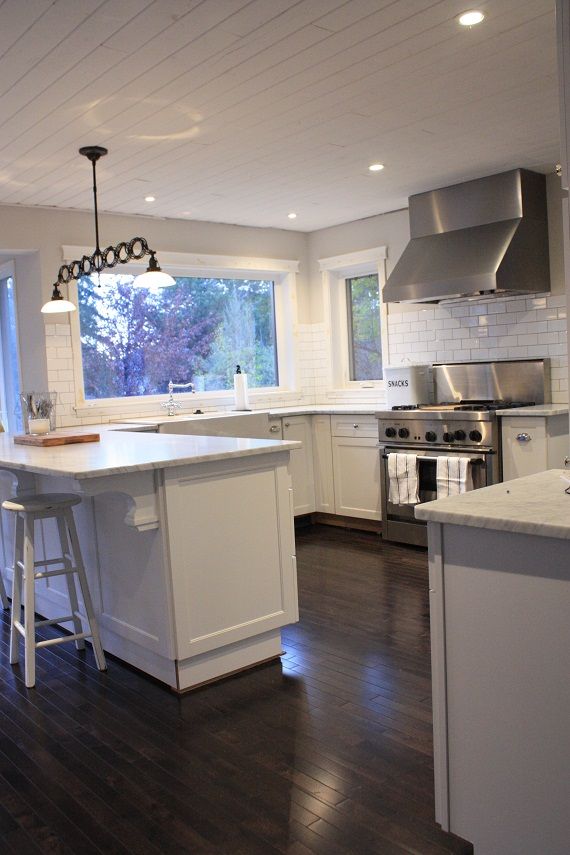 I did all the window casings and tile this past weekend and I am hoping that the cabinet boys will be back to install our cabinet baseboards and crown and the few decorative side cabinet panels being replaced. It will be officially done once I paint the window casings, finish the trim on the ceiling and grout the tiles.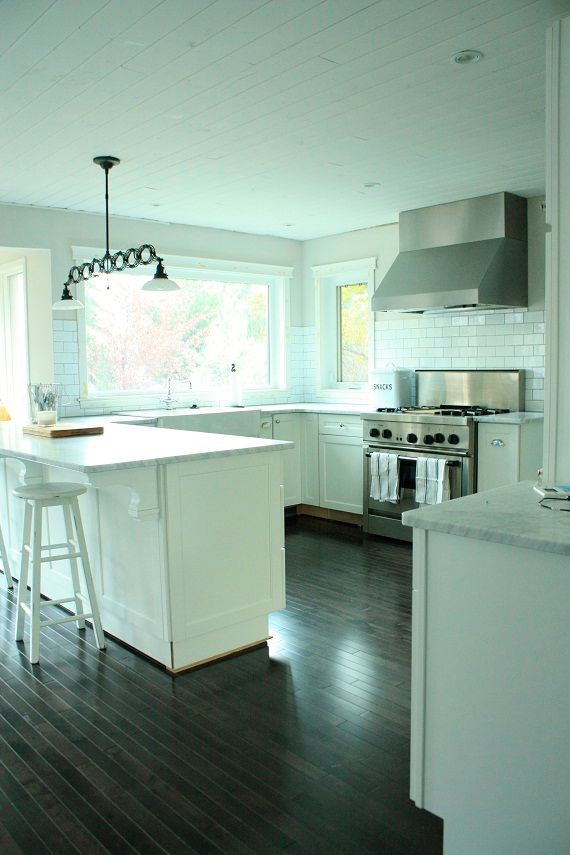 I am waiting on some stools from Restoration Hardware that mimic the factory/industrial feel of the light. I think the few touches of black like the light, stools and some accessories I haven't put out yet will give it some punch.
I am kicking myself for buying this light early because it is on sale right now at Restoration Hardware, but I love it so much that it was worth it!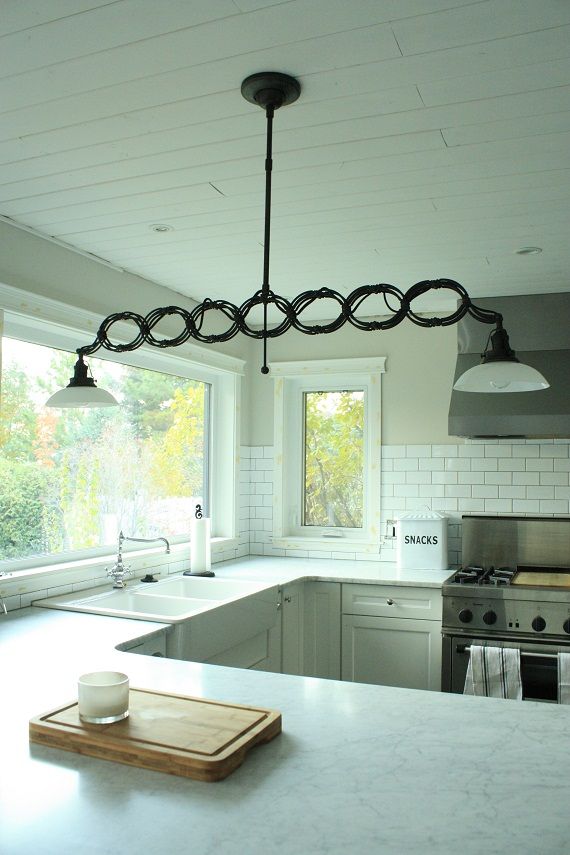 The windows casings are probably my most complex project, using 4 different types of trim to get the look I wanted. But they make such a difference to the feel of the room now. Now I only have 20 more windows in this house to slowly replace LOL. I think I will do an easy tutorial on these soon because I found so little info on window casing looks that I feel like I need to put something out these for any future google searches!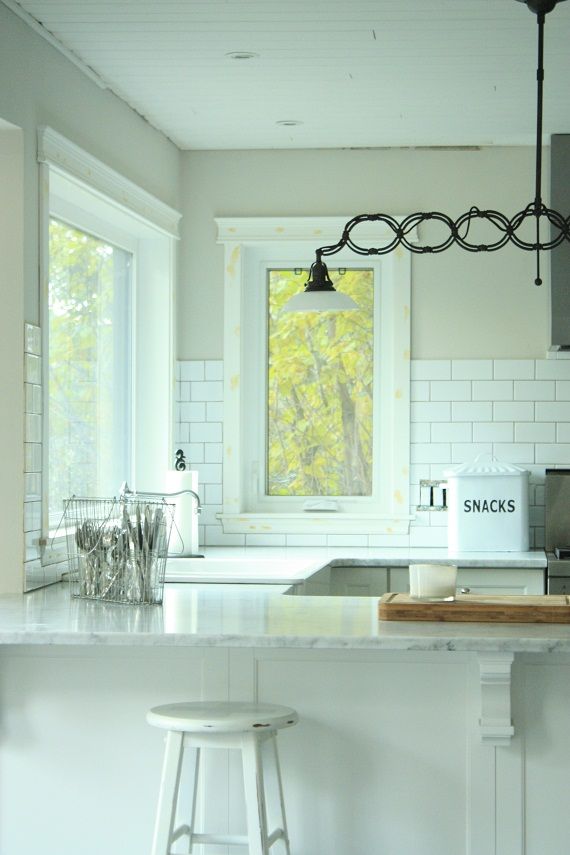 So there ya have it, an early morning tour of our *almost* finished kitchen! After our party goes down on Friday I think life will finally be normal again and I can show you all the whiteberry stuff I've been playing with.