It has been a LOOOOONG 8 months since our Kitchen reno began. The first 5 or so being the worst. Sean and I still have a few loose ends that we can finally tie up now that the kitchen installers finished last Monday, so these are not our *final* shots of the finished kitchen, but they are pretty close.
I know a lot of you have been asking for reviews on what we think about the cabinets now that we've had them for a little bit so I thought I would sit down and share my thoughts.
My first thought:
1. The price is unbeatable if you are after the look we wanted. We did about a year of research and price comparisons so we feel like budget wise they are really superb.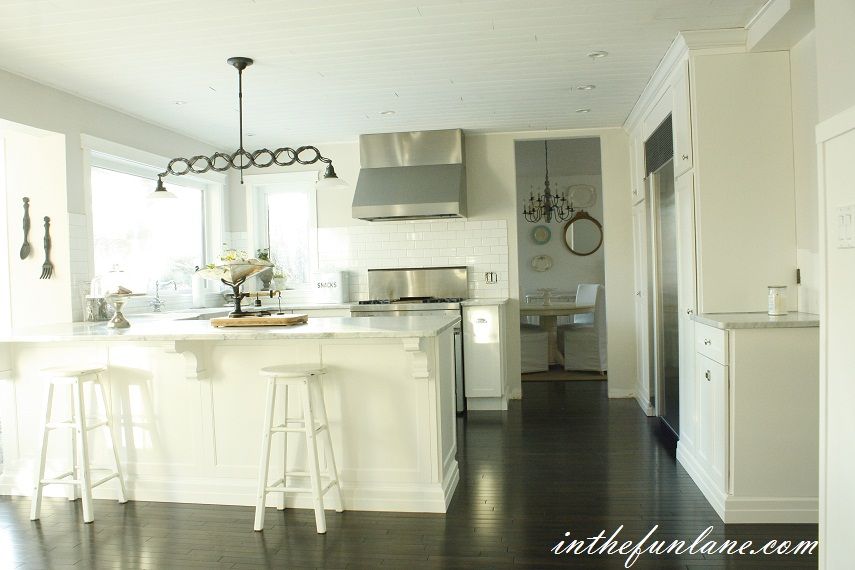 2. You MUST MUST MUST know exactly what you want! I cannot stress this enough. I am sure Home Depot has their share of talented kitchen designers but simply going in and asking one to design your new kitchen is not a good idea. In fact, even when I would share photos and ideas from Martha's own cabinet catalog our designer had no idea how to make it happen. Every single inch of cabinets were picked by Sean and myself. So if you are up for lots of pre-reno work and saving some money it is definitely a good route, but if you have a challenging space or want input I would go to a specialty kitchen store.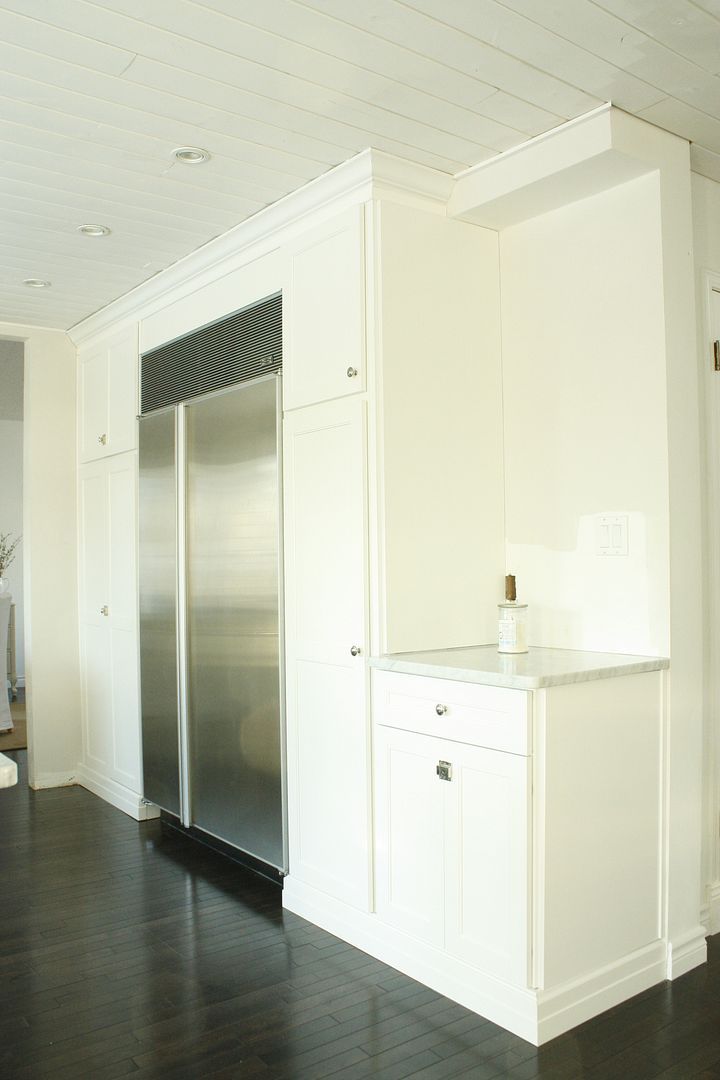 3. The good part about working with Home Depot is that when there is a problem or mistake they cover all the costs and send replacements, the bad part is that it takes about 8 weeks to ship anything. In the end our store gave us all the cabinet baseboards and decorative side panels free of charge to make up for all the delays, but I didn't expect anything and I am not sure all stores do this. But waiting for 3 different replacements at different times meant that it was 3.5 months of going back and forth from the day our cabinet installers began. If everything arrived correctly and was perfect it would be a totally different story and I would have had a finished kitchen back in August, so just be prepared to be patient.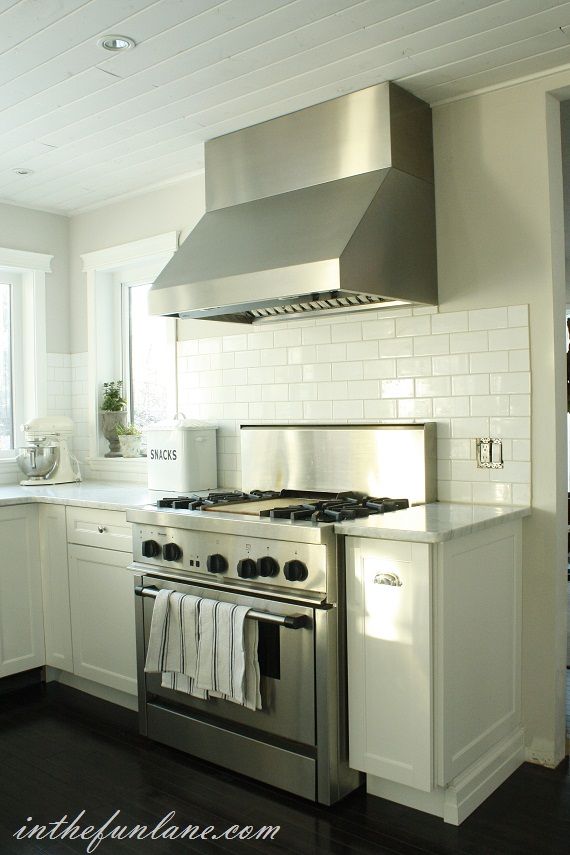 4. Have all your appliances, faucet, sink picked out before you even arrange the kitchen measure. You probably heard me complain before that they nearly didn't agree to make the sink cutout because they didn't approve of the Ikea sink dimensions. That was probably the single most stressful day of our reno because they tell me this 2 days before our counters were to be installed so obviously the marble had already been cut. I had to get mad for the first time in the whole process and if it weren't for the fact that I had documented proof that our Home Depot measurer saw the sink, measured it and that our designer also knew I don't even want to know what disaster might have resulted (like having to get a whole new slab of marble for that section!). Document everything in email with your designer and have it all on hand for the measurer before you ever even meet with the designer!!!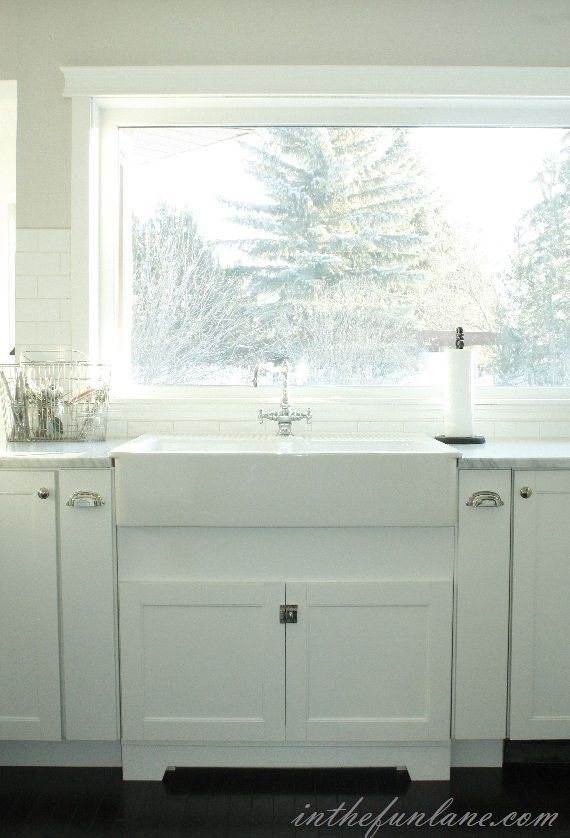 5. As for the cabinets themselves, we are in LOVE. Totally worth the pain! All the cabinets have soft shut doors and drawers, nice styleing and some cabinets come standard with extra sweet features like sliding shelves. We thought our pantry cabinet would just be shelving, but were pleasantly surprised to have pull out shelves which is nice so things don't accumulate at the back!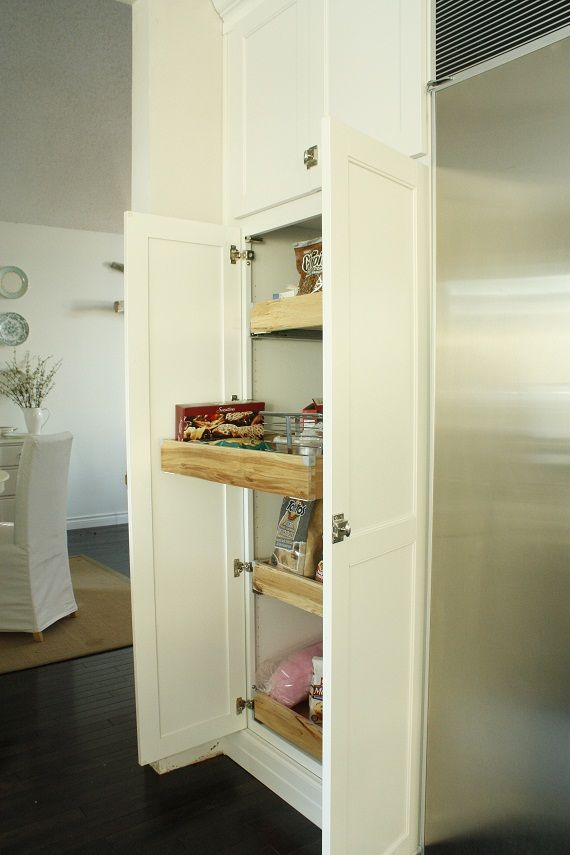 3 seperate cabinets also surprised us by being pull out organizers! Can't argue with standard features like that.
6. Spending just a little more on decorative panels for the side or back of cabinets make a huge difference. One of the things I liked most about Martha's cabinets was the decorative elements. Things like build out baseboards, plinths and corbels can't be found at places like Ikea that have comparable prices. The single most expensive items in the kitchen are the corbles (they run about $500 each) but the panelling on the peninsula was not all that much money and gives a really custom look.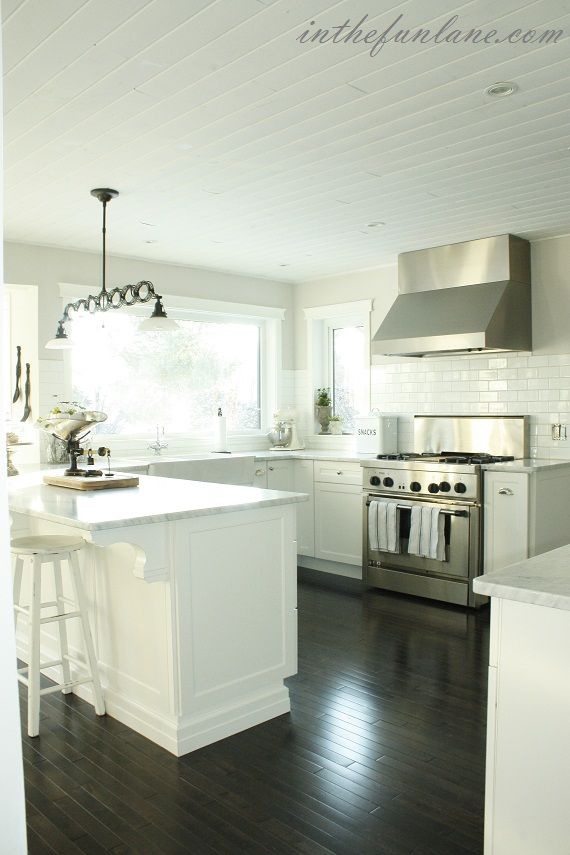 7. You can save $$ by doing store bought trim. I believe the Martha Stewart crown was about $150/8ft. While HomeDepot gave us the baseboards free of charge I still wanted to save a little money and get a custom look so I bought in stock crown at Home Depot for $1.30/ft and just had the installers put it up for me. Since Marth also makes paint, all the cabinet colors are available in paint and I brushed on some matching paint after they put it up! I probably saved about $250 in trim this way.
My biggest and final piece of advice is that even though you are going to a big box store that doesn't mean you can't have a custom kitchen. Have high expectations, be willing to think outside the box and express your ideas clearly and there is no reason why a budget friendly kitchen can't look like a specially design space.
So my final verdict? Despite some of the snags (you have to expect a few hiccups) the overall product is great. Our total bill for the cabinets, including the installation was $11,500. If you are a hands on person who is able to dedicate some time to planning then you will be really happy with them as well.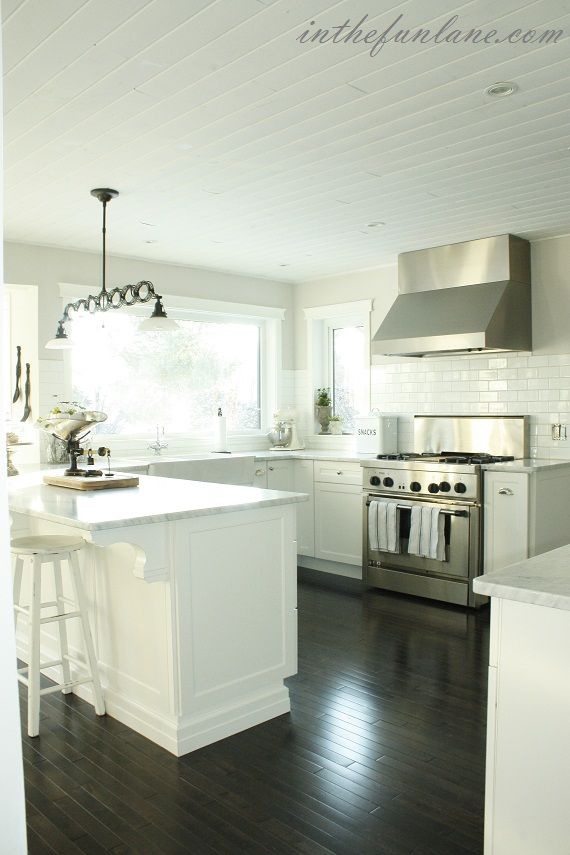 Now I just need to finish a few baseboards going into the dining room and tile by our phone counter to get it done~