Thank you all for your kind thoughts and prayers in regards to our Aunt that passed away unexpectedly on Monday. I am still unsure about my travel situation and Sean is all drugged up and sleeping upstairs today after his dental work so I figure I might as well tackle the mounting pile of laundry and finish my post holiday clean up. And come hang here on the blog for a bit. After nearly 4 years it is still so much fun to sit down and type up my latest blog post, and I always have a smile on my face as I do it (which Sean has pointed out can be quite creepy at times LOL). It is funny how this blog has evolved, from the day we moved into our house to baby items to decorating and renovating, to clothing, etc. It is by no means a topic specific blog! More of a daily snapshot of life here at Casa WhiteBerry.
Since the kitchen finished up I have been determined to get some use out of it. It is a relaxing, beautiful spot that I love to work in and despite my numerous cooking handicaps I am deadset on turning myself into someone at least capable of whipping up a delicious meal once in a while. My biggest challenge is overcoming my fear of really making something horrendous. But a new restaurant that opened up just around the corner from our house has an appetizer that I am so in love with that I thought I would give it a quick try at home (if you are in Edmonton and love Italian food definitely try Vivo and their amazing caprese tomatos).
The reason I thought it was a good try for someone who is unskilled like me: minimal (or no) heat required! When it comes to juggling a meal and all the side dishes I totally suck. So this is a great side dish that you can prepare before you even start on the main course.
My simple ingredients:
various tomatos
Olive Oil
Mozzarella
Basil
Sea Salt
Pepper
and of course GARLIC!
Seriously, no worries about vampires here today!!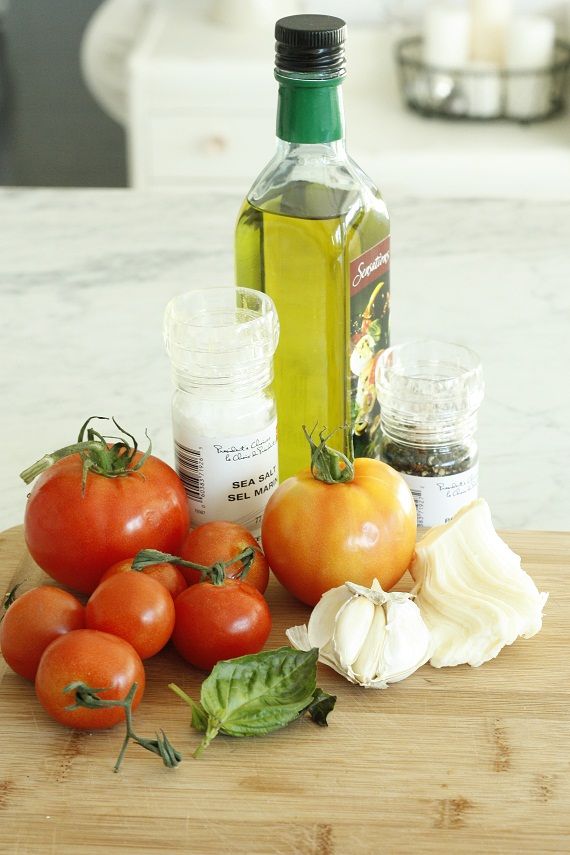 I simply threw it all together on a plate and decided to see what happened. It turned out tasting fabulous and I think even like this it would be a good snack/salad, but I decided to throw it under the broiler for about 2 minutes to just melt the cheese a touch.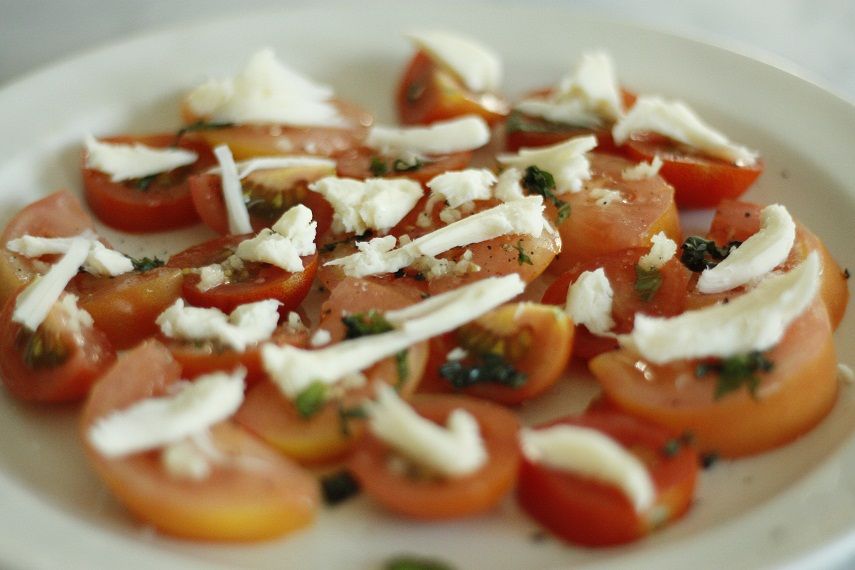 And while it is in the broiler I thought I would share a couple new kitchen items that have been added to our humble abode. The first are one of my absolute favorite Christmas gifts: snazzy new trivets! Our new counters cannot have hot pots and plates set directly on them so it has become second nature to throw down an oven mitt or even a tea towel when necessary, but these beautiful trivets are so handsome that I leave one on our stove at all times. My mom says she picked them up at Anthropologie. THANKS mom!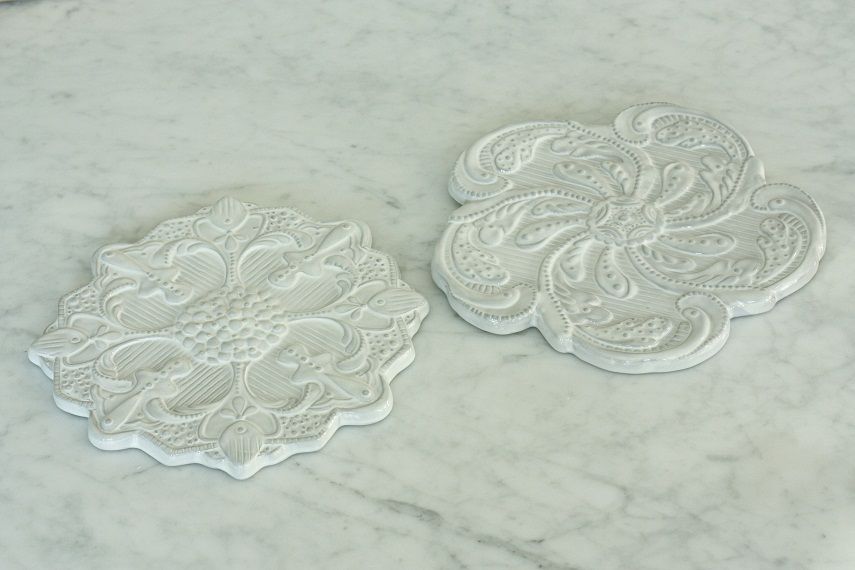 The second is also from Anthropologie but it is one of those things that I'm not sure are still available. I had lusted over their denim/jute rugs all fall and nearly pulled the trigger once they went on sale in November but just didn't think I could justify the expense. But while I was out holiday shopping I took a chance and asked an associate if she had the rug in store anywhere so I could see it in person. To my astonishment she pulled one out of the back that had a sale tag reading $35, and you better believe I held it tight the whole shopping trip!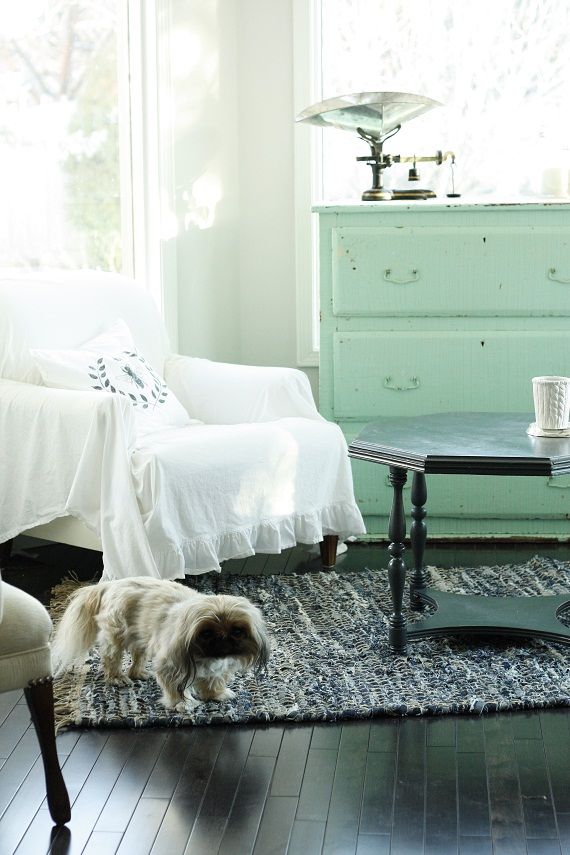 (I am trying my hand at sewing my own slipcovers on these chairs this weekend so stay tuned for that adventure)
It doesn't look overly soft and cushy but it is actually very comfy and I only wish I also would have found one in the largest size for the family room (this one is 4x6).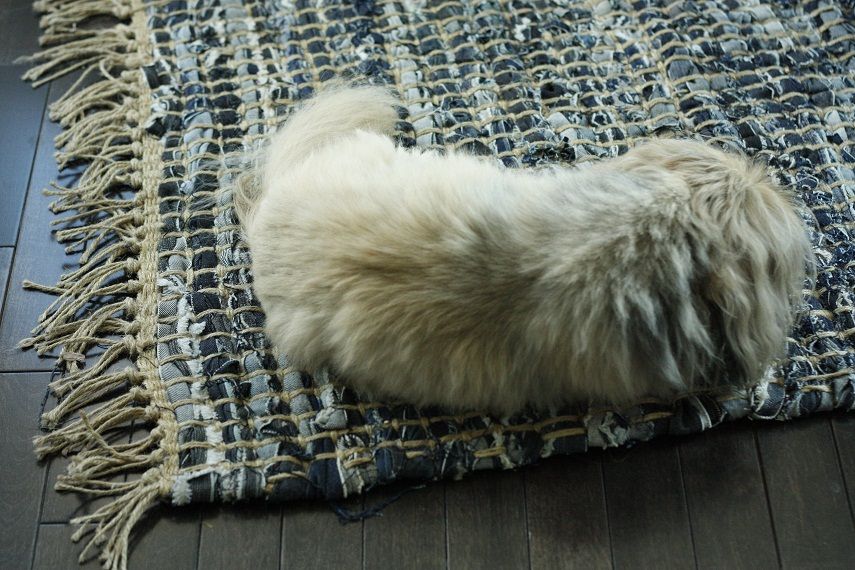 Oooh I think our tomatoes are ready! I like them best when the cheese has bubbled nicely but the tomatoes are still firm and not yet mushy. Wren is also a big fan of these and they make a perfect afternoon snack for little fingers (I usually give hers a litttle more cheese and go light on the pepper).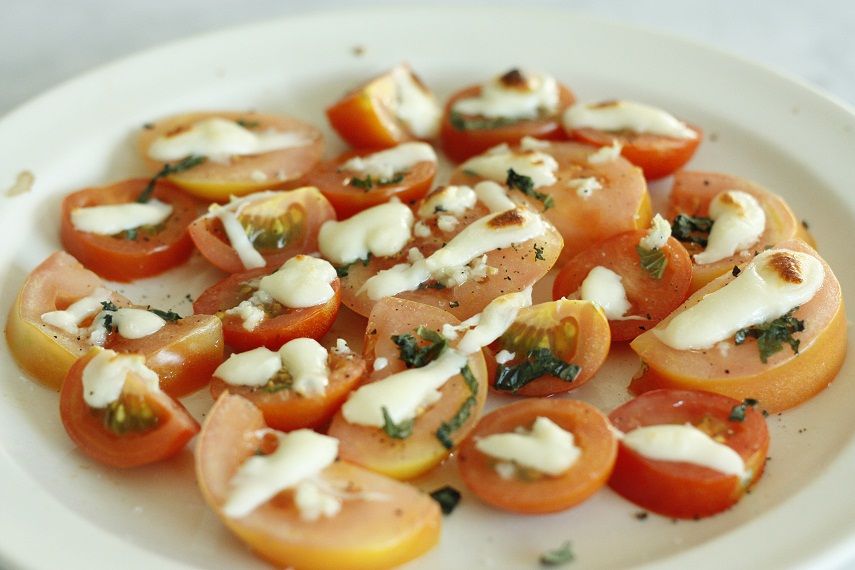 I like to tell her it is pizza without the crust and that was all she needed to hear to get on board with this creation.