What a ride y'all! I have been floating the last couple days as the chaos winds down and it is back to life as usual (for now, at least!). As promised, here is my tour of Lexington all finished and staged to sell. Is it entirely decorated? no. That's not the purpose of selling, but in my dreams I would love to do a Sarah Richardson-like full house remodel and fully decorate it. But considering this is my first venture into renovating and flipping homes I think we did a pretty good job.
Our total timeline was 10 weeks and we hit it, but the last week was a REAL push! I had a fabulous crew of miracle workers that made all my wishes (sometimes demands) come true and I cannot say enough wonderful things about them. I will continue to use them all again and again!
Let's start from the top, or rather the bottom in this case. Lexington is a 4 level townhouse that is in a nice, quiet community. What originally drew me to it was the exteriors that all evoke feelings of an old boston neighborhood. There is also an attached garage which made the logistics of renovating a lot easier!
Our front door was dark, RED and dirty before (my camera killed the before of this space, but it maybe the most dramatic change). With a little wallpaper (from Lowe's, $40/roll) and some new tile it feels light and bright now, with just hit of fun and quirkiness.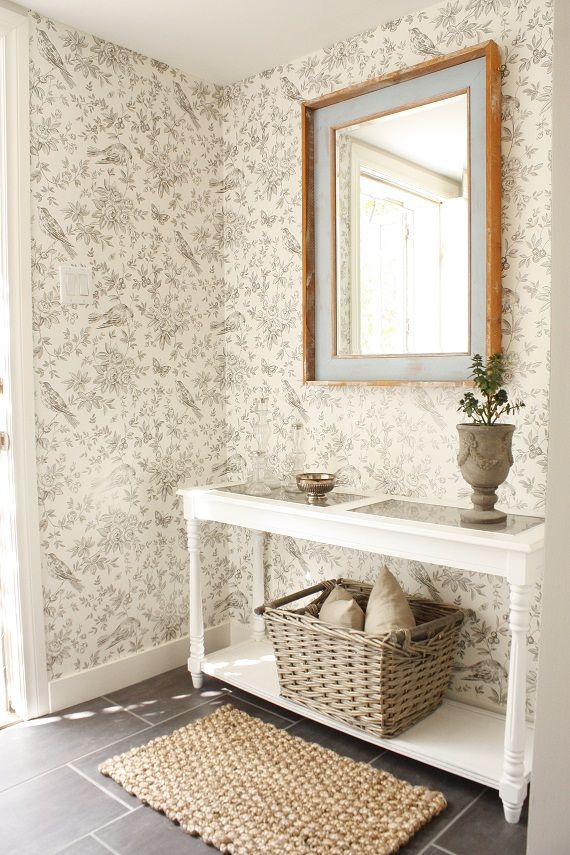 Up a flight of stairs from the front door is the living room (shown here from up in the dining room).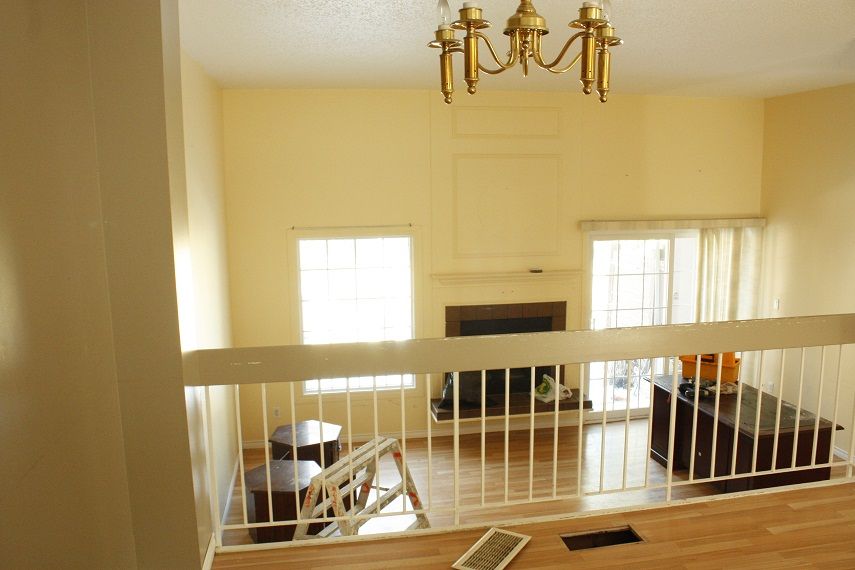 But now it feels like a relaxing place to unwind. I painted the walls in Martha Stewart's Whetstone Grey. All the trim in the house is Elegant white by Behr. 12x12 inch marble tiles ($6/ft, HomeDepot) tie the white and grey together and the more substantial hearth my dad built makes it so much more grand.
All the laminate in the house is from Timber Town on 99th street in Edmonton. If you want wood floors, laminate floors, engineered floors you will LOVE these guys (If you go in and see Dave tell him Holly sent you and I promise you will get a good discount on any price!).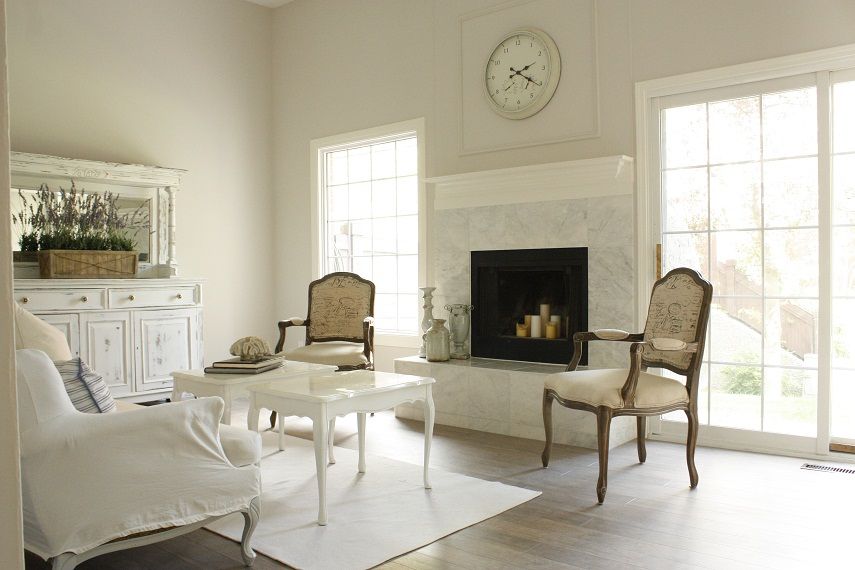 We decided to paint the trim work Whetstone Grey as well to give a modern touch with all the original character.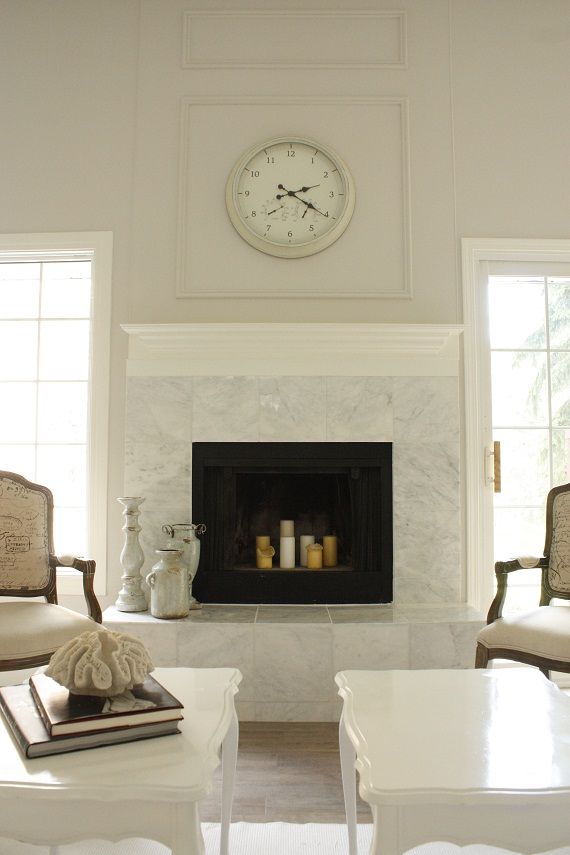 LOVE the ceiling height in here. I like to think of it as my little french country boat house.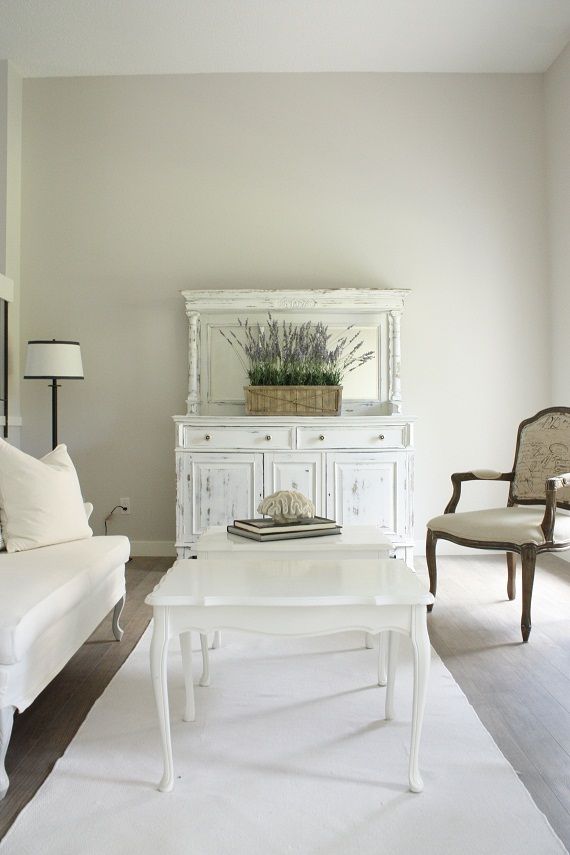 Thanks for lending me your lavender Mom!
I think Lexington is unique because we didn't try to fight all the modern elements. It was a challenge, but we made it really versatile for someone with a modern design sensibility or more on the traditional/rustic side.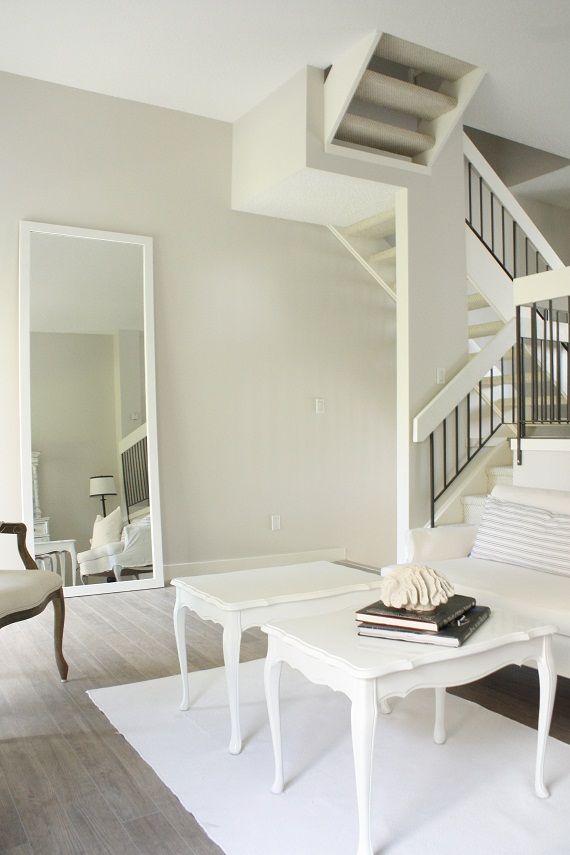 Remember our old kitchen? It photographed deceptively well. In reality it was a hot mess.
*singing* A Whole Neeeew World!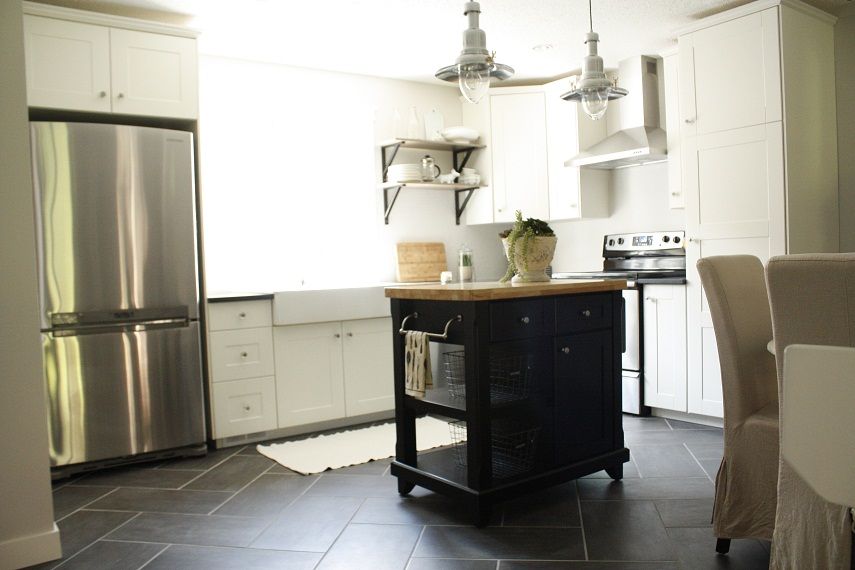 The separation between the dining room and kitchen was making both rooms feel small.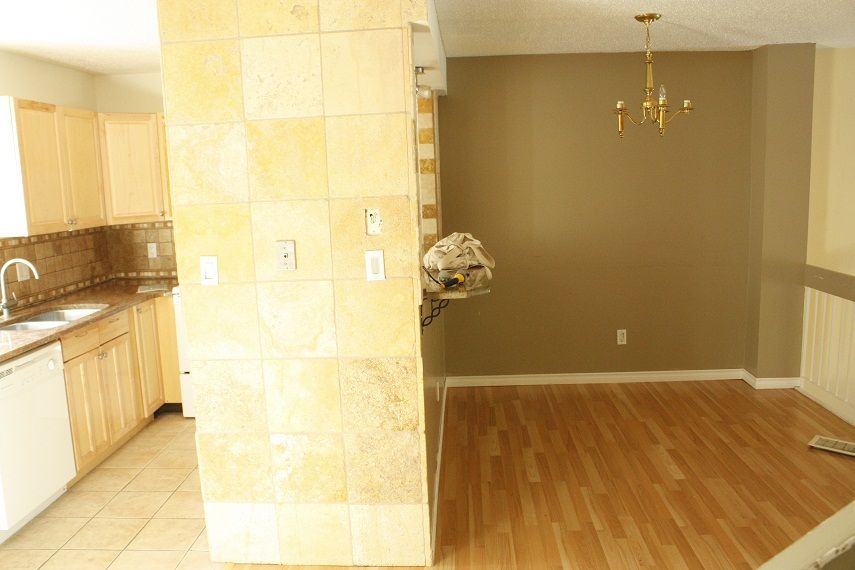 The new open layout is family friendly and great for entertaining.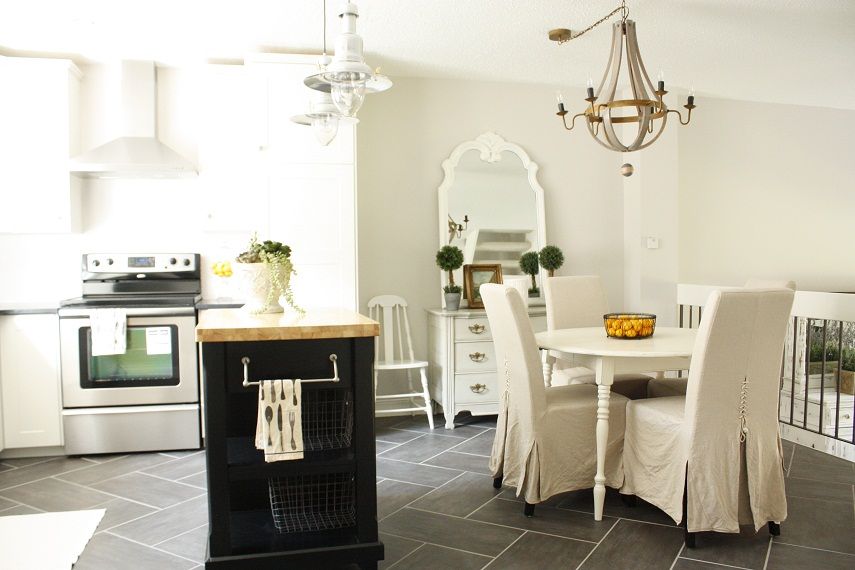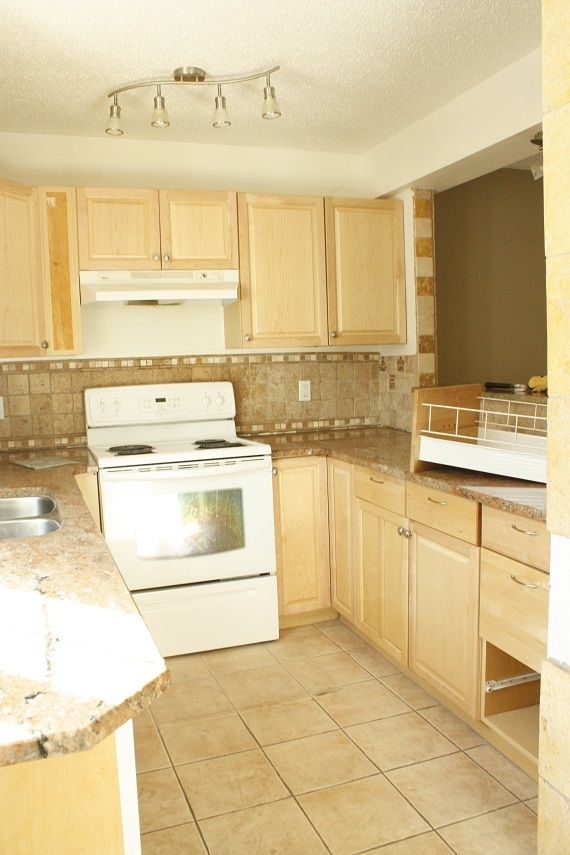 And your view from the kitchen is a little prettier!
The Ikea Otava pendants were only $50 each and add to my 'french-boathouse' theme. The Totem Island was a clearance $399 find that ties all my black elements in.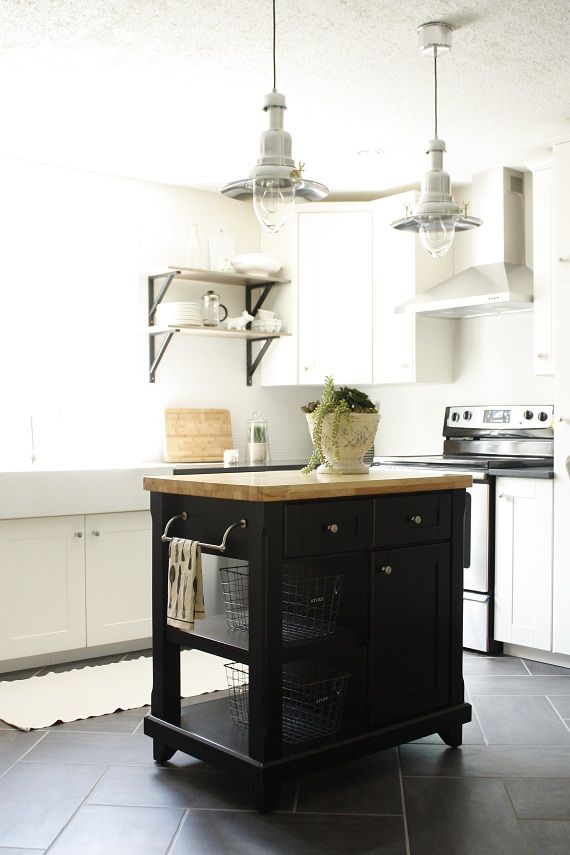 I feel like form over function describes my take on range hoods. I have nothing against over-range microwave vents, but I don't see myself ever buying anything but industrial, freestanding hoods. This one is only $399 from Ikea!
All the cabinets are Adel Off White cabinets from Ikea. They are a wonderful price, but you need a lot of experience getting them right. Be prepared to do a lot of Ikea runs! I have had a lot of emails asking if I think they are better than my Martha Stewart cabinets and the honest answer is no. I would do Martha cabinets again in a heart beat but time was my only constraint here and her cabinets seem to take forever. If you are trying to make the decision for your own home please do your research on your installers but also decide how you want to live in your kitchen. For me, resale was a big factor in my choice in both properties. My own home is in a neighborhood with half million dollar homes and we needed to make choices based on that, but Lexington appeals to a whole different buyer. The difference is not in the door styles, but in the actual construction of the cabinets themselves. I still 100% believe you cannot get a better quality cabinet at Martha's price point!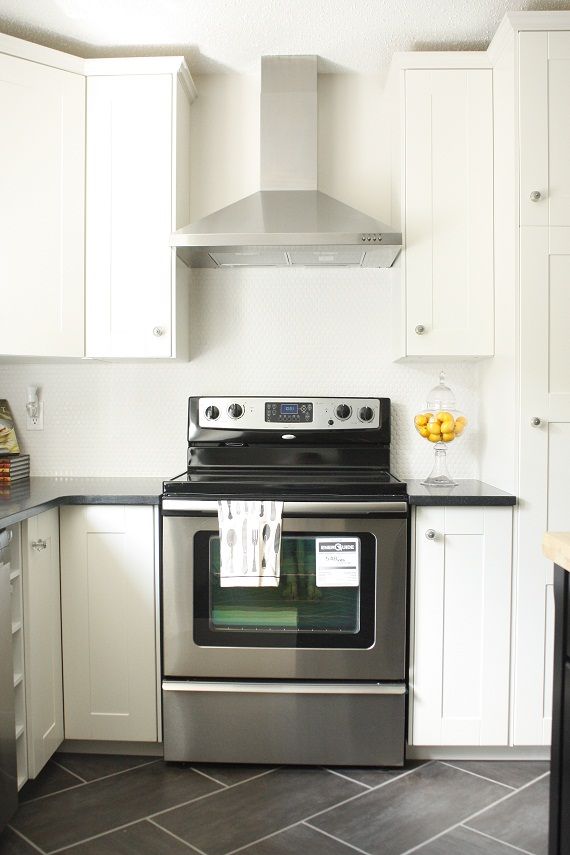 I chose a honed black granite for the counters. It was the one element I felt completely out of my comfort zone with, but I am thrilled with the outcome. If you are in Edmonton and looking into new counters I HIGHLY recommend Urban Granite. I used them in our own kitchen overhaul as well and cannot sing anything but the highest praises for them.
The penny round backsplash was from Tile Town and was overage from another order so I got them for $4/sheet. The whole kitchen took $90 of tile!
My installers built a cute little custom cabinet beside the dishwasher for cups, wine bottles, etc. to fill a void space. See why I love those guys?
(my beloved Ikea brackets and shelves again!)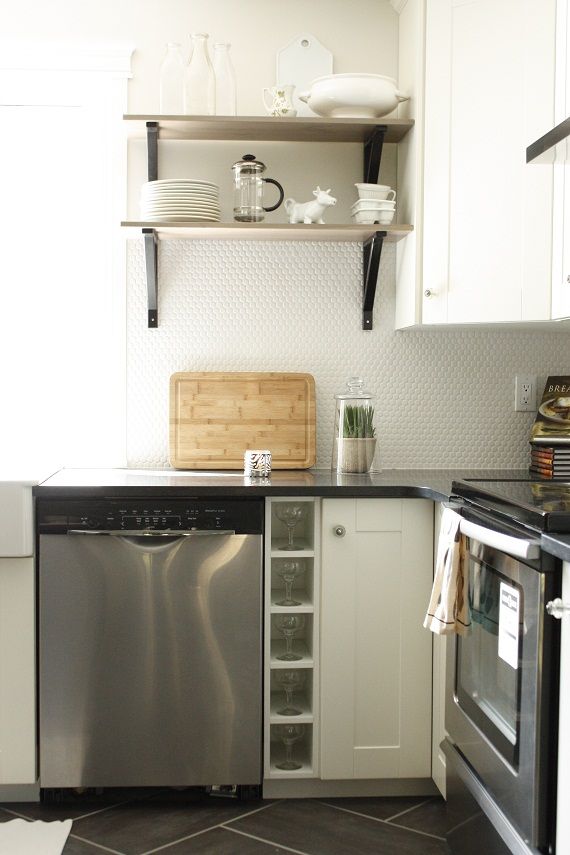 The herringbone tile is probably my single favorite element in the house. It is done out of 12x24 inch tiles I got from Lowe's for $6 each. The result is both classic and modern at the same time and I think I will definitely do it somewhere again in the future!
My wine barrel chandelier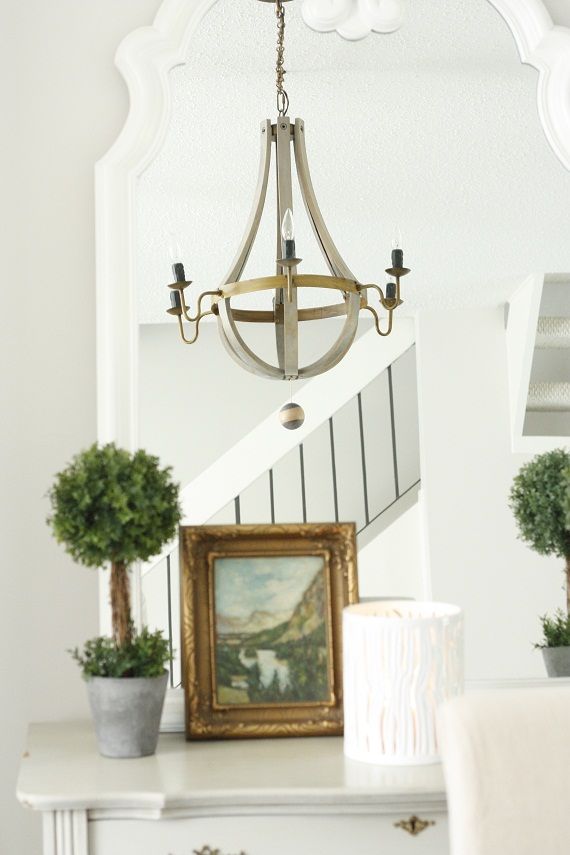 I found it for $179 on a random trip to HomeSense last Winter. I originally didn't like the color of the wood so I restained it a driftwood grey that matches all our laminate floors (and Ikea shelves!)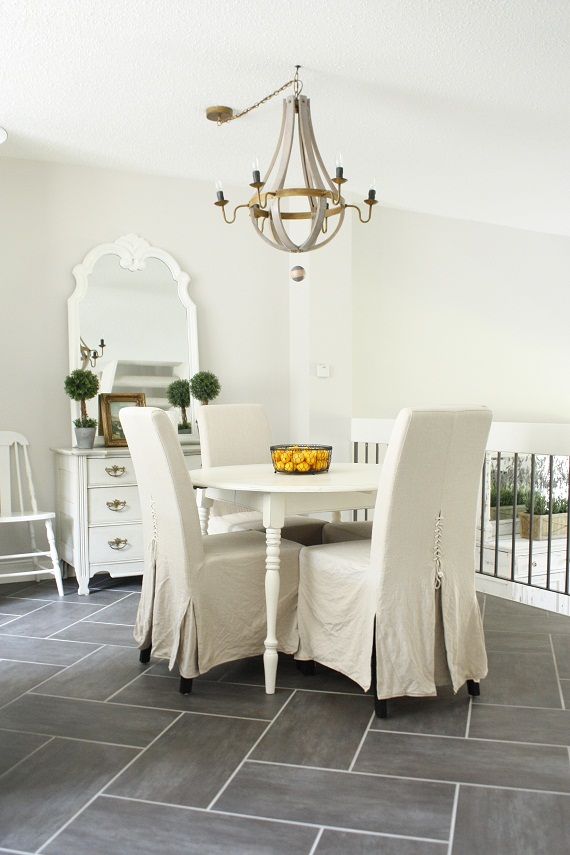 The railings were probably my biggest job. My Mom and Sister dutifully and sweetly dedicated many weekends to helping me strip and sand them down from years of paint!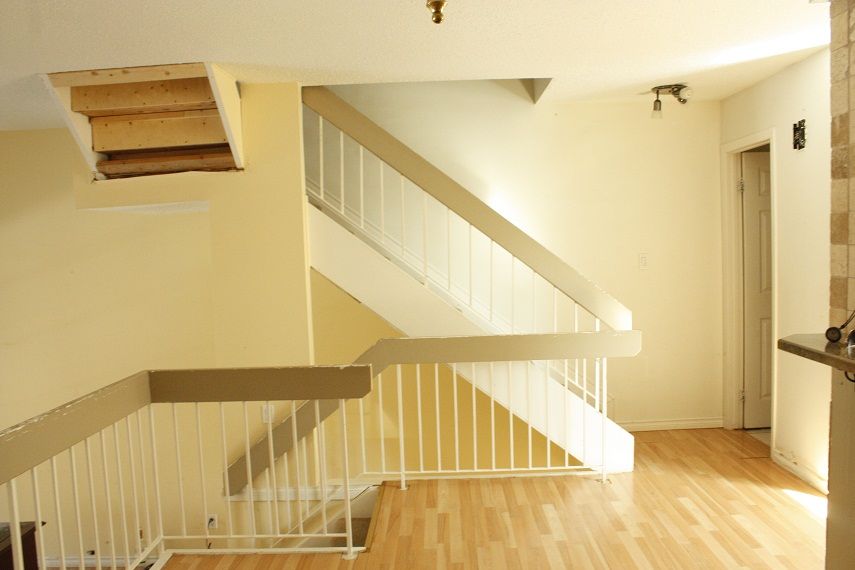 Dark grey metal and white handrails now
Just off the kitchen was the dirtiest, ugliest, smallest bathroom in history.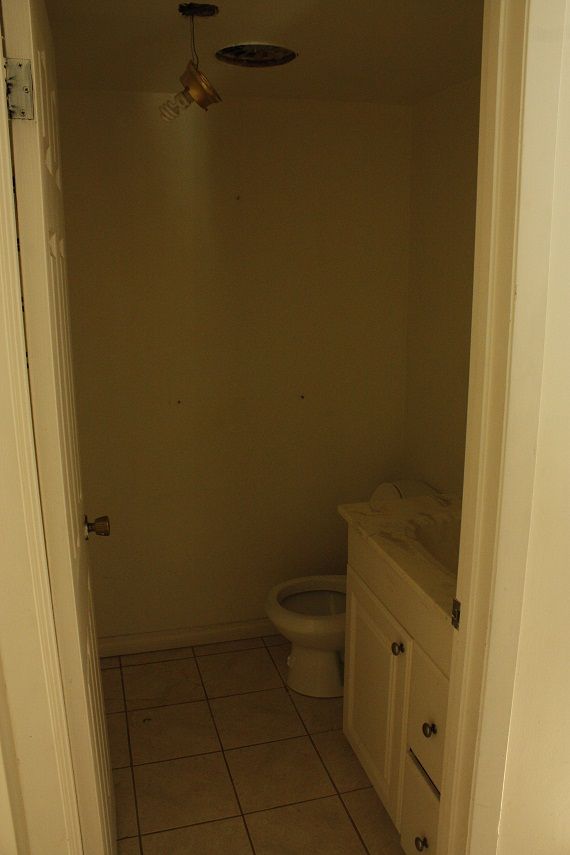 Now it is a grey haven. The HomeDepot vanity ($400) feels like furniture and isn't too heavy for the little room. The hardware and mirror are also from Home Depot.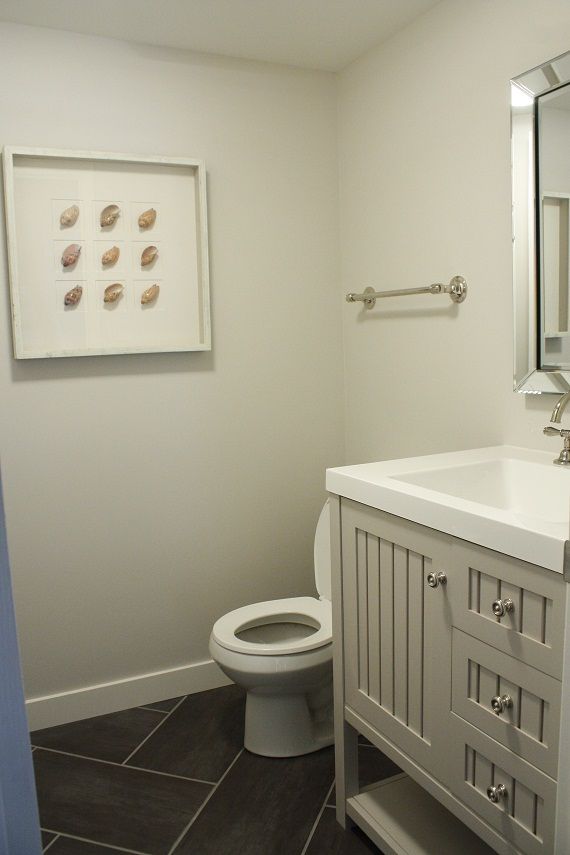 The upstairs landing before. YIKES!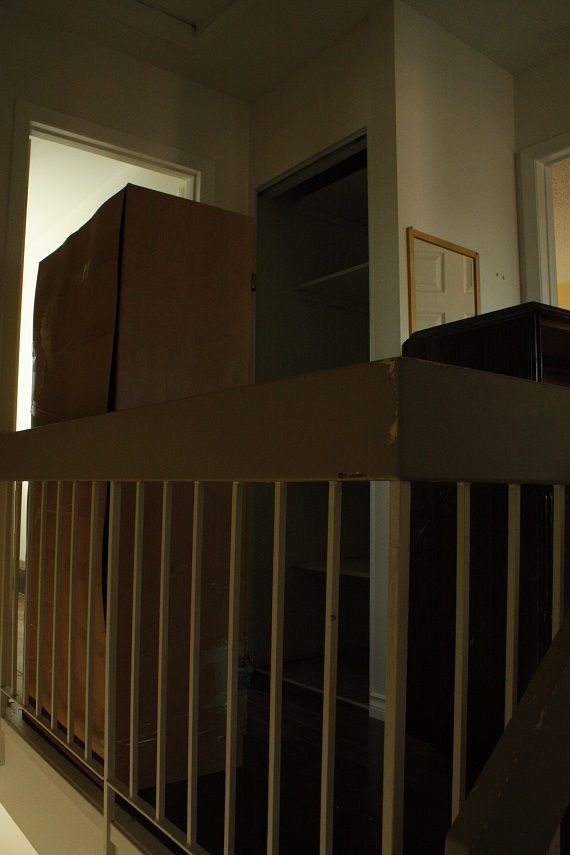 All cleared of junk!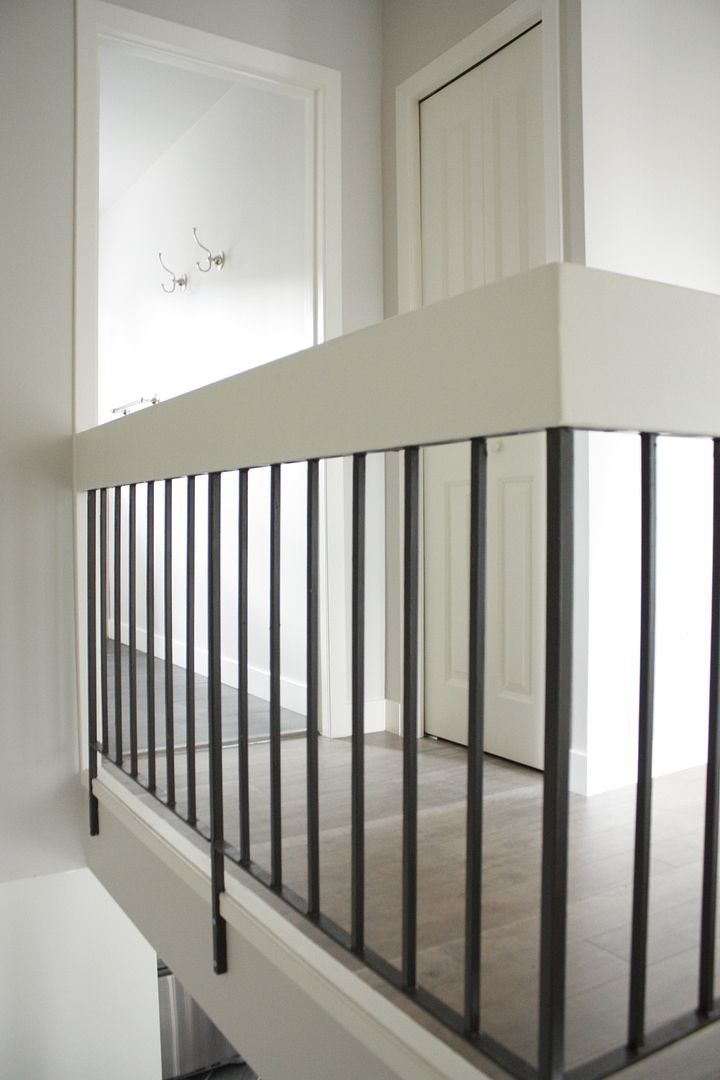 One of the three bedrooms before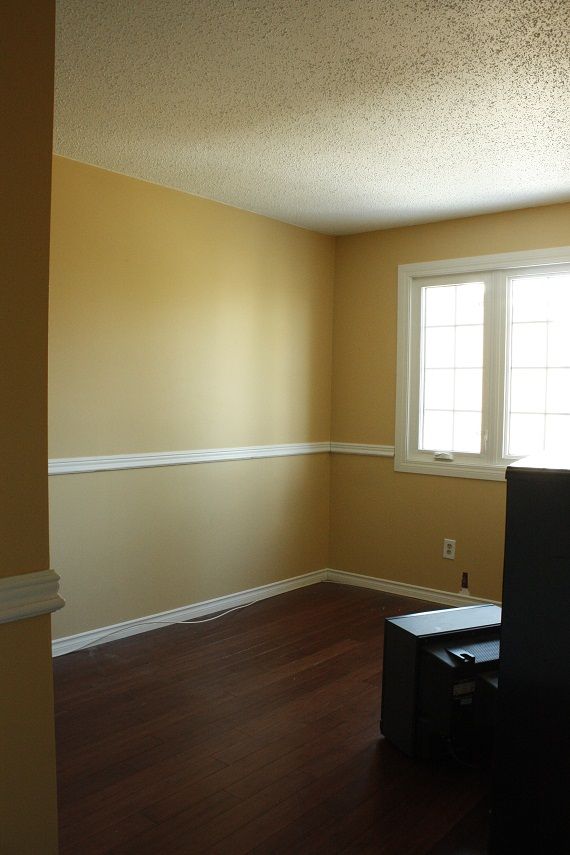 and after!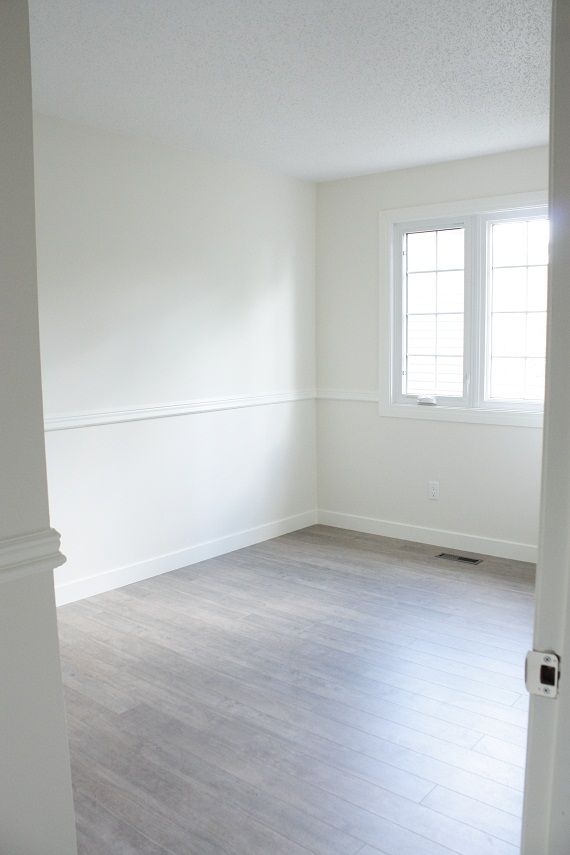 Another gross room (this room was PLASTERED with gum! It tooks days of work to get it off and repair the drywall).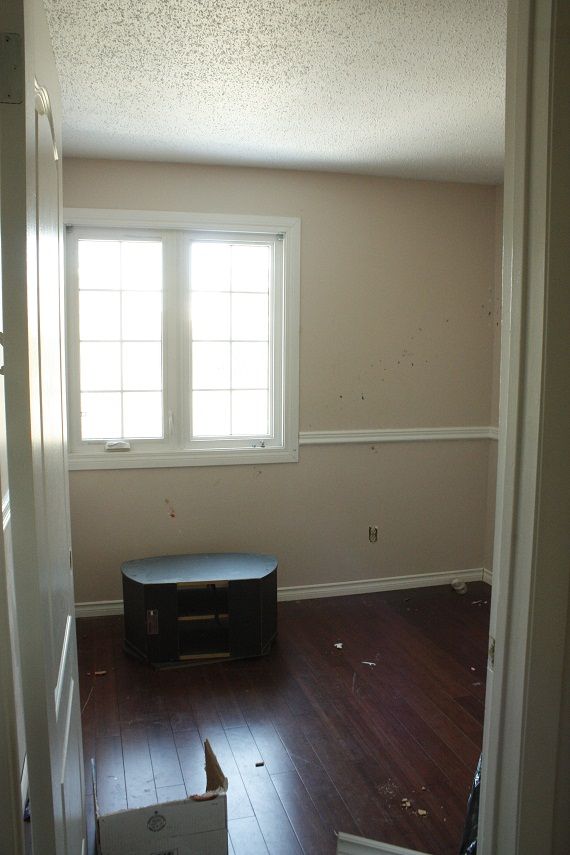 All clean now!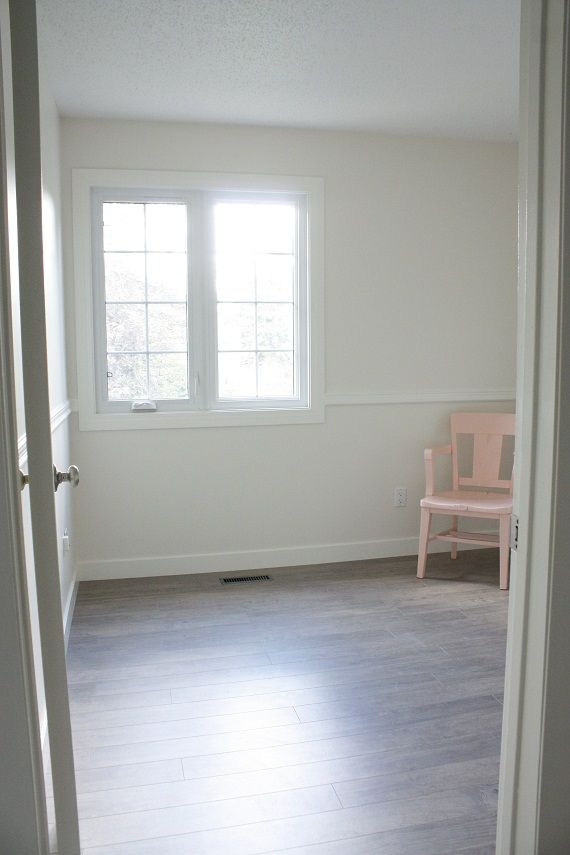 The upstairs bathroom is another dramatic change. It was so ugly, dirty and crappy before I could hardly stand it. AND THE SMELL! yeeesh.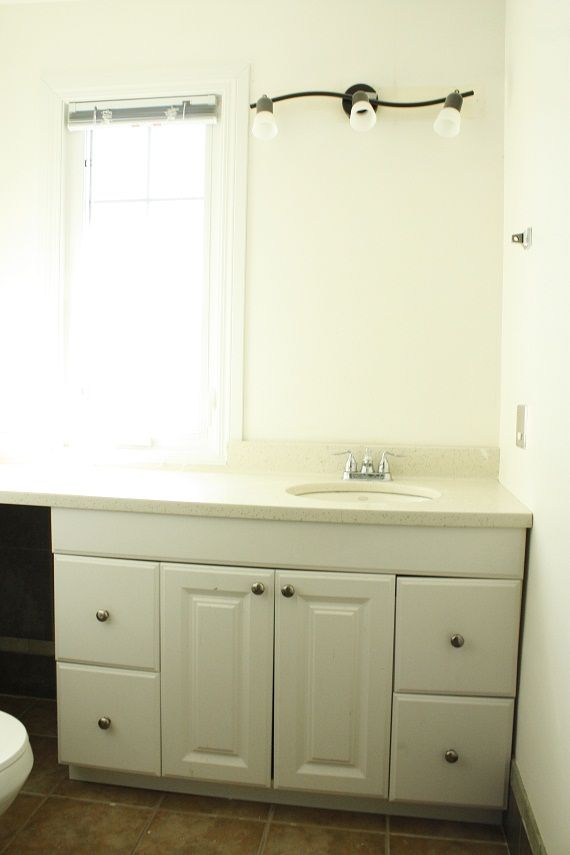 Mid progress.
And today.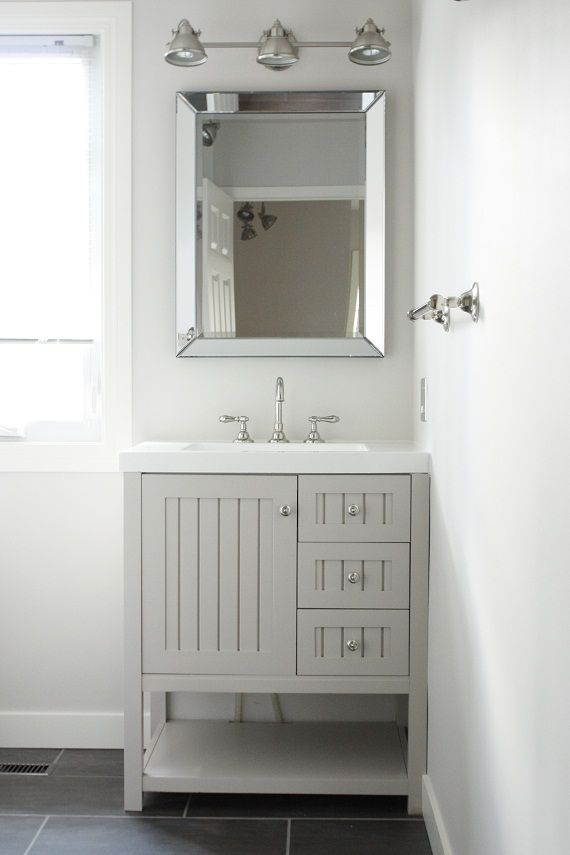 The lighting came from Lowe's ($75) and all the hooks and accessories were also by Martha Stewart for Home Depot. Because the room is small we opted to use the same tile as the kitchen, but in a traditional staggered pattern.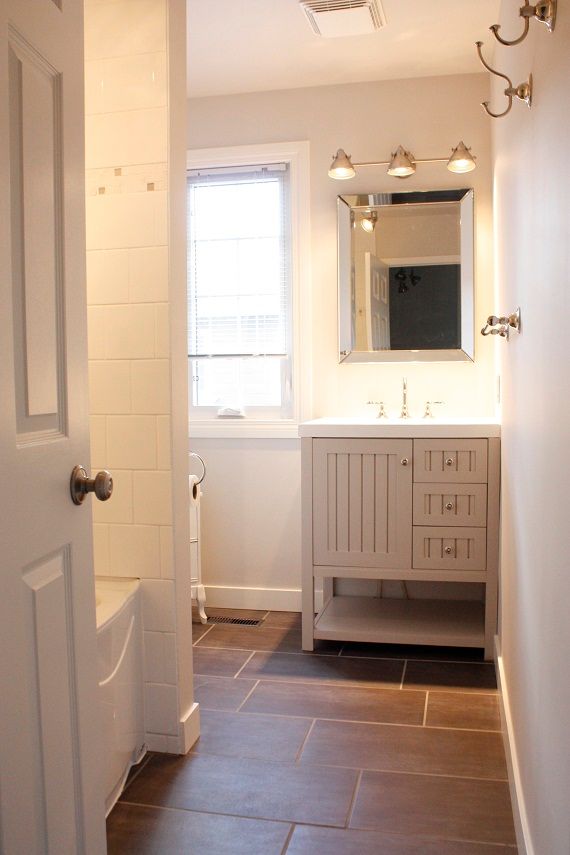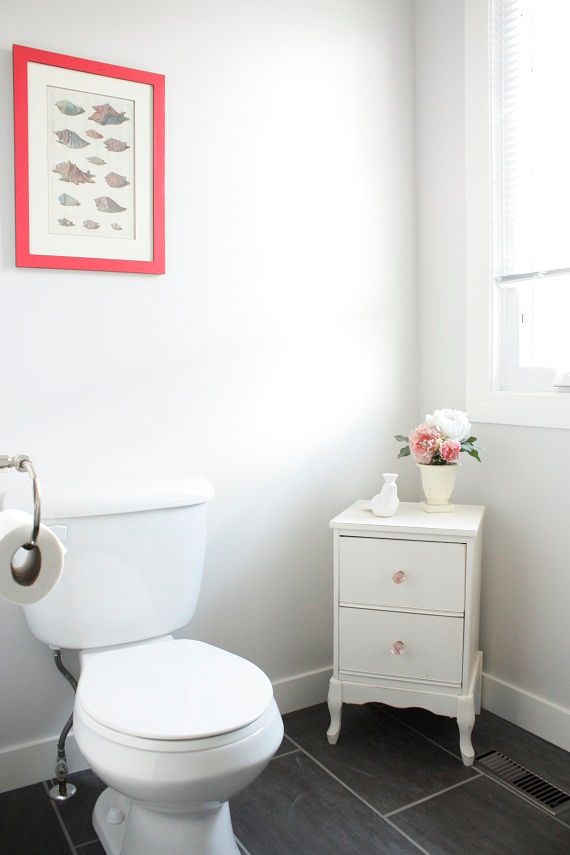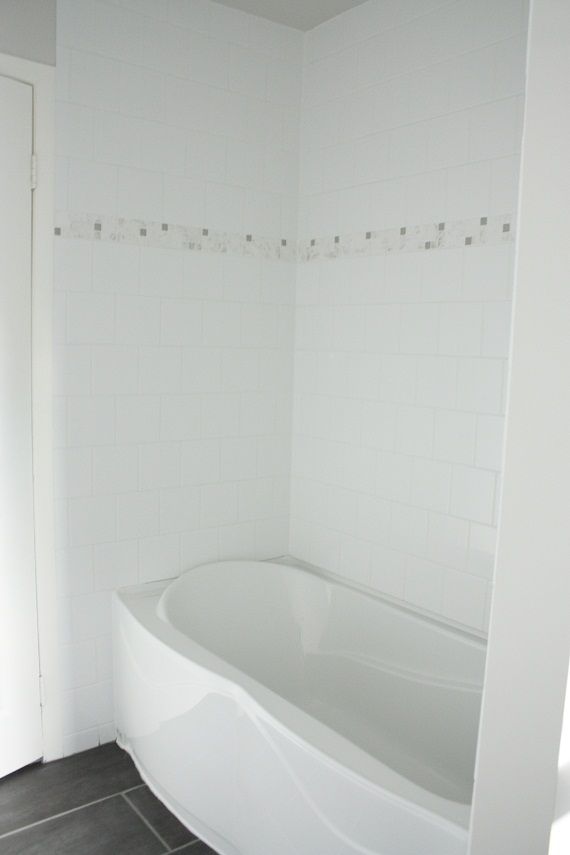 And finally, the old Master bedroom. We ripped out a dividing wall in here and closed a doorway to the bathroom (controversial! but necessary). We also had all the closets rebuilt and drywalled to accommodate new folding doors.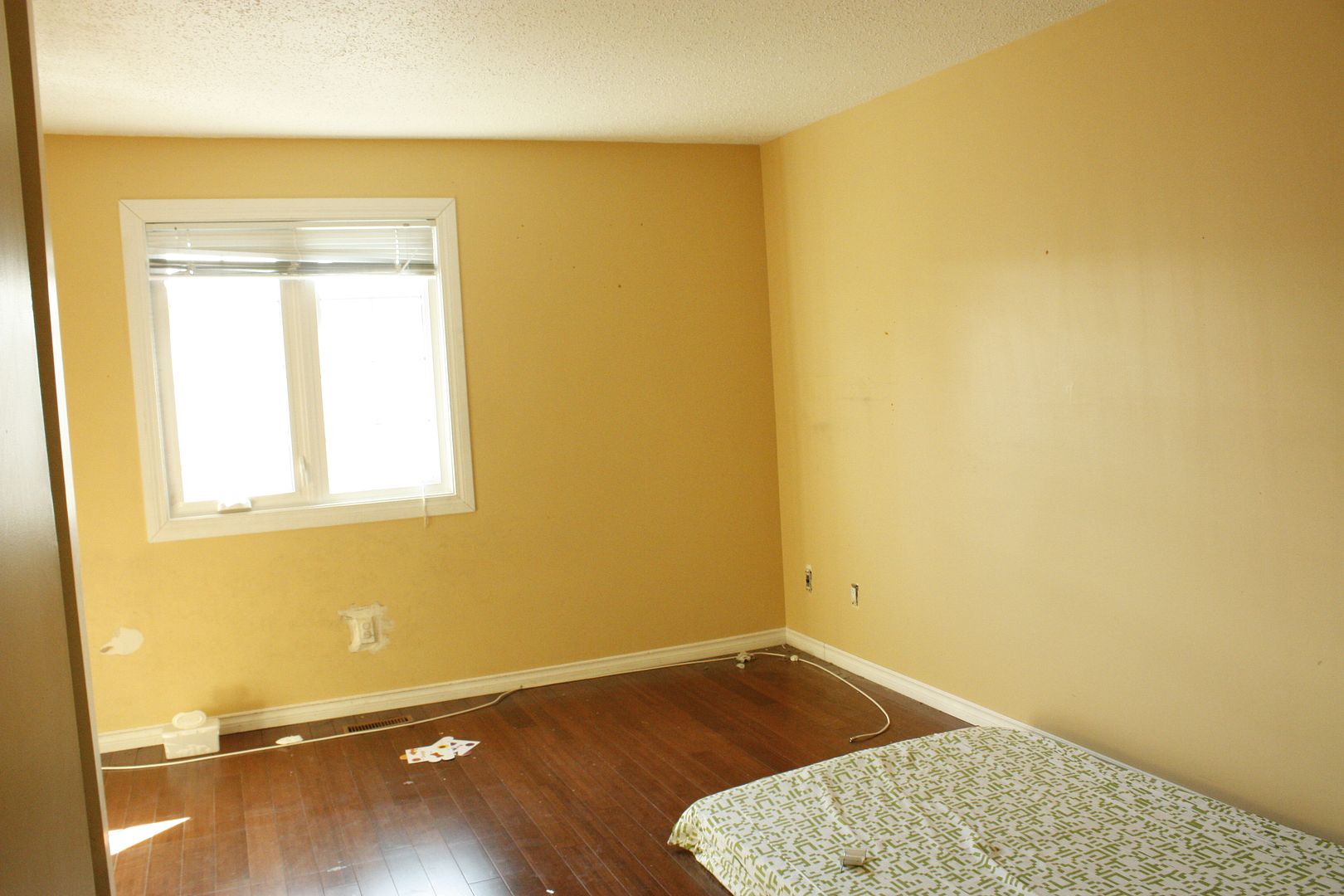 Open and airy now! I may run over there just to take a cat nap one day very soon.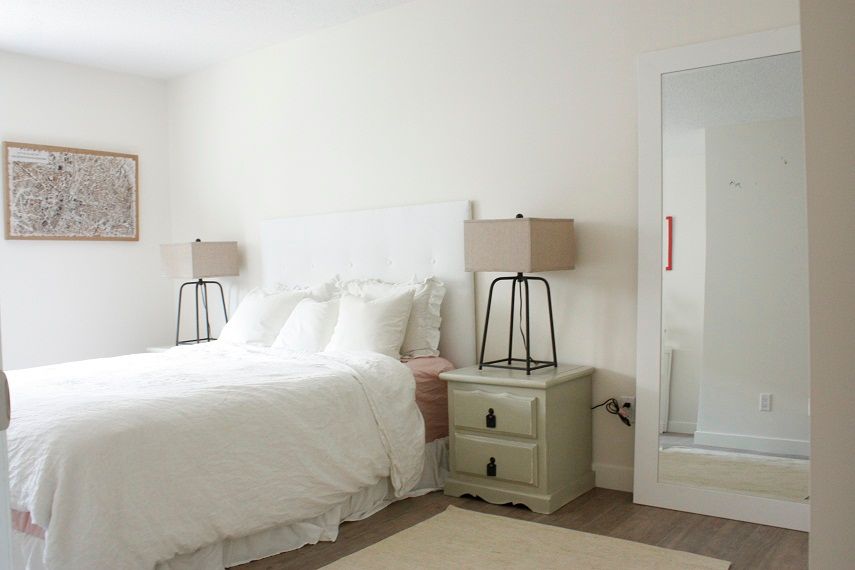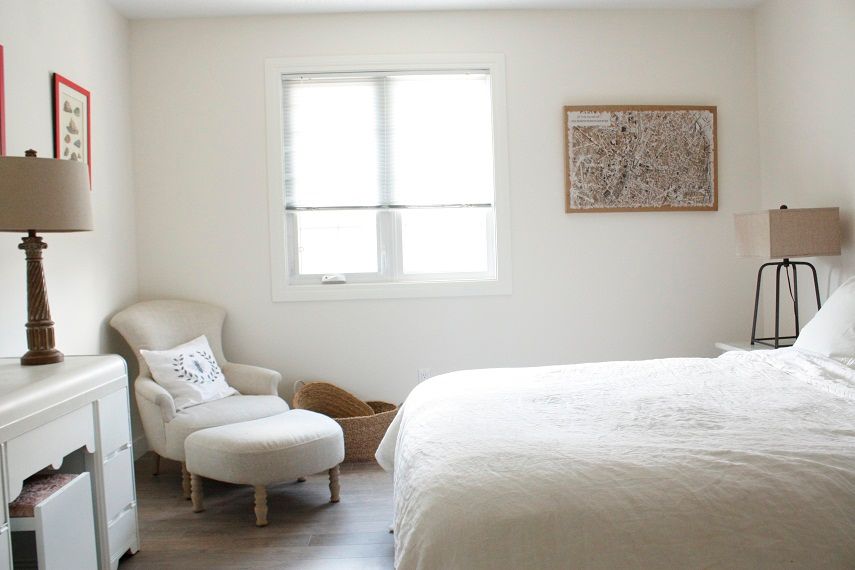 So there ya have it! It doesn't really feel right to sum up SO MUCH WORK into one post and just a few pictures but that's how it is I guess. If I didn't address something feel free to comment and I'll respond in the comments below (the email responses never work for me). If you are in the Edmonton area and want more info on purchasing Lexington feel free to email me for all the details.
Thanks again for ALL your support and kind words. It was a BIG, scary jump from flipping furniture but I feel like it was the perfect time, perfect project and just what I needed to push myself out of my comfort zone as an entrepreneur.
And a BIG thank you to all 'my boys' who made this dream come true. I couldn't have done it without Justin and crew from
Right Time Repaints
(I know I would have broke my neck up that high!). And most importantly Nick and Jason from
Nick's woodworking
. You guys rock my socks, and all that jazz. We had tons of laughs, a few tears (maybe just on my end) but it all worked out in the end and I learned so much.
Let's do it again, soon.