Hard to believe it is already Humpday!! This week, the whole month actually are both flying past me. We have been busy over at Parkview, just nothing super exciting: quotes, quotes, permits and more quotes. And LOTS of throwing around of ideas.
But it is starting to get rolling and it was exciting to see all new windows go in over the past week, along with a few walls coming down and some detailed plans for the new kitchen and ensuite getting finalized. I have been through 2 kitchen renos in the past year... this will be the third and it never gets old to see it all come to life. It is especially thrilling when the befores are this bad! Of course we have a ways to go before the kitchen comes in but I needed to finalize everything pretty early on so our electricians and plumbers can move everything accordingly. That is definitely one of the biggest perks of starting in such shambles, we have a lot of freedom in those areas!
So here is what we've come up with for our future kitchen plans. The windows in the corner are where we are moving the kitchen, with this center wall coming down. It is hard to see but there is a nice wide opening into the other room off the kitchen to the right which will be our new dining room. When I have pdf copies of the full layout I will put them up because it is a very cool old house with a lot of interesting rooms and spaces!
From virtually the same location what our new kitchen will look like.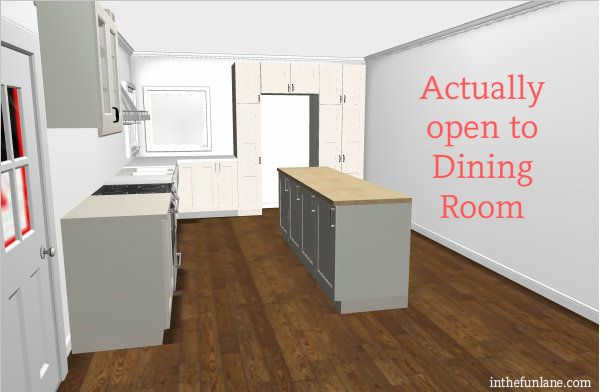 I have loved my own framed in fridge so much that I decided to replicate it in here as well. The computer program didn't allow some aspects I'm including, but the island will have overhang for stools and there will be open shelving over the sink (a prerequisite in any kitchen in my book!).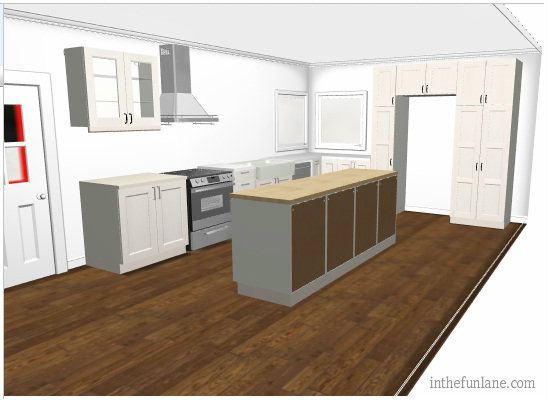 I am going with Ikea cabinetry again after really appreciating the cost effective yet stylish results I had at Lexington. Have no fear, I will go into painstaking detail with the door style and hardware options, but for now here is the look we're after.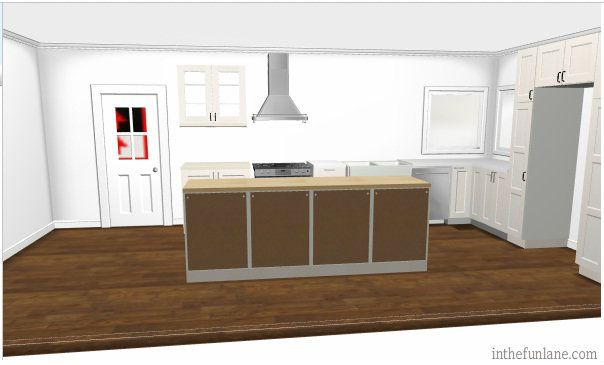 Only the finished product seems much glitzy-er in my head, and I'm hoping will materialize that way as well.