Today I am sooo excited to give you a tour of the little living/dining room at CottageK!! It is an open space, but the house is on the smaller side so it was really important to keep it feeling airy (which means not over filling it with furniture, one of my biggest decorating sins).
There really wasn't a lot of extensive renovations to tackle in this room, which made it one of the last rooms we completed.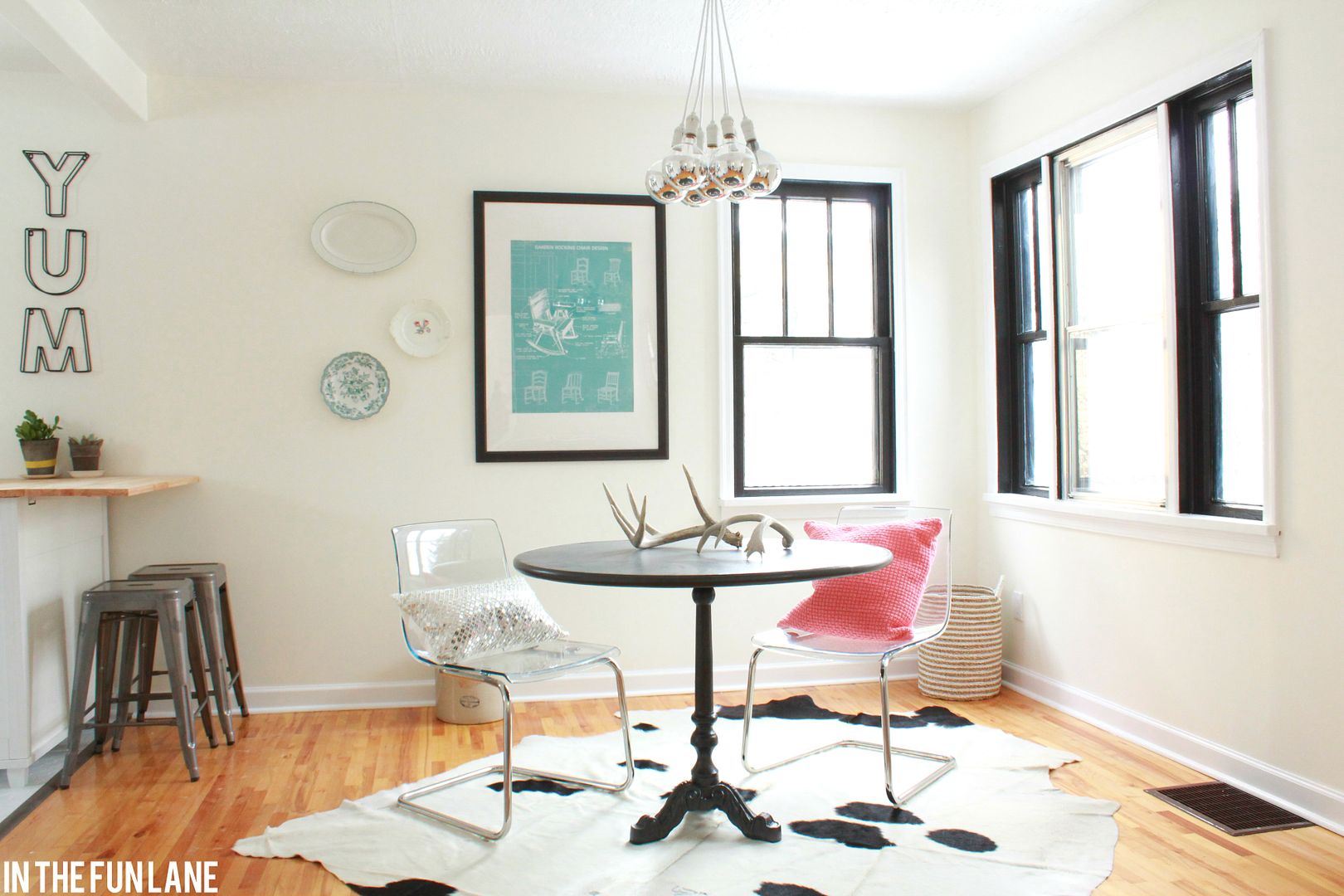 The small list of renos included:
Paint (Vermont Cream on the walls again, Francesca by Martha Stewart on the windows)
patching and filling about a thousand old nail holes...
and a new light over the dining table and a sconce on the wall by the hallway.
Though it was the easiest room to update, this room was where I spent 80% of my staging dollars. I think small homes can be a challenge for buyers to visualize their things in so this may help them feel like it can be home-y still, and definitely hip!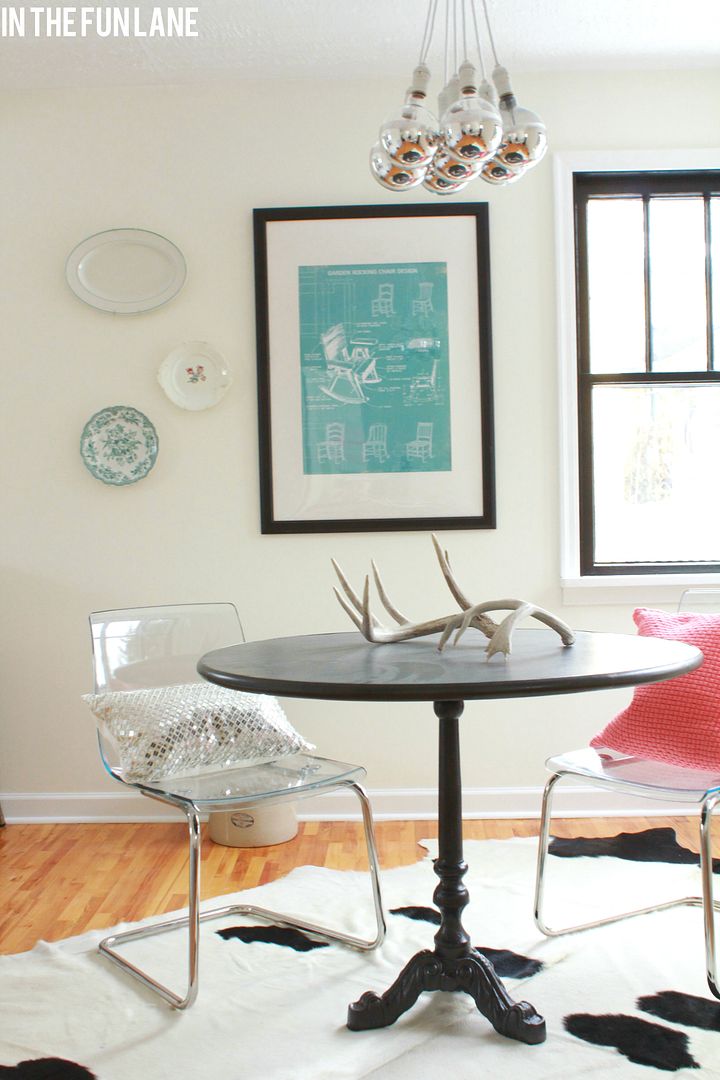 I'll share all the befores before the afters to remind myself that while it wasn't an extensive reno, it was definitely a dramatic one!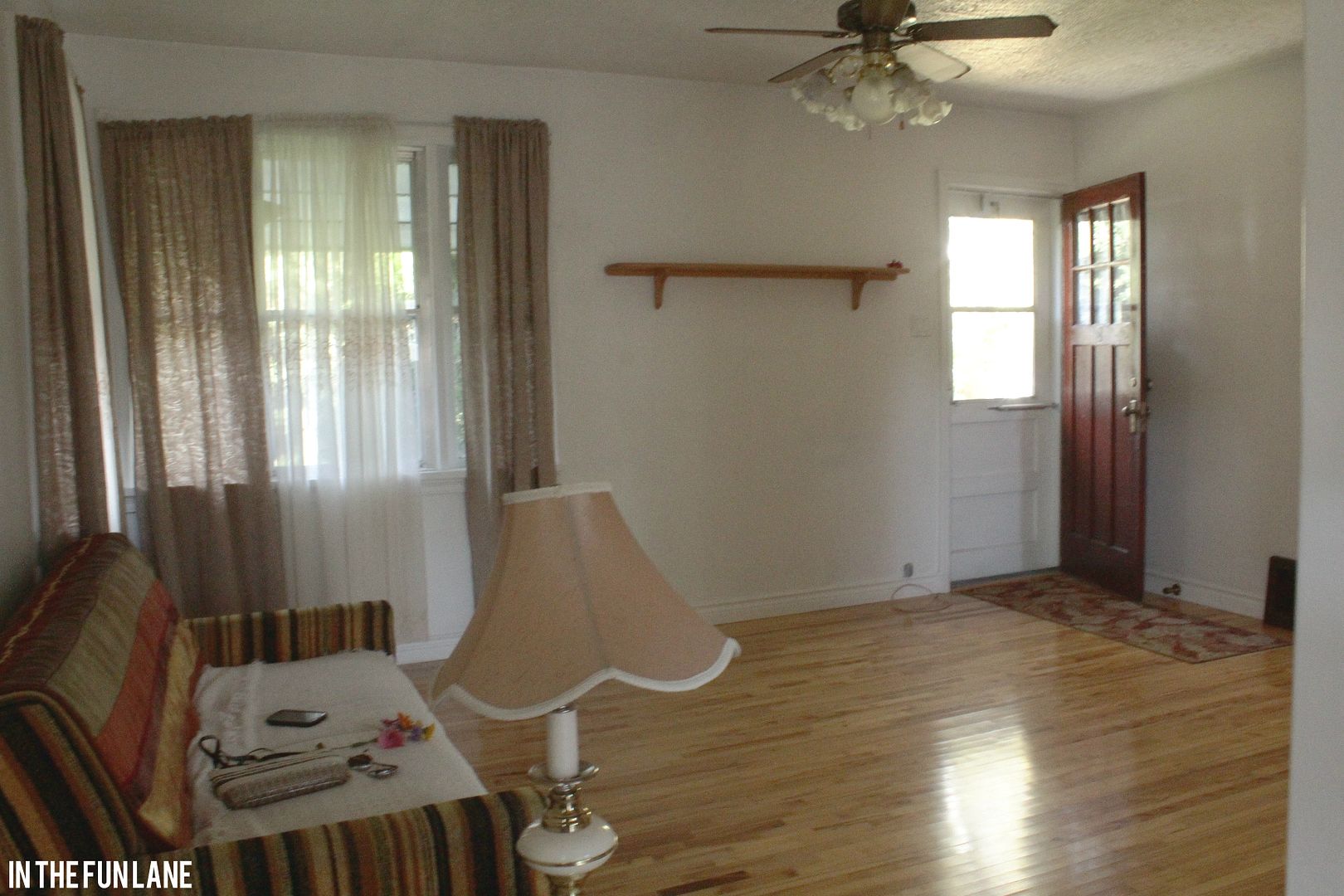 I kept the original door (OBVIOUSLY!! who could replace that beauty) and hardware. I would hate to stripe such a beautiful old house of it's charm just to say it has 'all new everything!'.
The mirror is one of a stash I picked up at auction a few years ago. The rocker is borrowed from our house, and while I have enjoyed the little table from Target's new Roots Line in our own house for a month or two, I bought it knowing I wanted a handful of bright colors in this room. But I'm sure it will come right back home to my open arms soon.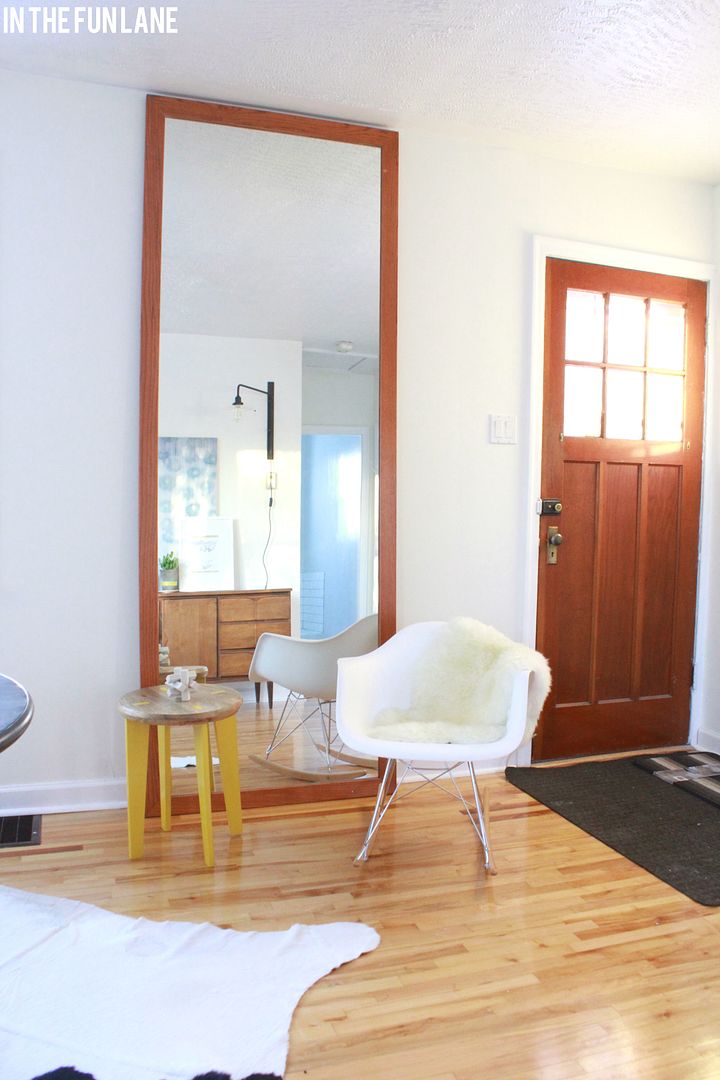 The old curtains and exterior awnings really kept out the sunshine...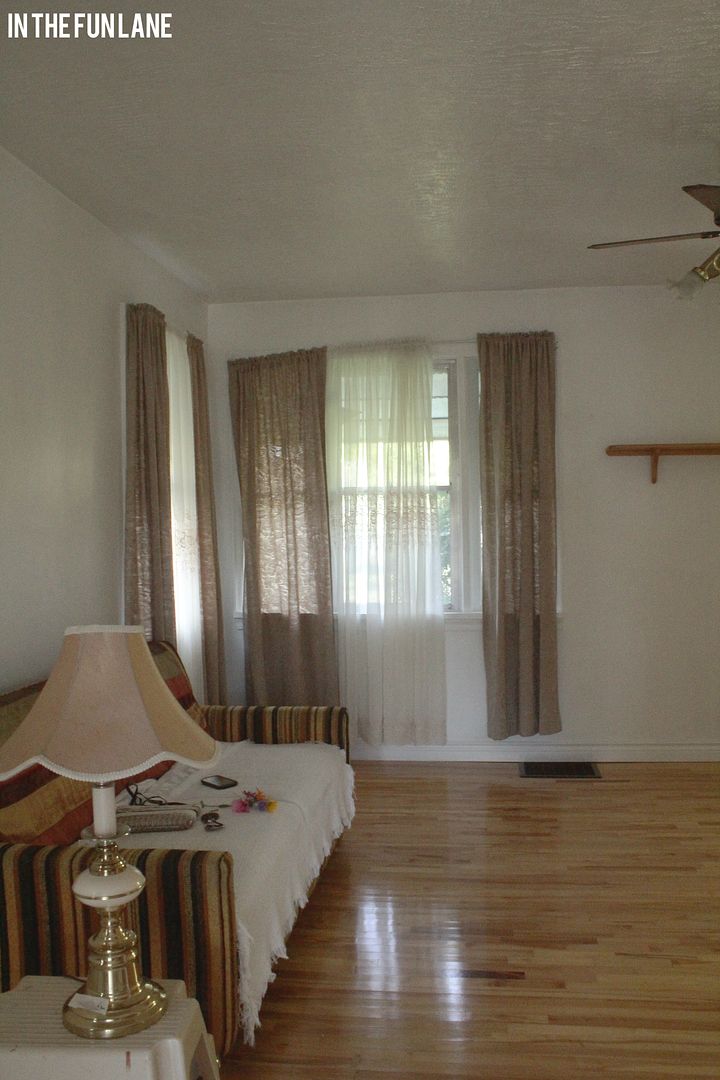 But not anymore! The School House electric light looks as great as I hoped it would (if you need to swag like this be sure to order an extra long cord). The cowhide rug (from Ikea, but similar online here) and antlers on the table are a nod to local prairie/farm style, but the mix of modern Ikea chairs and replica antique bistro table (I found this one at HomeSense, but here is a similar one from Restoration Hardware)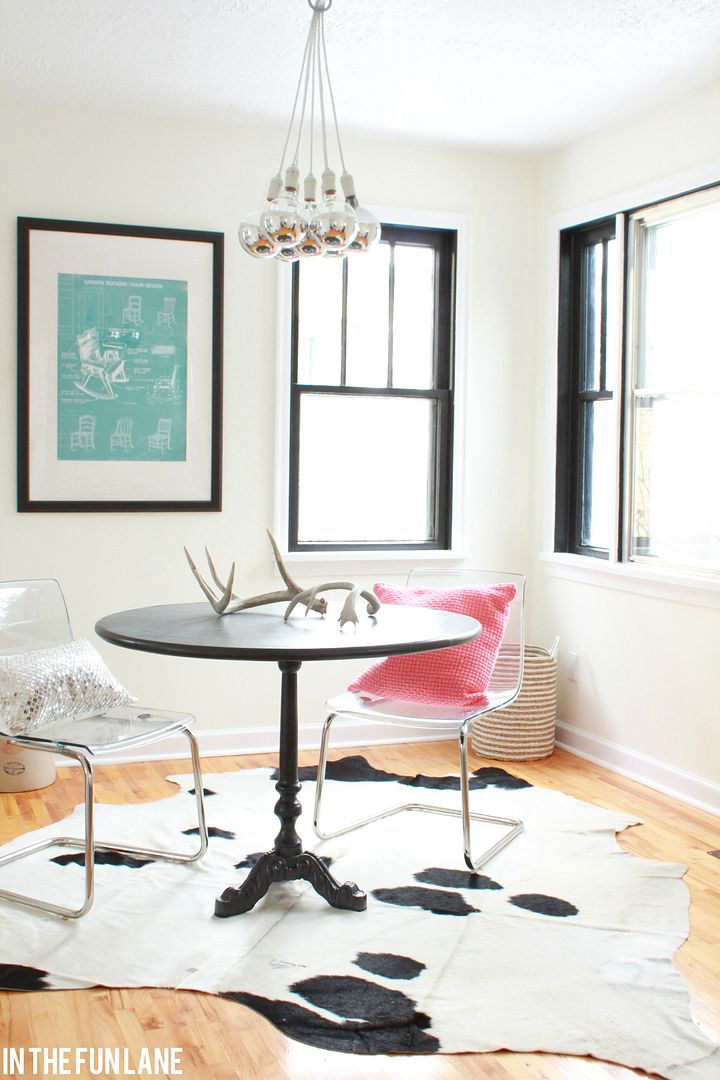 All the pillows in here are from Indigo, this past summer on clearance (and stolen from my own living room LOL).
I found the rocking chair print at Ikea as well, for only $0.10!!! They still had a pile at my store last week if you are in the Edmonton area. The frame is another Ikea purchase, and the vintage plates are out of my ridiculously large collection.
This little wall is the first thing you see when you walk in the door.
So I really wanted it to tie in with all the elements in the house, and make an impact.
I'm not sure if I mentioned it, but my family recently tore down our old cabin that was well love over the past 50+ years, but too far gone to save. We are building a new cottage out at the lake that I will give you all the details on soon, but before the bulldozers tore the old place down I saved my great grandparent's awesome old mid century modern credenza.
It was so perfect for this spot and room that I could hardly believe it. The sentimental value and amazing price (FREE!) only make it so much more special, and it is almost like my great grandparents are helping in this family project as well.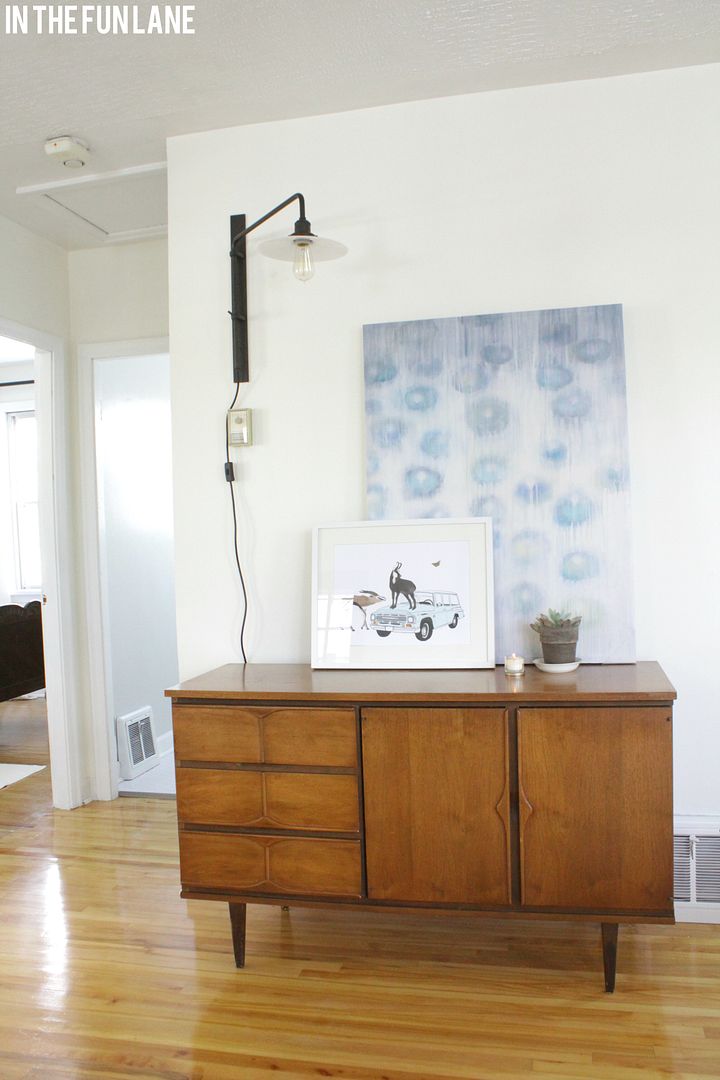 This sconce from Restoration Hardware is great for those of use who don't want to rip open our walls to install a new light since it is a plug-in unit. And while I ordered two for this wall, even the smallest size seems pretty big. So in the end only one went up.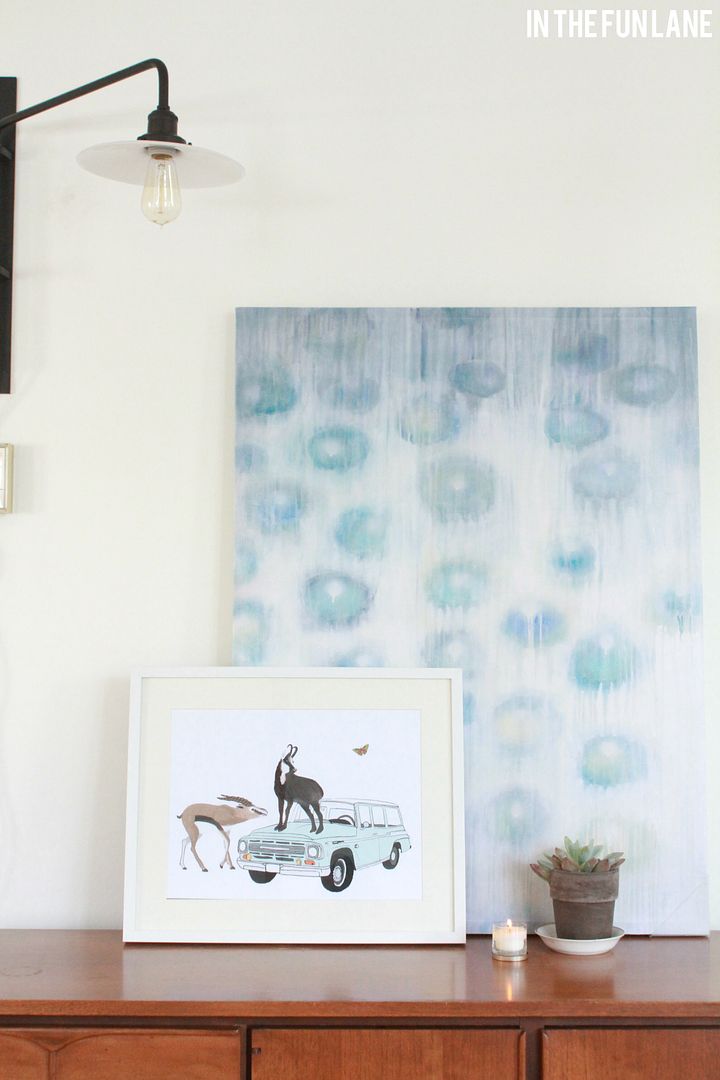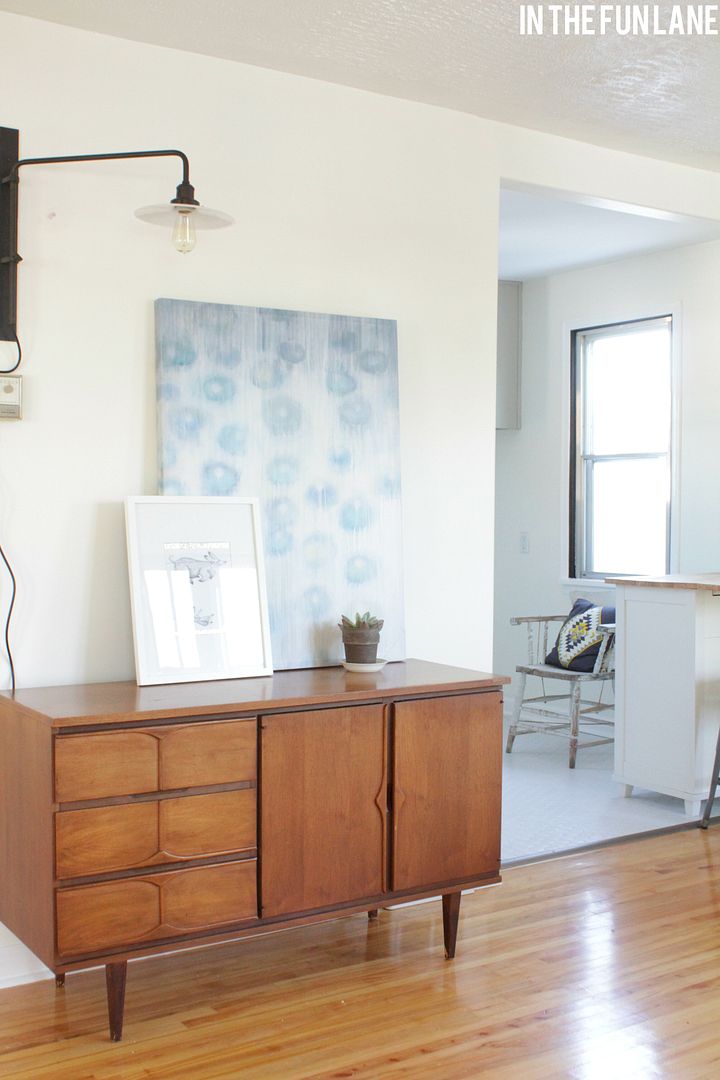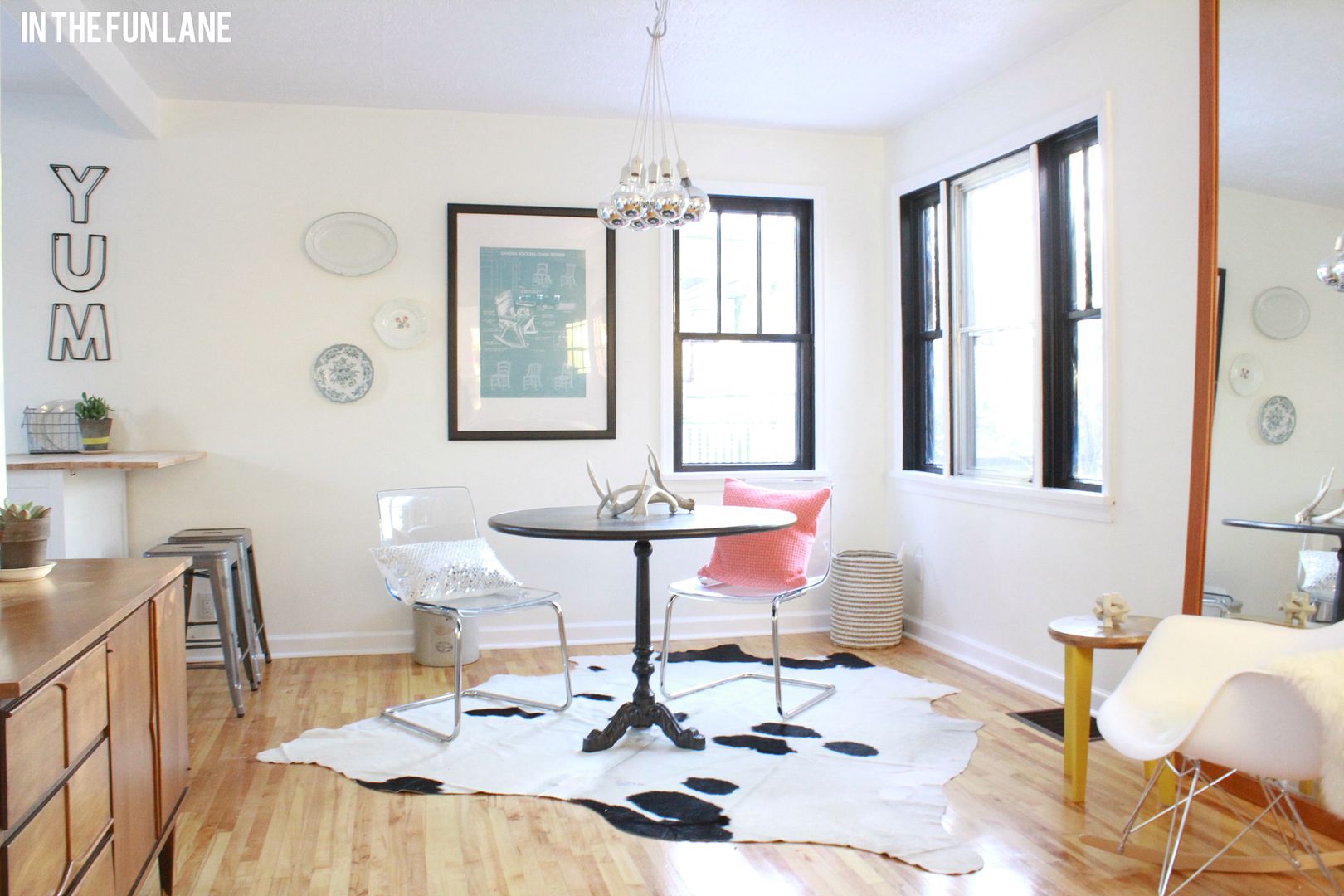 So what do you think??? Totally out of my usual box, but this place just makes me happy.