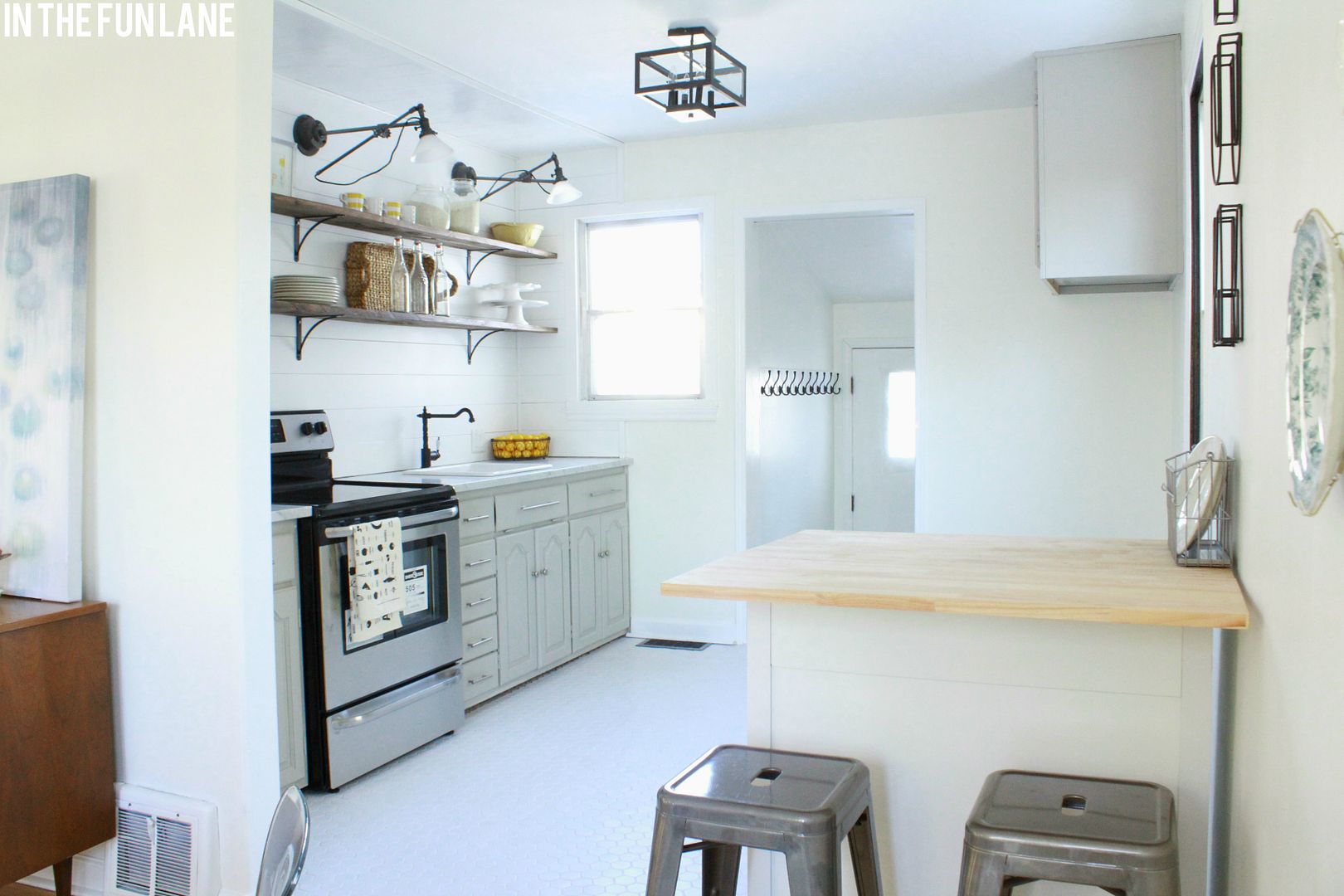 It's time to talk kitchen! This is where we spent a good chunk of our time and budget, and almost all our energy.
You probably remember how it looked before: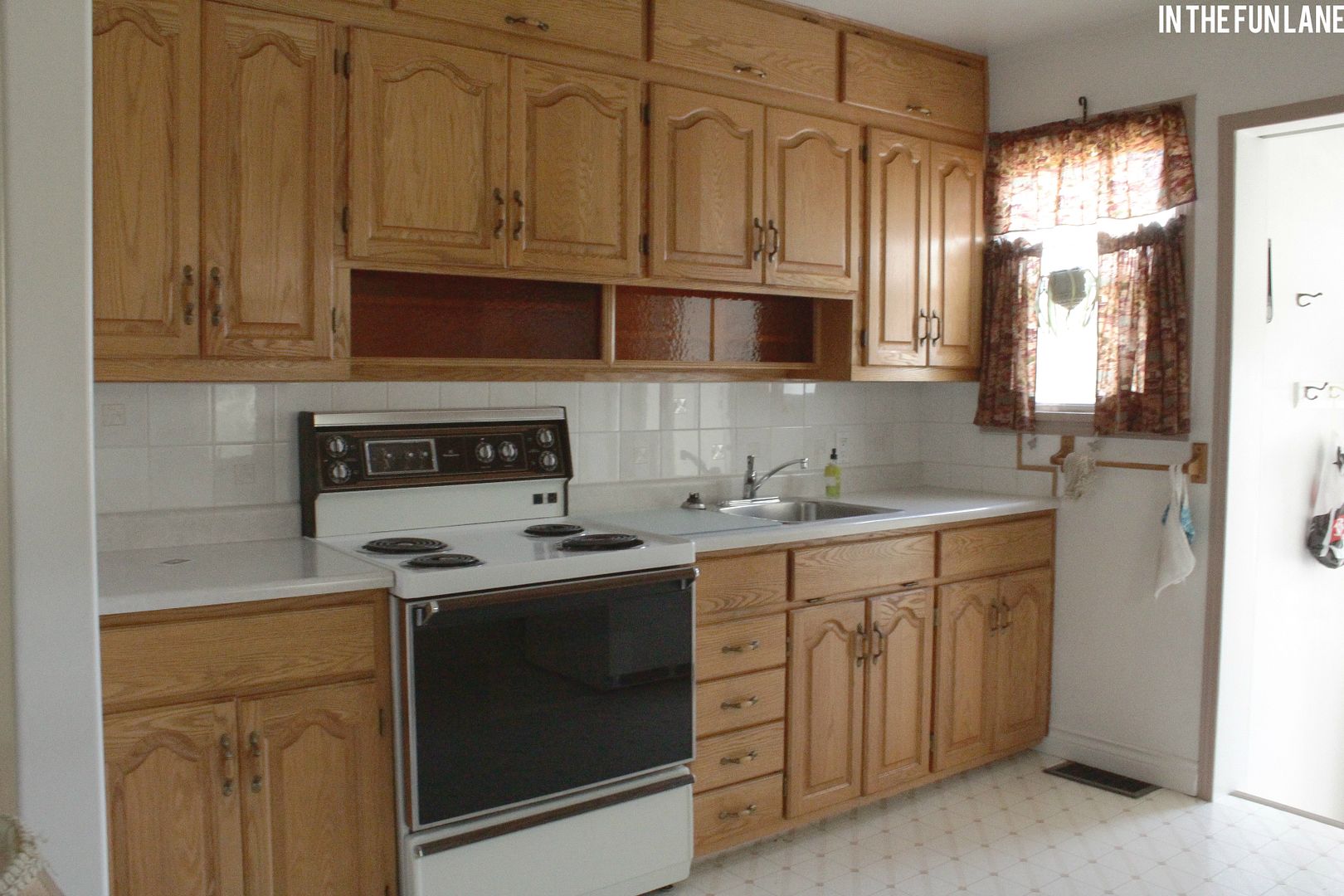 Linoleum floors, dated colors and minimal lighting. But the overall layout was fine and the cabinets were solid wood and replaced in the last 15 years. We could have ripped them out and gone with new Ikea cabinets but the time to demo it all and then build and install the new ones would have really stressed our deadline out, and me along with it. So we decided to turn lemons into lemonade.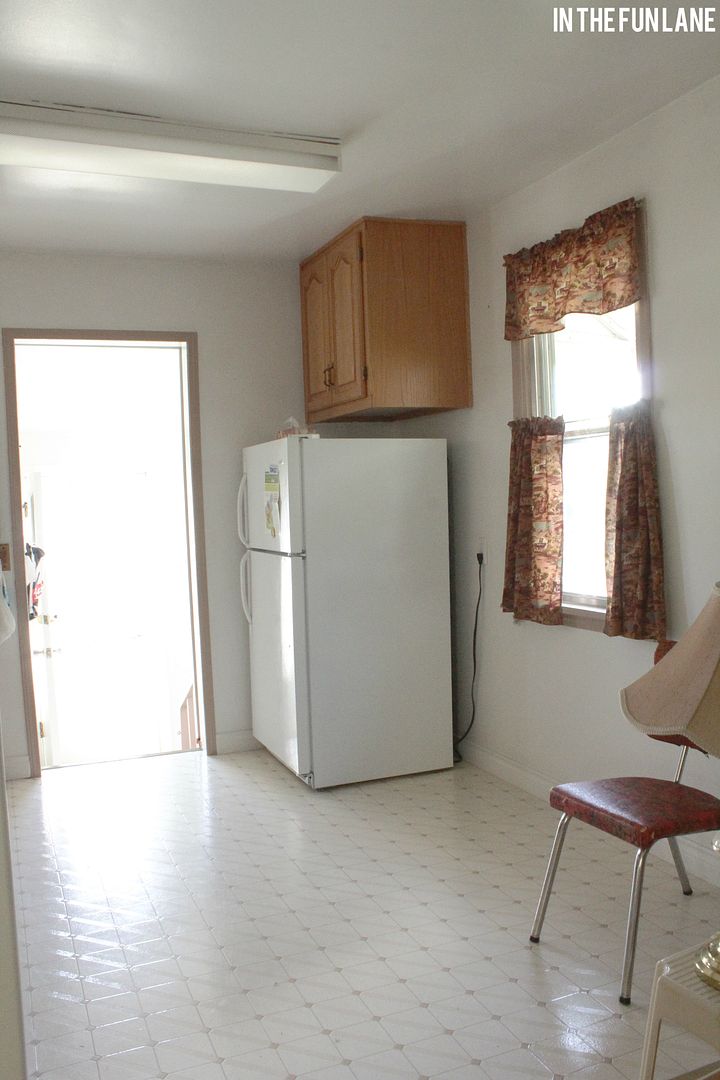 As you can see, we ripped out the upper cabinets to let more light in. I understand this was questionable to some of you, but there was really no way to update the original uppers with their orange glass inserts and odd cubbies up top. As for open shelving, in talking with my friends and realtor I think the buyer who would love this house ( most likely a hip, urban buyer since this is near downtown) will most likely have lots of cool things to display and be okay with it. Plus we added the new island (from Target, $249) for extra storage. I totally appreciate that the shelving isn't for everyone, and that's ok.
New honeycomb tile floors were one of the biggest improvements in here! ($5/foot special ordered from Tile Town here in Edmonton).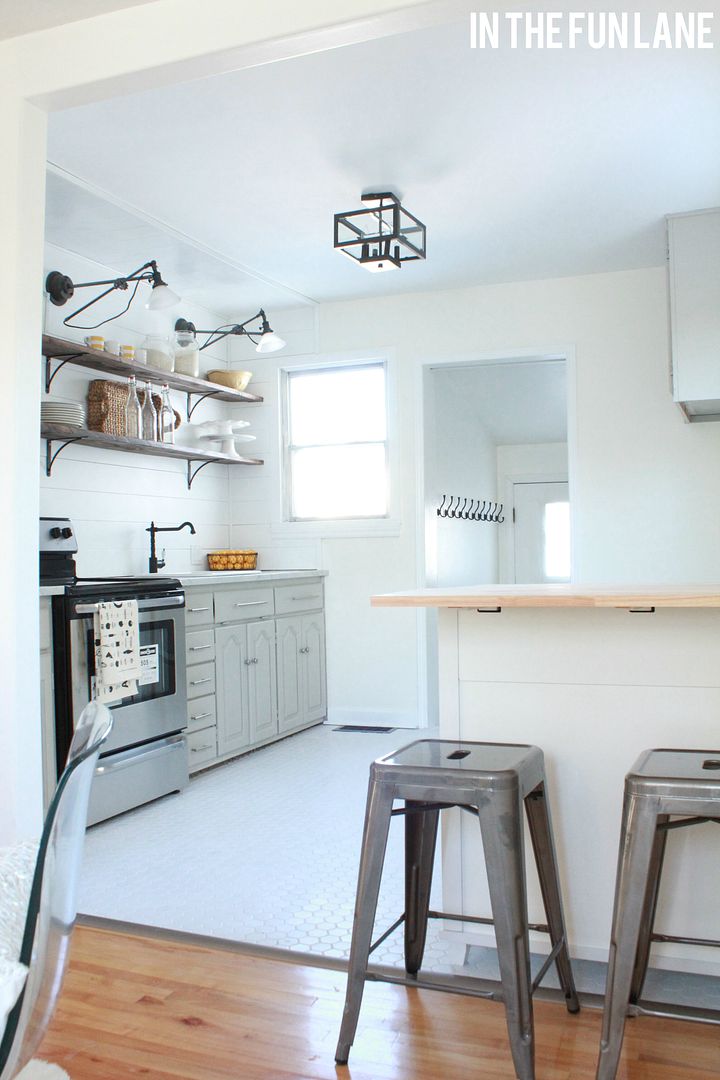 The three pivoting sconces from Restoration hardware add great task lighting in the evening, and lots of charm the rest of the time.
As I mentioned on Instagram, the shelves were a Holly creation. I stained and sawed down a couple cedar planks for a rough edge (I didn't want that slightly rounded edge you get on lumber). And the brackets all came from Lowe's for under $2 each.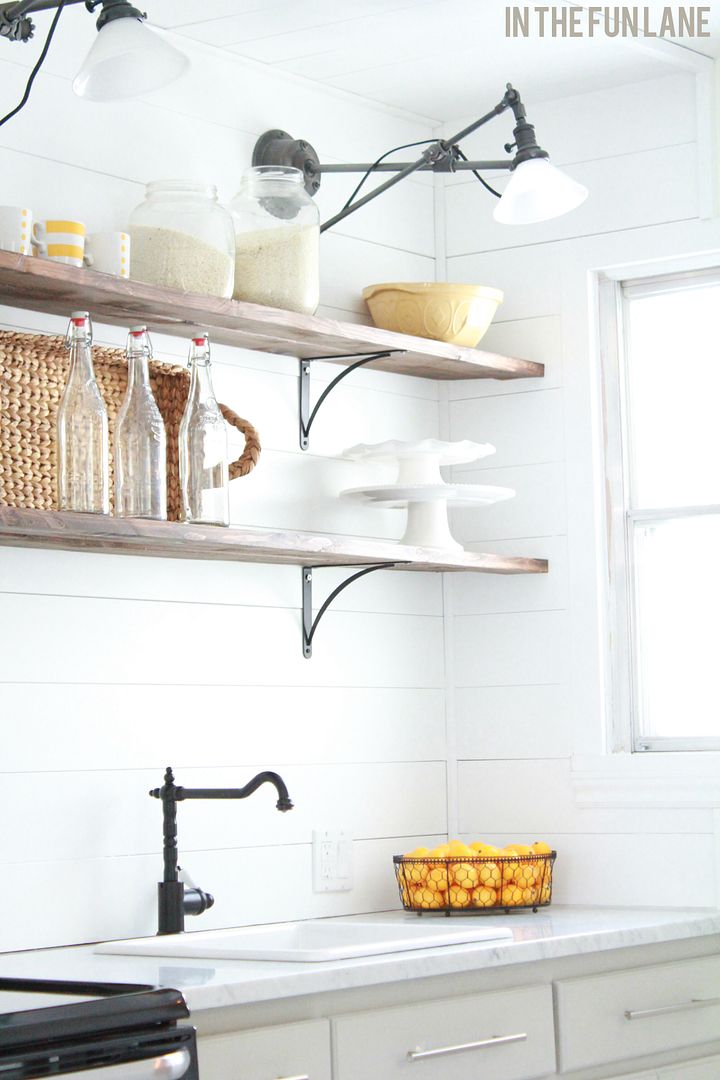 Looking into the dining/living area, there is still a good sized walk way with our new island in place.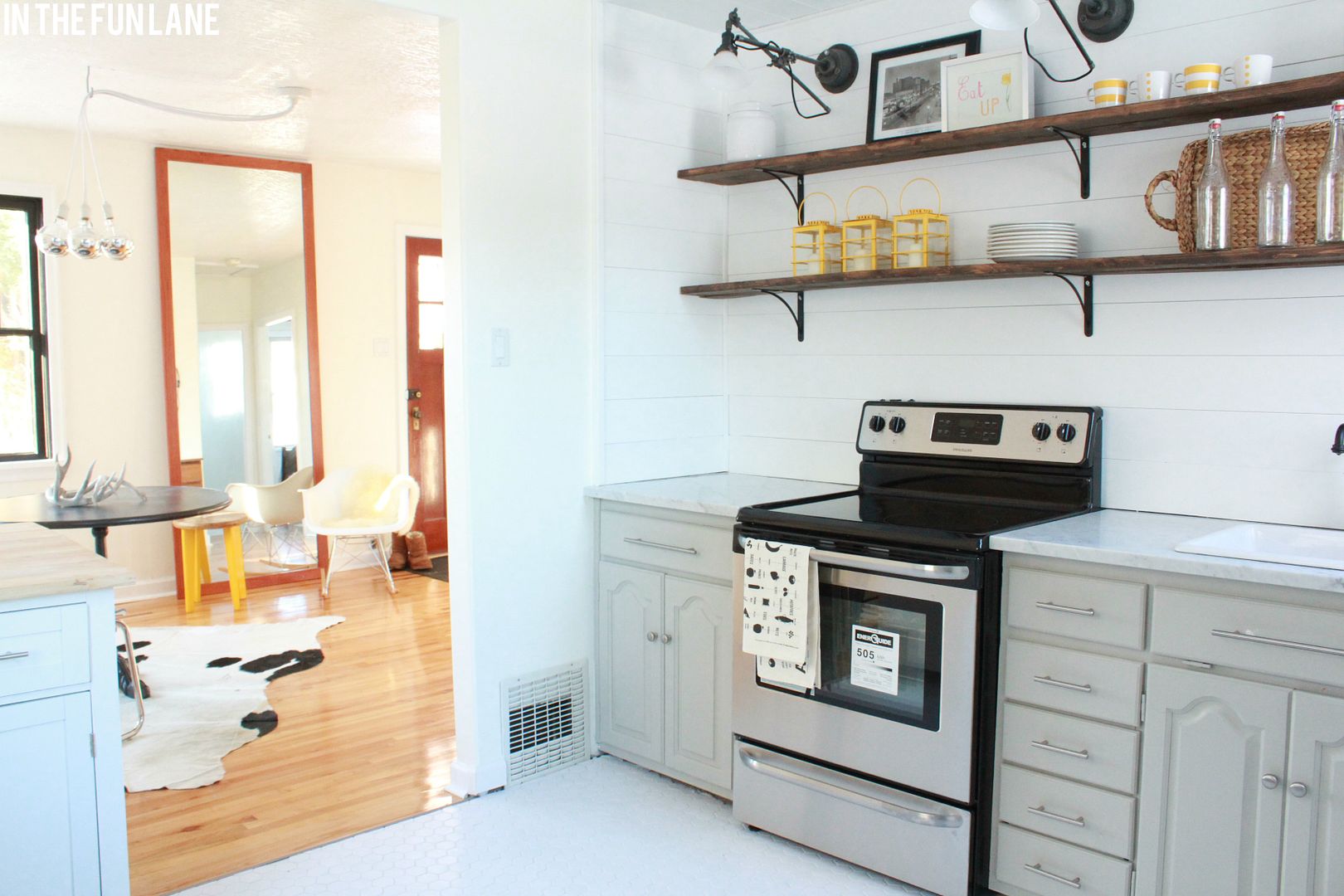 I sprayed all the cabinets in Martha Stewart's Bedford Grey, a nice, warm grey for added depth to an otherwise white kitchen. It's definitely a grey I will be using again!
I want to thank Derrick and the wonderful people at D. Lawless Hardware for all the hardware at CottageK. I knew exactly what I was looking for and they made these stainless steel bar pulls happen. Thanks again guys!!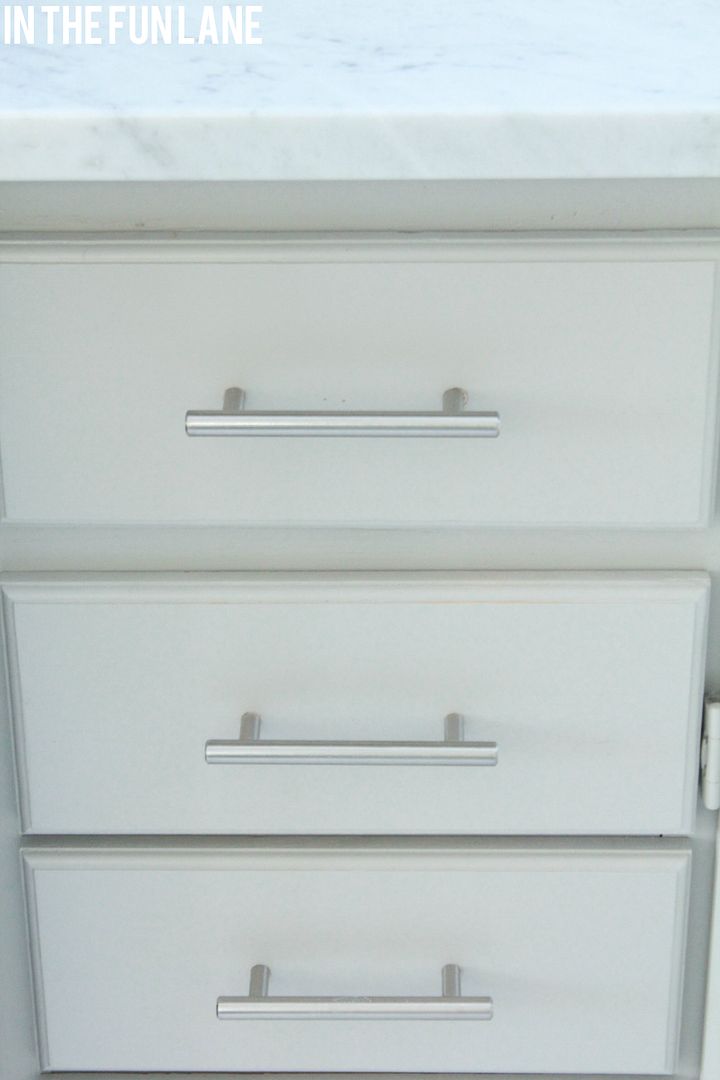 The new island is a nice spot for entertaining, and helps create a little separation between the kitchen and dining room. The pillow on my old chair, as well as the bar stools, island and YUM letters are all Target finds. Seriously, what did we do before Target???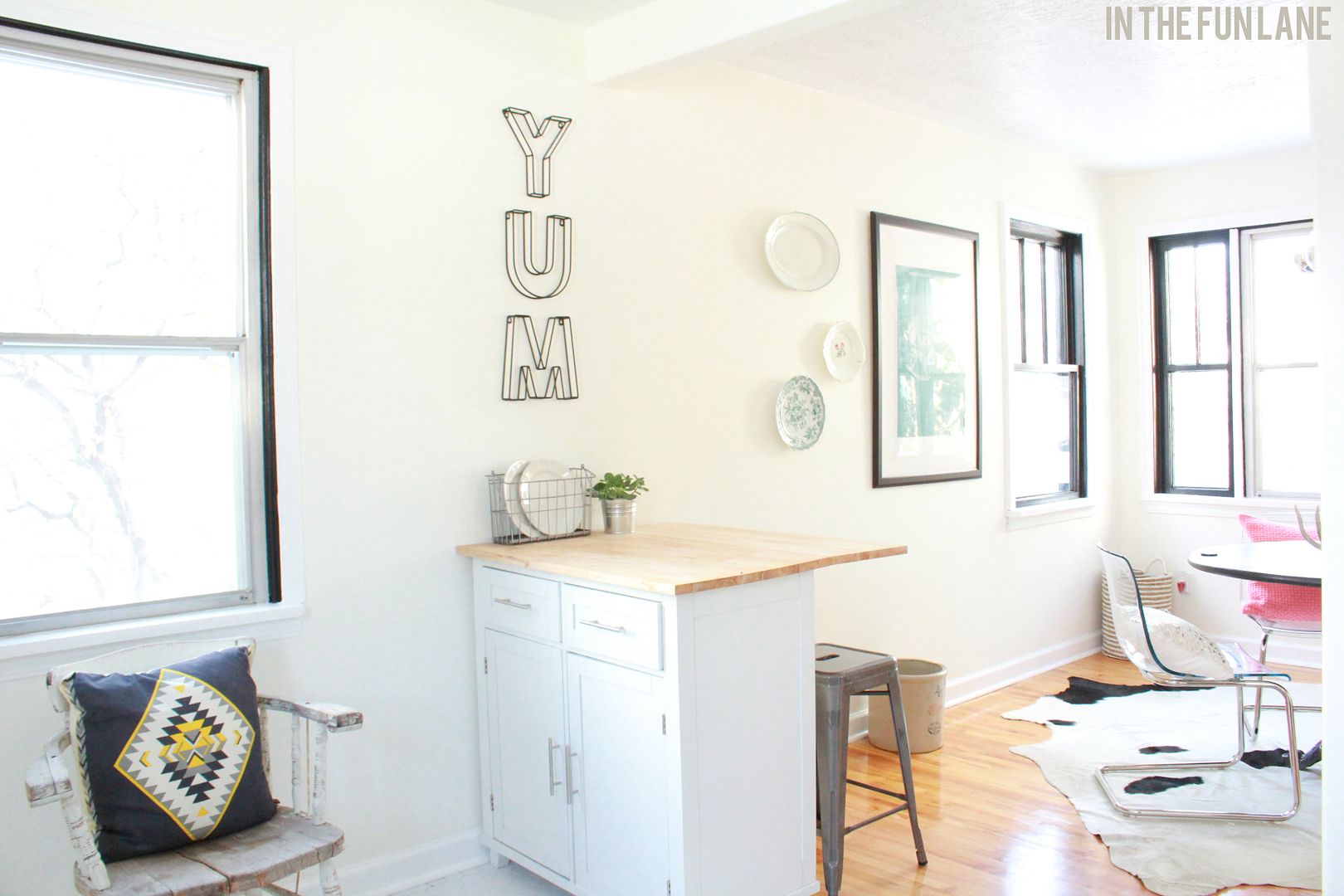 Derrick and the D.Lawless folks also helped me out with my hook wall! Sean told me this is an unfortunate photo that looks like the hooks are about 2 inches apart... but in reality they are about 8 inches apart and the wall isn't nearly so short. But as anyone in an old home will tell you, there isn't much storage or closet space, so I thought the least I could do was add a good number of hooks for hanging coats and scarves at the back door.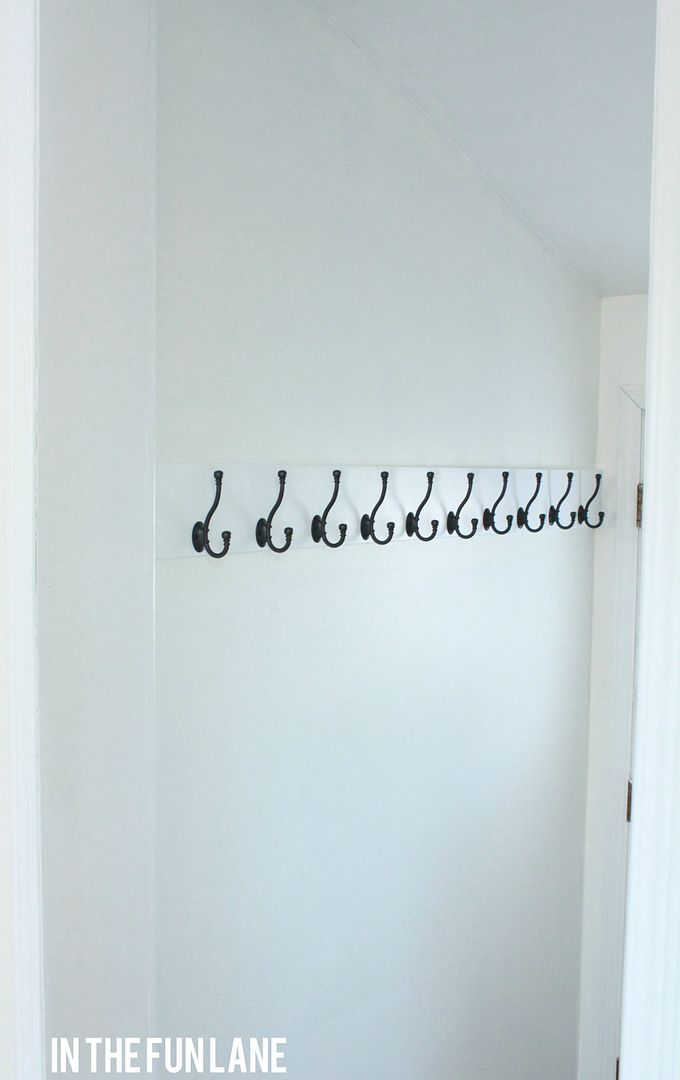 The planked wall is insanely cool, and I think it is the perfect contrast to our modern touches. I've had a couple people ask for a tutorial, but I have to give full credit to Sean for this creation so maybe he will walk us through it all. But if you are at all handy all you need are 6 inch wide MDF planks, screw them into the studs, then fill all the screw holes and paint. To clean up all the edges just use smaller trim along the corners and edges.
The mugs are Ikea as-is finds, and everything else came from my own house!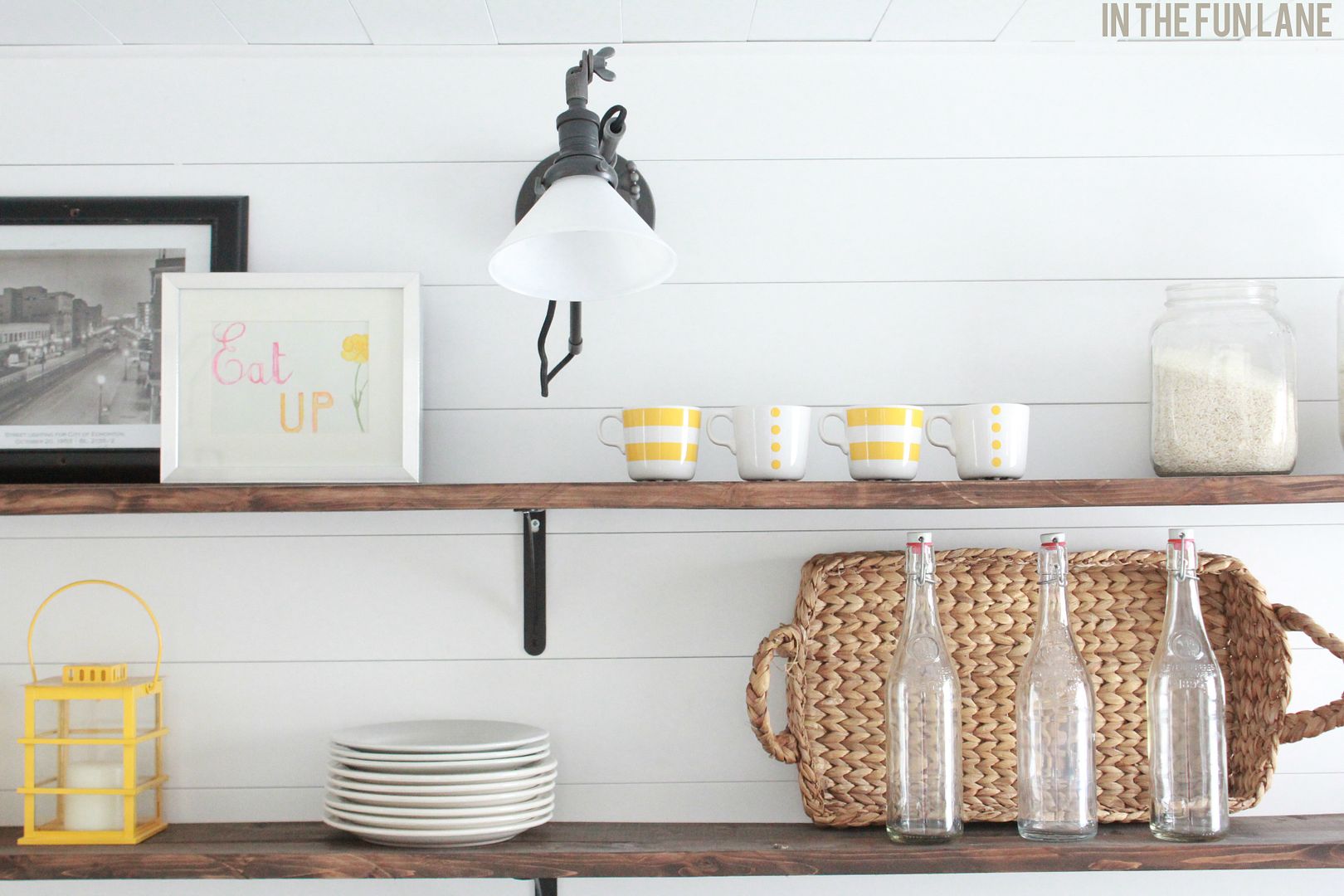 The counters are honed marble, keeping it bright and open. The sink and faucet are both Ikea (the sink is the Domsjo, but I can't remember the name of the faucet).
A small detail, but isn't the food guide tea towel too cute (check it out here)? The lovely team at Uncommon Goods were kind enough to send over a few goodies to help make CottageK feel more like a home and this was one of them. Many thanks guys!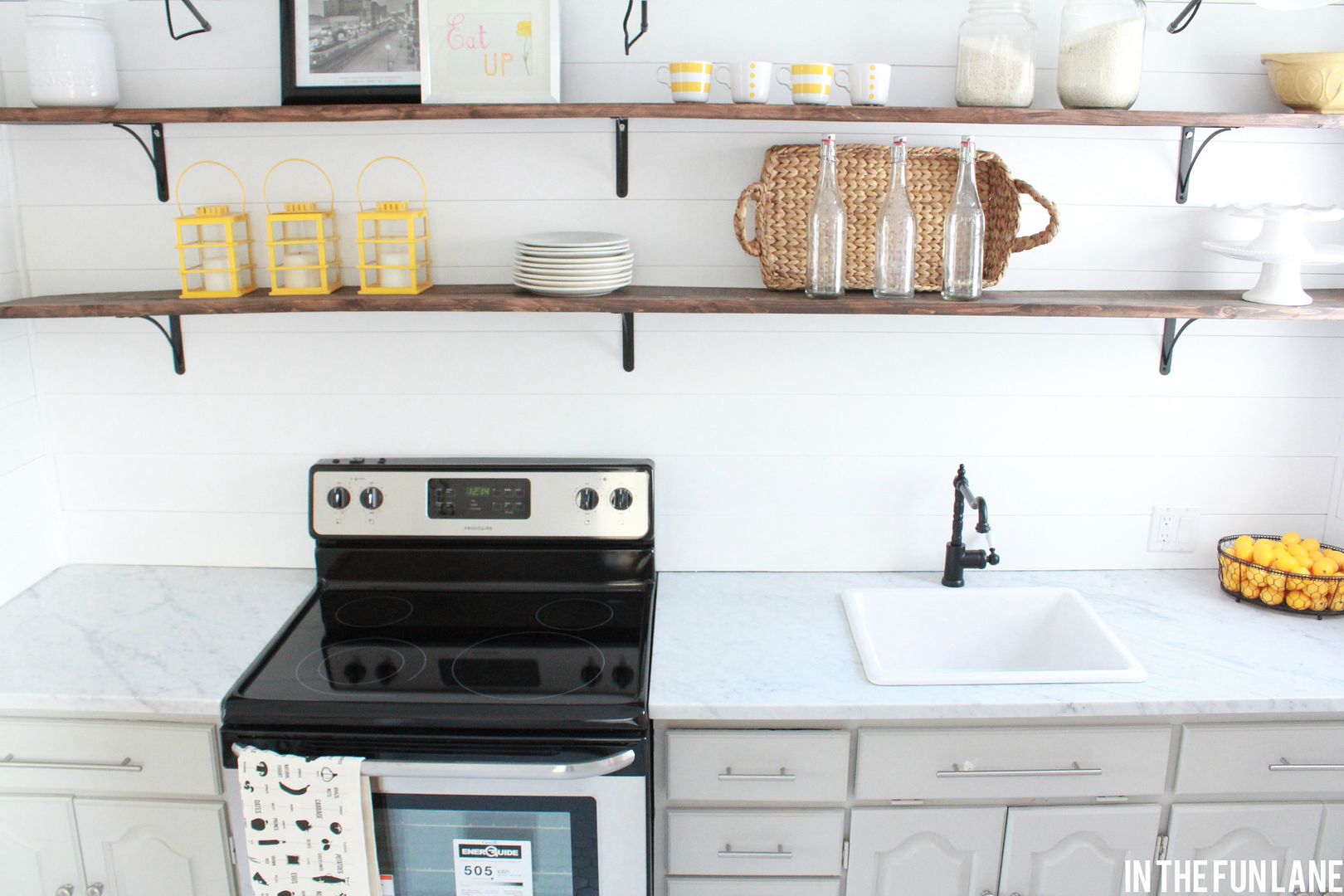 The new ceiling light is a huge improvement over the fluorescent lighting that was in here before.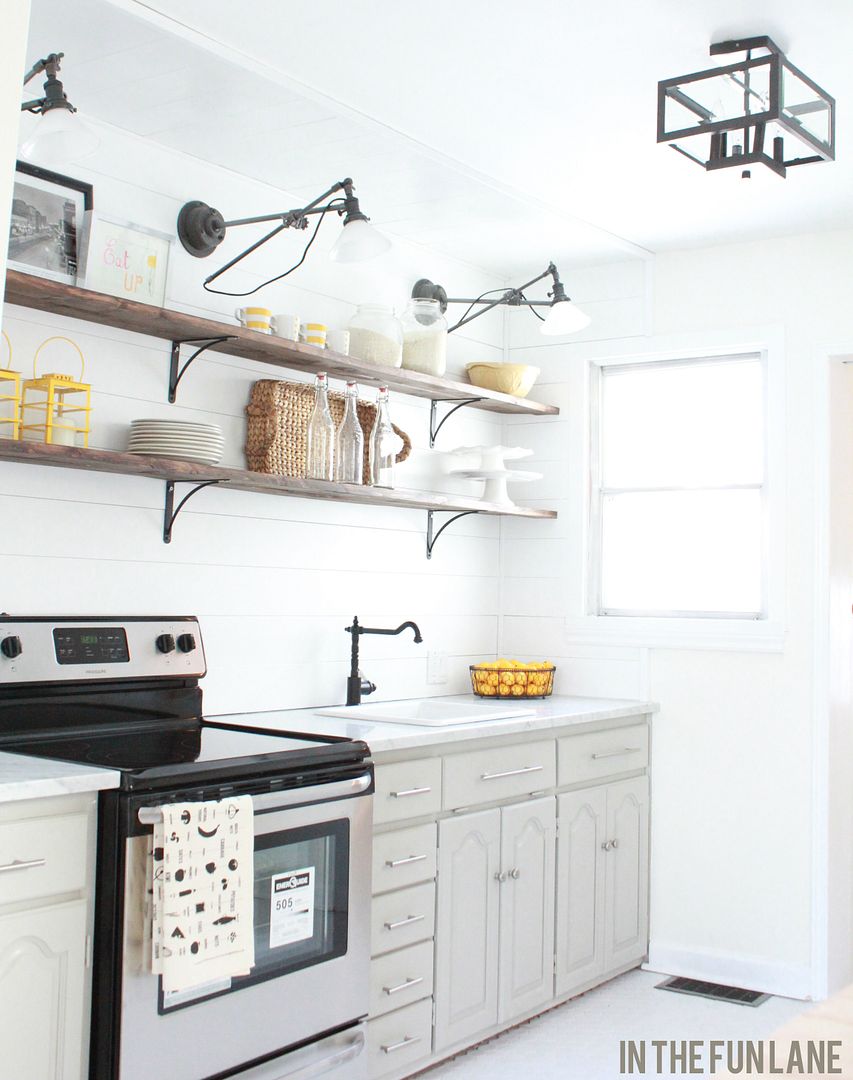 Some unbelievable things are coming up in this little cottage (and my own house) in the next couple weeks, as we get set to welcome the talented team from Style at Home. I have been excitedly preparing for them at home, but I got word yesterday that we will be spending a day shooting CottageK as well! As I learn more about when you can expect to read all about it I will be sure to let you know!
Thanks again for all your patience and support, I can't tell you how fun and exciting it has been to share it all with you.
(edited to add: Many of you have commented about there not being a fridge. C'mon guys, do you really think I'd eliminate a fridge? LOL. I'm a little out there, but not that far gone! It just hadn't been delivered yet when I took these photos (and is still backordered until this weekend).