Since I just told you about it last week and showed you yesterday, obviously you remember the cool picture I picked up for $19 (no tax!) at Goodwill. Even though the painting is actually really neat, and probably 30 or 40 years old I actually grabbed it because of the frame. Not only is there tons of potential with the really ornate details, but the dimensions alone were amazing! This lovely treasure measures 5 feet long and 3 feet high, which was perfect for an idea I had floating around for a while.
The hallway to the powder room and laundry room is really long and fairly narrow so I didn't want a collection of frames or pictures, and I definitely knew it was too long to have a large painting because you cannot stand back to really view the wall. I decided that I would do a family photo collage (aka a glorified bulletin board).
Throw together a little paint, a piece of quarter inch plywood, and a sheet of cork and TA DA! you have yourself a photo collage that makes for an interesting stroll to the bathroom for our guests.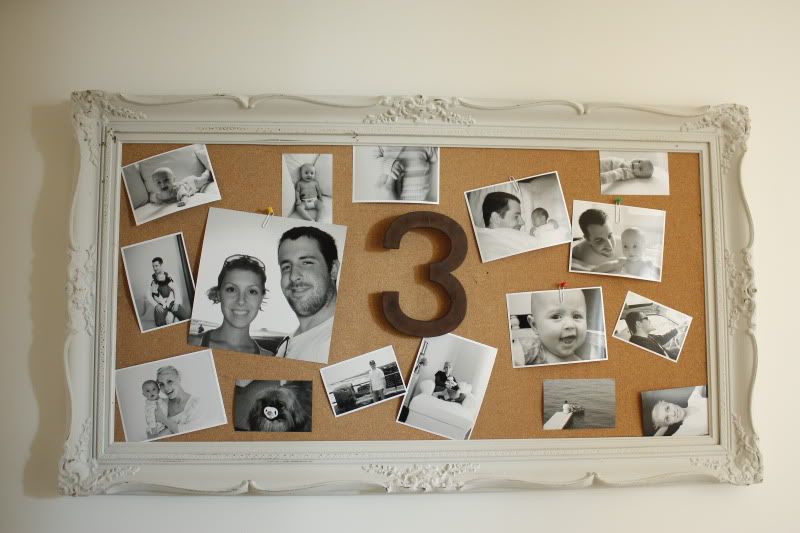 I just thought I would throw in this shot for a good laugh because I know that's what I did when I first saw that ugly light fixture (PSA: smoked glass is not appropriate for anywhere, let alone a dark hallway!). Thankfully it is due to be removed this week and replaced with pot lighting.
this is definitely an optical illusion, because it is actually hung in the center of the wall: