I apologize in advance
for the roaming and rambling this post may take. Instead of dividing it up into 2 or 3 seperate entries I think it will be easier (and faster) to combine it all here.
Our journey starts at HomeSense (aka Canadian HomeGoods), looking for a cement planter. Of course that means you have to perceptively browse every other aisle as well, and as usual I strike gold (reason #180034 I try and avoid that place unless absolutely necessary, it is a black hole for my money). I am usually underwhelmed with their mirror selection, not to mention I truly have no immediate need for yet another mirror but I saw this clearance cutie and my heart started pounding! It is perfection in so many ways.
So long story short, I found a planter but the mirror also came home with Wren and I. I think I may hang it over the mantle temporarily because I love the shape, but I have a feeling it's destiny is to be the mirror over the vanity in Wren's bathroom in the not too distant future.
Which brings us to the second chapter of this post.
I have been working on this dresser, along with it's matching nightstand, for about 2 weeks now. It just kind of kept getting put to the side after each step as client orders take priority. The first step actually being the longest: cleaning!
Ewww, right? Yes, there was an expertly applied layer of 7UP over the ENTIRE thing. Many hours of patching holes, scrubbing crevices multiple times and vaccuuming hair balls out of the insides were the brunt of the work. But even afterwards this was not what I would call a "showroom" piece. The drawer tracks are old and worn, some drawer corners have been chipped right off and you have really appreciate shabby chic to accomodate the fact that it will never feel "new" again.
But since I am one of those people that quite honestly loves furniture more for it's looks than functionality I will happily hold on to her until someone else sees it too~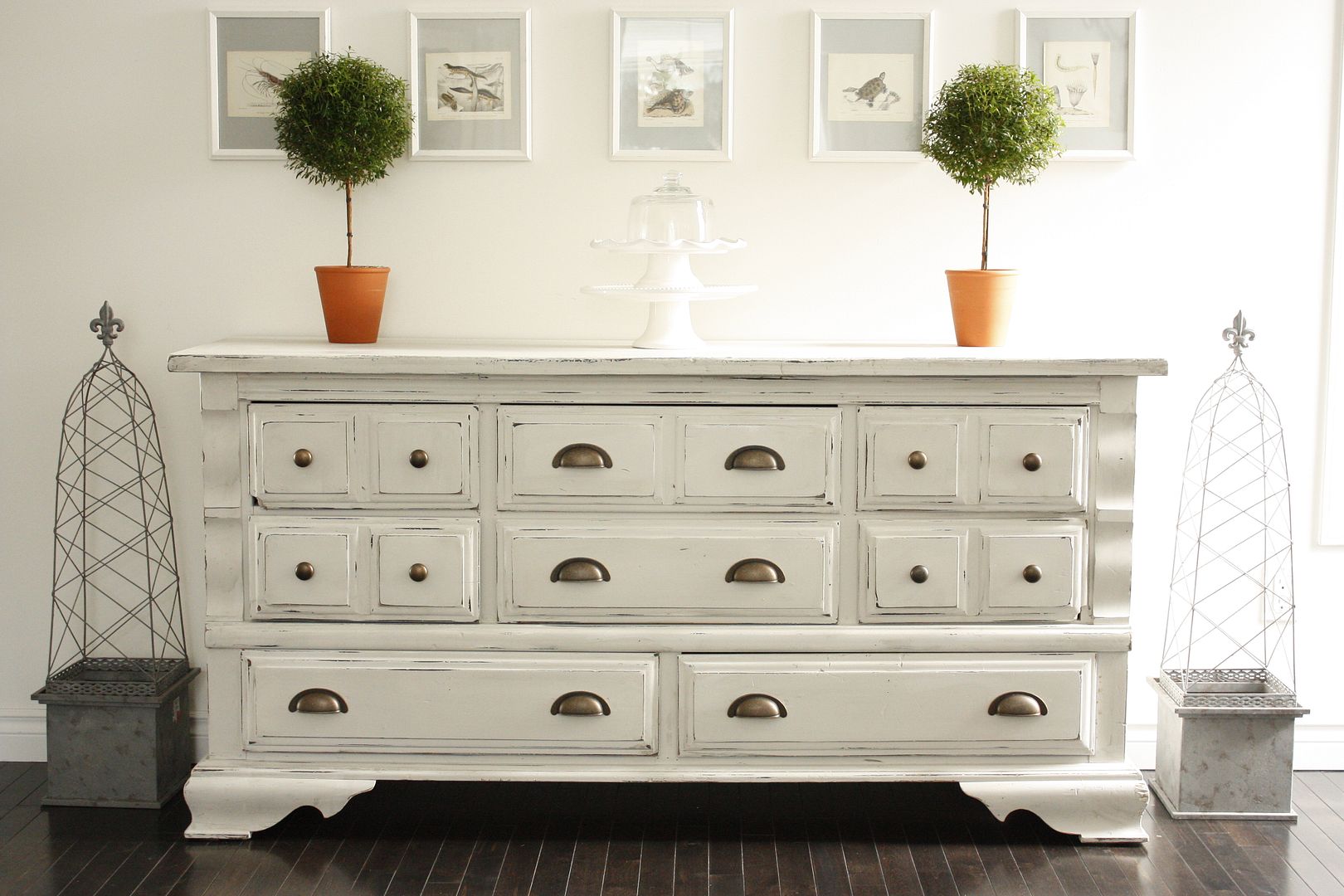 And now the final chapter: My marine plates!
If you recall, these 1857 book plates were an exceptional deal at only $45 for 16. My hunt for the frames really focused on much heavier and chunkier looking frames, but fate dealt me a wonderful hand because due to the sheer quantity of plates I think a chunkier look would have detracted from the real art. I was also unsure of using white frames on a creamy-white wall.
Would the just blend in? Would it not make a statement?
So I decided to use a greyish-blue matte behind each plate to create a little interest. I also decided that I liked the look of 3 rows of 5 frames over 4 rows of 4 frames so I do have one poor plate left over that didn't join his old friends. Maybe I will do a giveaway or something with it in the future~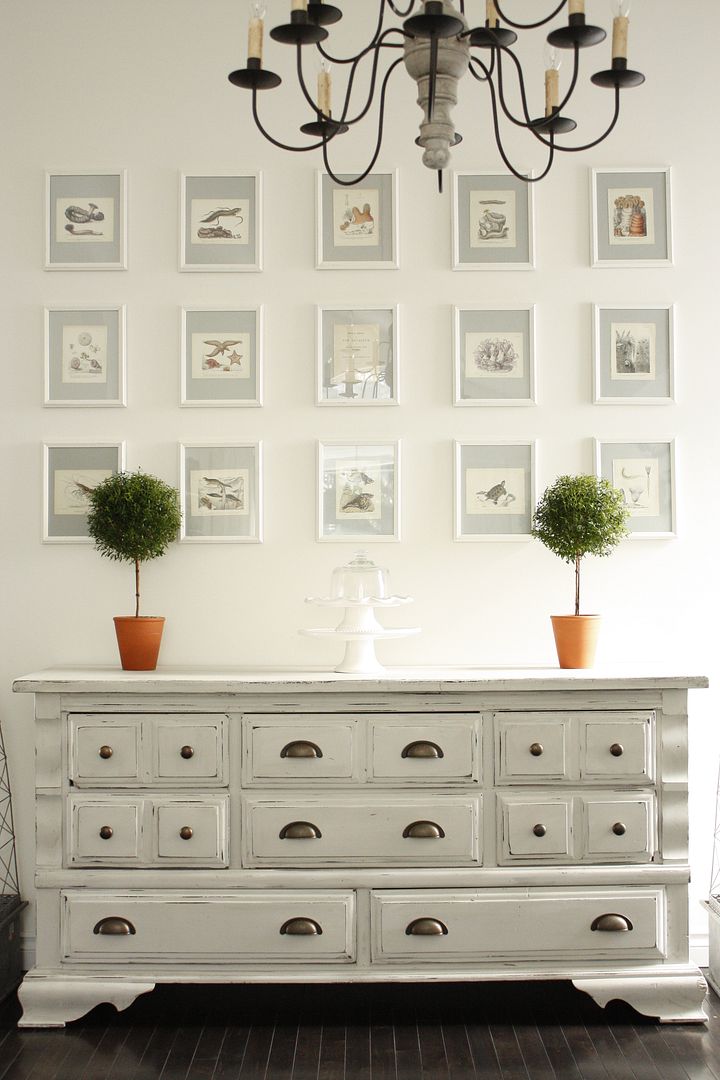 I chose to use the books title page in the very center to show the theme of the prints, date of printing and author. I like that it kind of fans out from that point.
For a close up of all the plates
look here
.
The End.