I have been DYING to share this darling little dresser with you guys! I had a client who really wanted to use it in her little one's room, but the size just wasn't right. But I can see why she wanted it for a little girl so badly. The size, shape and scalloped bottom just feel so girly!
Originally it had some funky wood attachments on the front for handles. So we chipped those babies off.
Today it has a fresh coat of white paint, a touch of distressing and some ceramic anthropologie knobs. The design on the knobs are birds with crowns... perfect for any princess.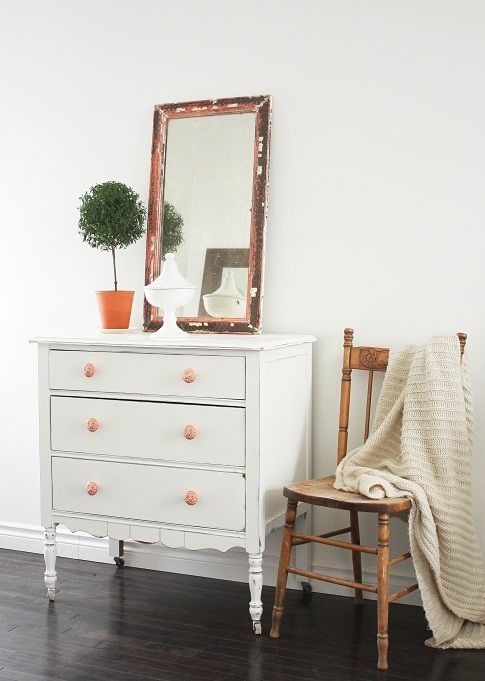 As always, the original castor feet are real gems~
Also going up on WhiteBerry will be this antique chair. It has 2 siblings who have already gone on to a new home (Hi Debbie!), but it would be perfect catch-all spot for a corner in the bedroom or kitchen. Besides missing one rung on the bottom left side it is in perfect condition, but I always love those quirky little defects!
The carvings on the top of the seat back are lovely~
I am still waiting on that sunny day... in fact it looks like Winter has made a brief (but most unwelcome!) return. So instead of snapping pictures this afternoon Wren and I have a date together at our favorite bakery and then a trip to Ikea to grab some window coverings for the master bedroom and scope out cabinetry for the laundry room.
Talk to you tomorrow friends!