I would say that the number one email topic I am asked about is how I started White Berry Reinvented, and how to start your own business. Even though I cannot respond to many of the emails, this one always gets me thinking. Wouldn't it be easy if there was an equation for success, specifically at doing what you love? Wow, life would sure be much easier. But the risks, the chances, and the learning are what really make up success. Here is my little story and how I have found success (aka happiness!) doing what I love.
As a wee-little one I was (and still am) surrounded by people who were all happily self-employed. Both sets of grandparents, aunts and uncles, and most importantly my Mom and Dad were all happily free to set their own hours and schedules. For my Dad this usually meant 6-7 day work weeks, 12+ hours a day plus commuting as he owned and operated numerous businesses from a lumber plant to his continually growing restaurant business to dollar stores... all at the same time. As his business grew across the country and we got older he was away a little more so I knew from a young age that while it is very free-ing to be self employed it also requires dedication and sacrifice.
My Mom was always around, and never held a job out of the home so that we could have home cooked meals, someone to walk home with instead of taking the bus and to take us to the park. It was great! But in order to make that happen while my Dad was so hard at work she ran a home based cake business. Our garage was transformed into an industrial kitchen and she often worked late at night and on weekends to keep up with her booming business. Between the two of them I really saw how wonderful, yet tough it could be (particularly with a baby!) to make it on your own.
All through childhood I had a fascination with archtecture and design. If we went to the book store for an afternoon I was always flipping through home plans, most afternoons I was drawing up my own plans. And I always enjoyed transforming...
But it wasn't until college when I finally had a little room to play and make things. I hit flea markets and estate sales regularly just to window shop... unless the prices was right (aka under $30) and I could fit it into my student budget.
Here is a snap shot of my college bedroom, complete with painted antique french nightstand I scooped up for $25, antique lamps (I still have and LOVE!) and lamp shades I made for pennies.
I was itching to do more!
Fast forward 4 years and 2 degrees later I was in my final semester and Sean and I turned our thoughts to home-ownership. It just so happened to be in the midst of a big real-estate frenzy and houses were lasting only hours on the market. My mom found this house for sale by owner in the classifieds of a newspaper called the owner, looked at it the next morning and ok'd it for us ( in a totally different country at the time) and voila we were the new owners of a third of a million dollar mortgage without even walking through the house!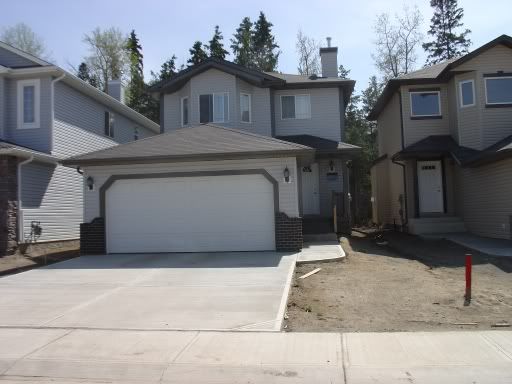 Obviously with a mortgage like that and being recent grads we didn't have any money for actually furnishing a house! So we lived in a fairly bare-bones house for months and months as we slowly make it a home.
One of my first additions was this roughed up buffet I scored for $75 at an antique store that was closing, strangely enough it was in The Bay and they accepted HBC gift cards which we had a ton of from our wedding so I guess it was really a wedding gift~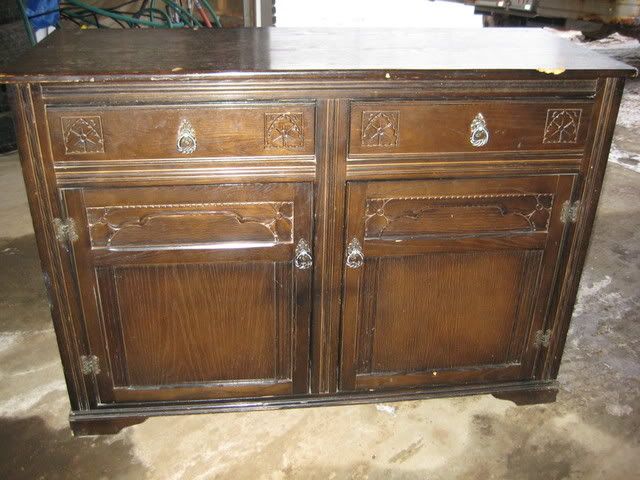 I hand painted it up, and placed it under a mirror we scored in the as-is section of Ikea we painted black.
I think this was when the seedlings of White Berry began to sprout.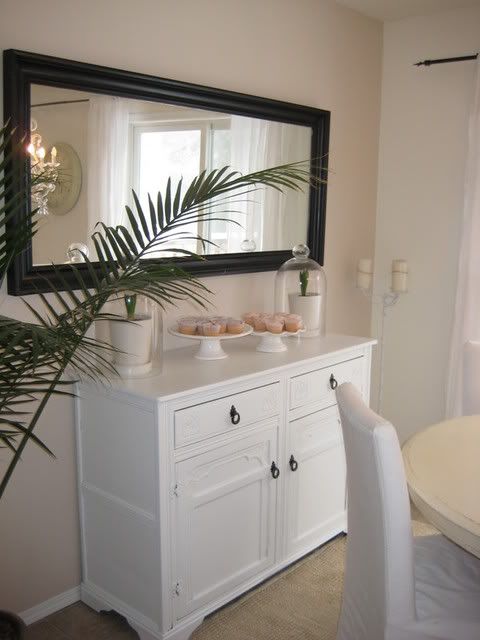 Not long after I started transforming everything, from the pine kitchen (new backsplash-not shown, paint, molding and range hood). to the bedrooms. And of course everything went white!
After only 2 years we felt we had done all we could to the house and once we discovered Wren was on her way we decided it was now or never to up-size. We looked at tons of houses, old and new and after walking away from our last house with a fairly substantial return on our investment we took the plunge with our latest love: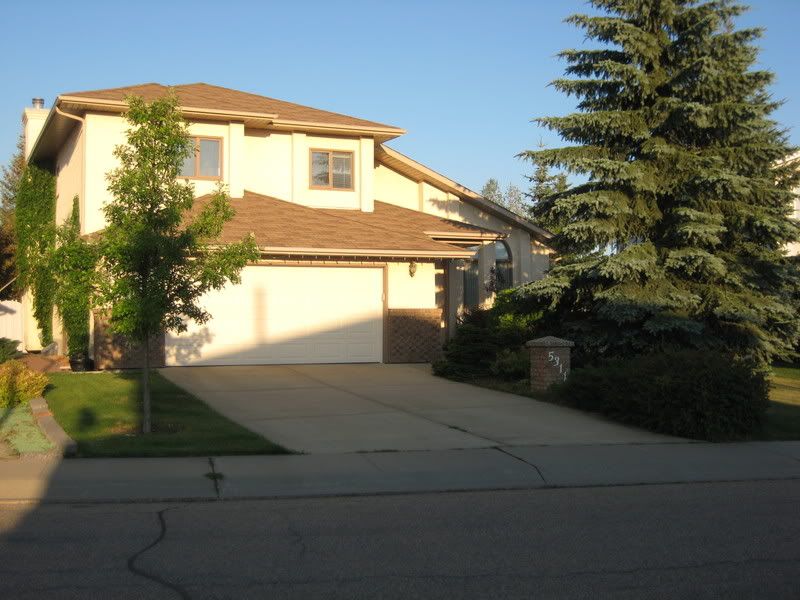 Right away the transformations began to the house, but soon after completing a couple rooms we discovered yet again we were under furnished!! With the reno budget eatting up all decorating funds I had no problem getting creative again to bring it to life. Not long after, Wren was born and that is when WhiteBerry was born as well.
Most people have babies and find themselves struggling to keep up (totally normal from what I hear and very understandable), whereas I was struggling to find things to do and finish. We were renovating a bathroom the day Wren turned 1 month old... and sooner or later we started to run low on renovating funds, being on maternity leave and all.
I decided to set aside a couple hundred dollars over the course of a month in the Spring, anticipating garage sale season and my first opportunity to really start hunting. I can still remember the first morning Sean and I hit the sales bright and early, arriving home by 11 am with a truck full of great finds that I fully intended to transform and beautify. Thanks to plenty of experience with tools over the course of our renos I felt fairly confident in myself. After a couple were completed I posted them up on my blog, not mentioning that they were my first business ventures. Within minutes you had completely thrilled me with your comments, within hours you had shared them all over the web and within days I had emails asking about them and how I did them. So I took the jump to sell them! I nervously anticipated people critiquing the color, the finish, the hardware, the price, letting my mind doubt for just a moment. But it was all needless because the first email I received was from the lovely Rebecca who wanted one ASAP. After Rebecca's initial email I immediately launched my website that had been underway since my first decision to set aside the funds. Within 1 week of my website I had 43 requests for the dresser purchased by Rebecca and I knew I was on to something! Fairly quickly word of mouth travelled locally and I had interior designers recommending me to clients and custom client projects within the first 3 weeks... and the rest is history!
I know that is a LOOOOONG read so thanks for sticking with me~ I guess the point of that total history lesson is that it has nothing to do with painting furniture. There are thousands of furniture painters (maybe more!) out there! I am not the first, nor will I be the last, and I most definitely am not even close to the best. But the truth is that anyone can paint. It does not take any special skill! But running and managing a business is a little more tricky.
What I have the time to share here on the my blog is just the tip of the ice-berg. While it all looks and sounds perfectly dreamy, there is also a lot of hard work, late nights (everynight!) and early mornings. Thanks to Sean also being self employed we have a very unique schedule, but all in all I would estimate that I spend well over 8-10 hours per day fielding email quotes, shipping requests, organizing pick ups/deliveries, updating the website etc. and maybe 1 or 2 hours painting. The business side takes a lot more dedication than playing with paint and cool furniture!!!
Another thing I have learned is that you are only as happy as your clients! Very little of my local business is generated through the internet or my website. It is all word of mouth. That is soooo important to my success, and while it is nice to have a fancy website that looks really fabulous it really wouldn't help me in the least of my clients weren't happy and telling their friends and family about me.
I think the point of all of this mumbo-jumbo is that I only wish it were so easy to summarize up for everyone into a pretty little check-list "to start your own business". But like all good things in life, it isn't easy. But it is definitely worth while, worth the risk (even if you fail because you learned something!) and worth waking up every morning to the best alarm clock: Wren singing in her crib~