Thanks so much for all your sweet and kind words this week!!! You really know how to make a girl feel special. Forget cloud 9, I've been on cloud 99 all week thanks to you.

And since comments tend to pile up and before I know it I forgot who asked what and under what post it came from so I thought I would answer the weeks most pressing questions right here.
Many of you were asking for the name of the paint I used on Wren's bed, and others were 100% correct in pointing out that I mix my own paints. This one included.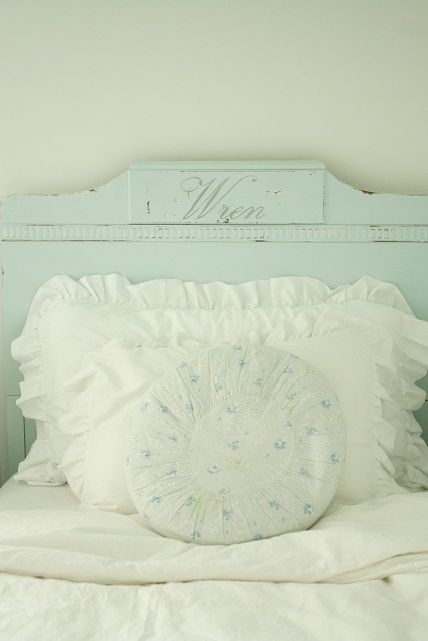 So I took a trip over to Behr.com and looked at the virtual color center to find as close a match as possible and think I found a pretty close color: Soar 510A-1
If it looks a little brighter in person just add a smidge of white paint to tone it down, but it seems to have the same blue-green base.

For those of you asking how we painted all this without getting paint on everything...
That one is a little trickier. We spent about 2 hours painting, but it honestly took at least 6-8 hours prepping for the spraying. The project took at least 10 BIG plastic drop cloths. We started by draping the large areas and taping the cloths up the walls and on the floors, then the tedious work of taping the drop cloths around each spindle on the carpet started. It was easiest for me to use 2 cloths for each spindle, one for the stair side and another for the ledge side, each cloth taped to 2 sides around the bottom of the carpet. I am not gonna lie, it is a BIG job, and there were a handful of spots that the paint got under the tape around the spindles. But the paint was white and the carpet was white so it wasn't noticable, plus I knew we were ripping it out someday so I wasn't too devastated. But with the right prep it is possible!
And thank you for asking because it caused me to go back and look for the original post, at which point I found this old photo in another post and I have no idea where the heck that mirror is. Haven't even thought about it for over a year! That probably tells you more than I want to divulge about the state of my piles of accessories in the basement!
So now I am off to hunt it down and I hope you all have a great weekend and get entered for our giveaway before it closes tonight at 9!!!