This post brought to you by
Pier 1 Imports
. All opinions are 100% mine.
About a month ago I was approached by
Pier 1
to join their Holiday blogging campaign. They basically told me to go shopping and tell you about it... sounded like Christmas came early for me! Truth be told, I hadn't set foot in
Pier 1
since decorating my Mom's kitchen nook last April so I was excited to explore the store and spend a night shopping by myself (with a yummy Starbucks cider in hand, of course!).
As I mentioned earlier this week, we won't be at home for Christmas but we will be doing some
holiday entertaining
,
v
hosting at least one birthday party before we leave. While I do want the house to feel festive, I don't want it to be too "theme-y" since the holiday decor has to play nice with any birthday decorations. So I had to put on my thinking cap and look beyond all the beautiful red, green and gold items and to find subtle touches that would add the perfect amount of understated sparkle.
The first item to drop into my basket was a jar of thick, grainy sand.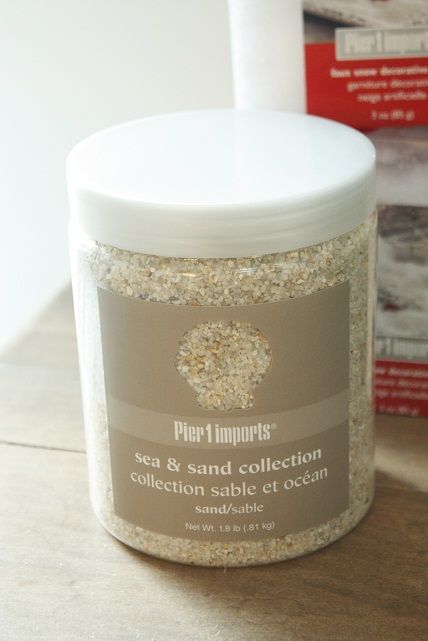 One of you lovely readers suggested adding sand to my paper whites and I have to go back and remember who that was because it truly made a big difference in their presentation. I love the touch of texture and the way the light bounces off the grains. Thanks!!!
Before adding sand: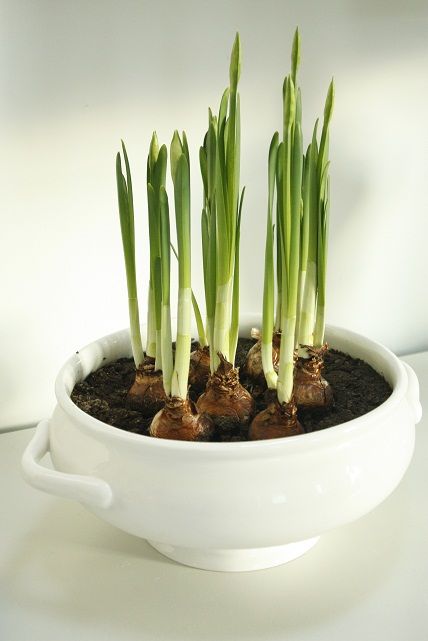 After: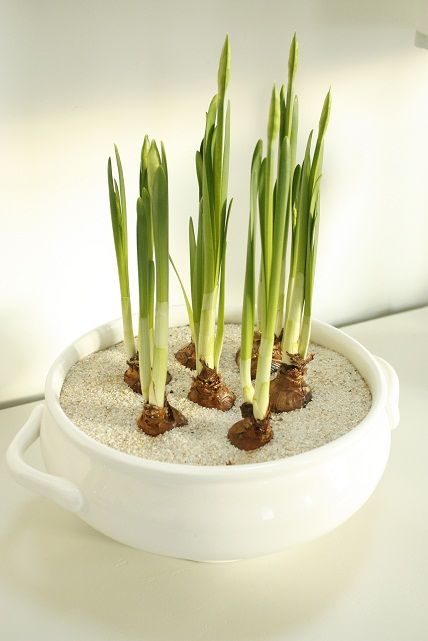 And with a little bow it makes a beautiful holiday center piece!
After going through all the gorgeous ornaments that would have no tree to display them I stumbled onto faux snow. I am sure almost everyone else in the world is already hip to this stuff but I am just learning the fabulousness that is "indoor snow"!
The boxes are fairly small so I brought 2 home, but so far I have used it both under our branch tree:
as well as all over the buffet amidst crystal candle sticks. I love that it almost looks like the candle sticks are ice or something (check your thrift stores for TONs of these crystal taper holders, most of these were $0.49 or less!!).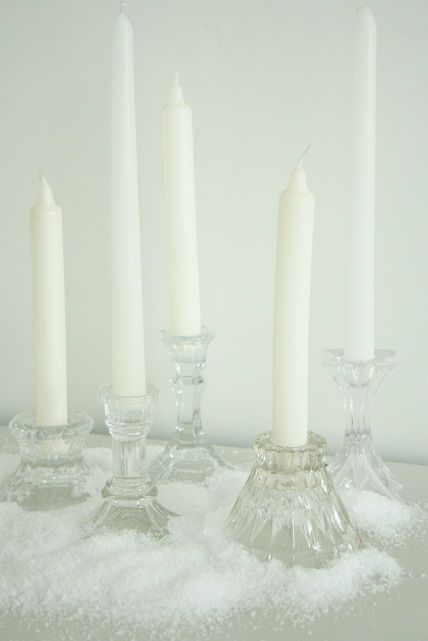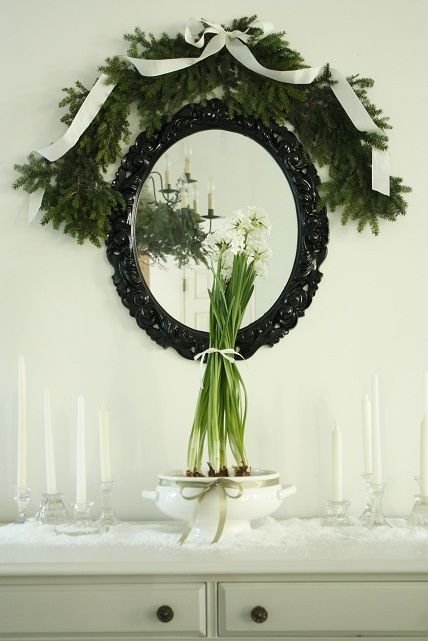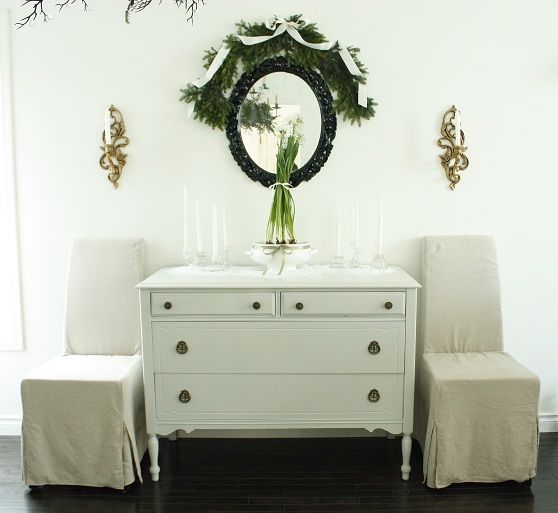 And I have still yet to open the second box, so that stuff goes a LONG way! ($8/box)
I started to veer a little off course as I wandering into the floral section, but these branches jumped out at me immediately!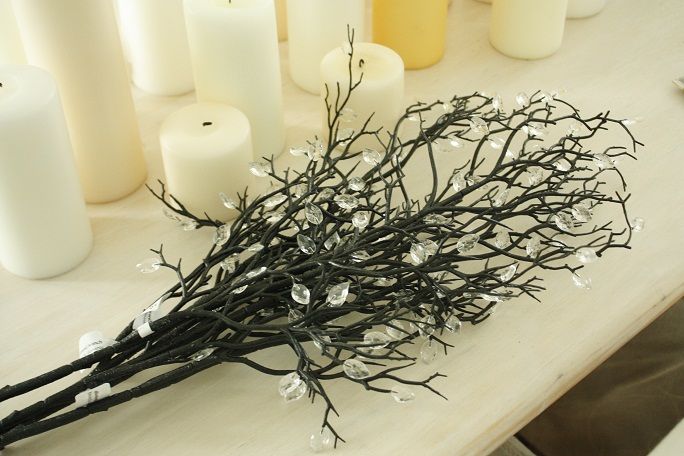 I thought they might add a perfect sparkle to our dining room chandelier so I grabbed a handful (at only $5 each!).
I started by twisting them around the arms of the chandelier.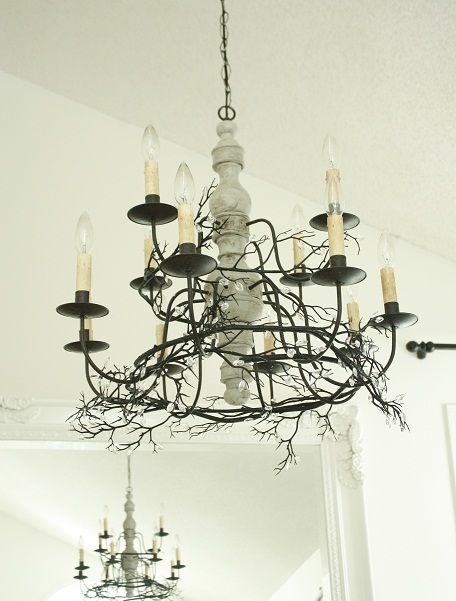 And while I LOVED how it looked, it wasn't feeling too festive yet (but I will definitely be breaking them out again next Halloween!) so I snipped a few boughs off a tree in the yard to add some greenery.
And I basically did the exact same thing, just winding them around the arms, no wire or anything needed!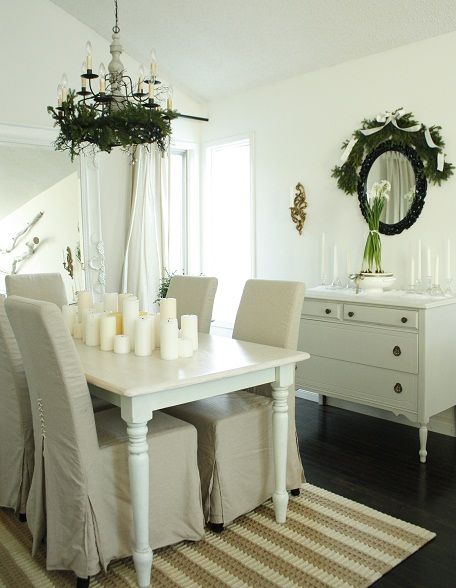 I love the weight it adds to the room, and it only cost $25 in sparkly twigs that will be useful year after year!
It's kind of a little bird nest, which suits us perfectly LOL.
I want to send a HUGE thank you to Pier 1 for adding some much needed and appreciated Holiday Cheer to our home this holiday season. I know I will be back to the store ASAP to grab a sea grass rug that was on clearance that was just the right size and color for our dining room.
And in the event Santa is reading right now, here are just a few of the other goodies I wanted to take home with me.
**And if you happen to be stopping by a Pier 1 store in the next few weeks be sure to remember Toys for Tots! You can drop off your unwrapped toy donations at any store or make a cash donation while ringing out your purchase. Also, for every new fan they get on Facebook Pier 1 will be donating $1 to Toys for Tots**