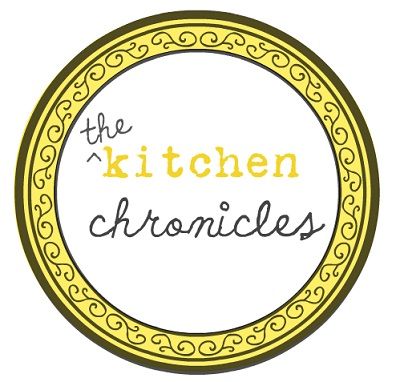 Ding Dong. Oh hi there! Long time, no see. Why don't cha come in and have a cup of tea!
Oh, do be careful not to trip on the dozens of blankets and plastic sheets covering our floors.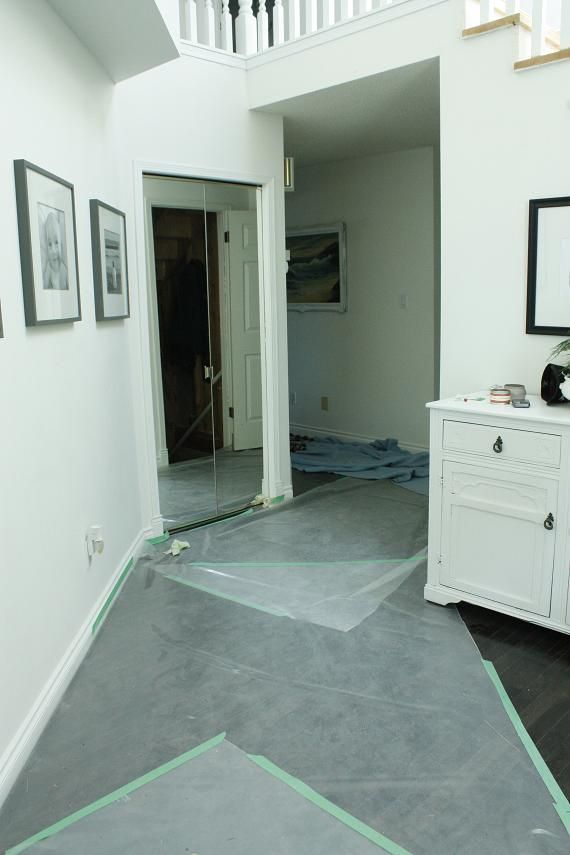 Hope you don't mind sitting on a tarped up couch? You do? We can go relax on my bed then. It's really the only plastic-free seating we can lounge on while drinking our tea.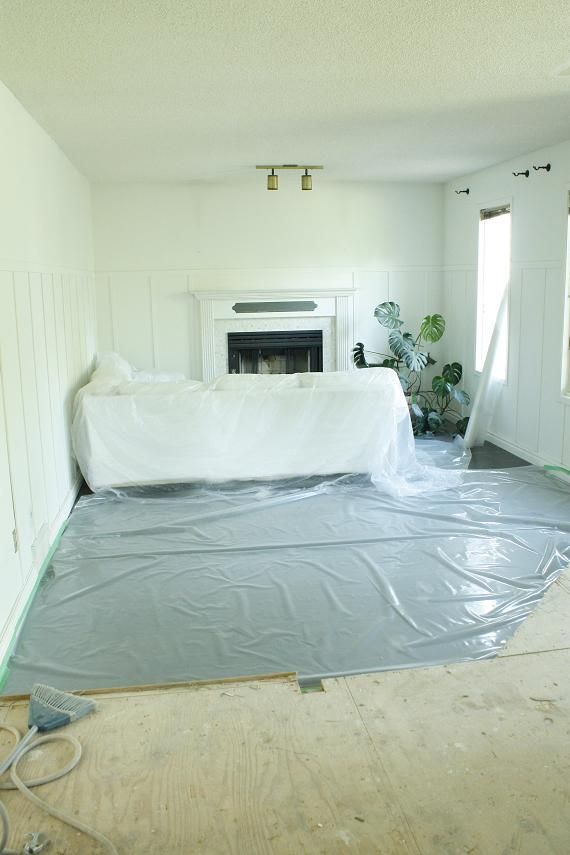 Speaking of which, it's just going to take me a few minutes to locate it in our 'pantry'. Yes, you're right 20 minutes is a long time to spend looking. Maybe we'll just go heat up some water with lemon.
Oh drats. I completely forgot that I don't have the ability to heat up water. Why don't we just go grab a drink from the hose outside and laugh at how neglected my yard has become and what a great neighbor I am then.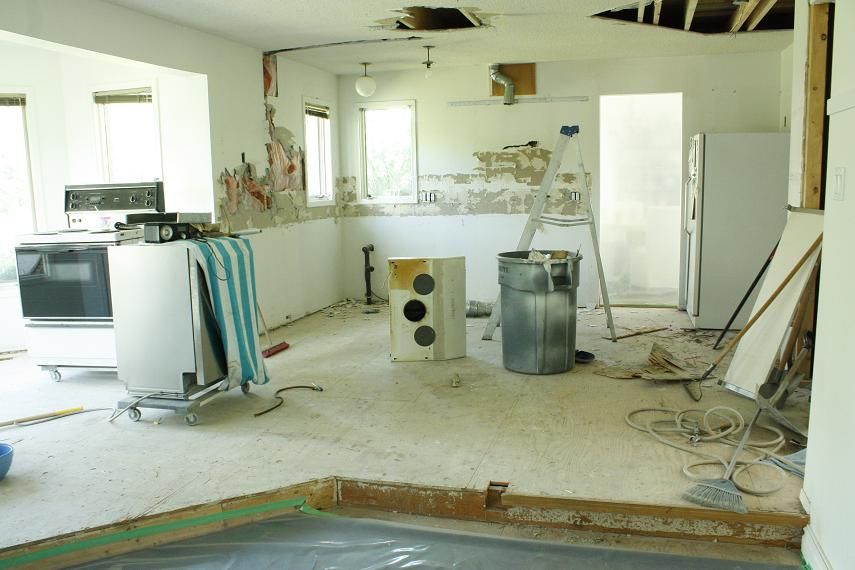 The good news is that we are at ground zero and it is only down hill from here. Most people would look at this mess and think "golly, they have a lot of work ahead of them". And those people would be correct, but they would be wrong if they think we have more work yet to come than we've already done. You see, our lovely old tile floor was not only hideous well installed (therefore impossible to remove) but it lay silently for years upon a second plank of subfloor that also needed to be removed. And they didn't want that floor going anywhere fast so they not only stapled it down, but screwed and glued it. It took a will power unlike any we've had to conquer before to keep plugging away at it, but once it was up the cabinets, electrical and plumbing were relatively painless work to remove. So the true test of our skills are about to be tested: our patience.
I've already had to lay the law down with our window installers after more than a week of delays (the new windows are going in tomorrow!) and I'm just hoping that the cabinets and counters fall into line nicely.
And while a few delays have only given me a little time to focus on the finishing touches and some retail therapy they have also given me too much time to second guess my lighting choices.
Originally I'd planned to do all recessed lighting, with the exception of over the peninsula/breakfast bar. I wanted to create some interest and do a series of hanging pendants. So I ordered 3 of these cute little mercury glass fixtures.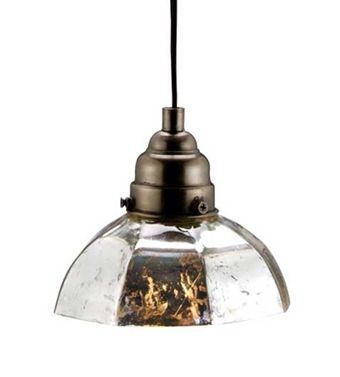 Then I decided that they were a little too dainty for our cape cod/commercial kitchen. So I picked up 2 of these slightly larger cottage-y pendants from Ikea. Plus the $50 price made them a fabulous upgrade.
But then I decided that perhaps they might be a little too predictable. Lovely? Absolutely, but maybe too expected. Plus it occurred to me that with a metal shade it would give only downward lighting and it might feel too much like a pool hall in the evenings.
So in the end I still have them all on hand to make the final call when I see the cabinets in place, but I also ordered this factory-like fixture from Restoration Hardware. It is not even close to being the deal that the Ikea lights are, but I love the unique shape and style, it's flexibility to extend or retract, and the touch of darker metal. I feel that we should have just a handful of darker touches to mimic the floor color and tone down the white cabinets and counters.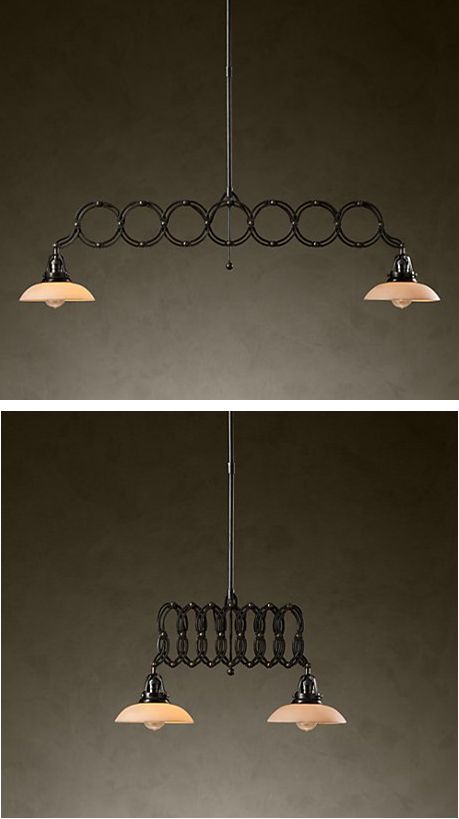 But like most girls with a credit card that is poised to be swiped, I was swayed to add to my order by finally getting a fixture for the front door. We have accommodated the hideous brass fixture there for long enough and I decided it was hightime to kick it to the curb.
I'd been eyeing the giant lantern like fixtures for quite some time. But some little inner voice told me "don't do it!". And it took every ounce of strength convince myself that I need to stay focused on the kitchen. I can worry about the front door later.
No more than 30 minutes later I sent up a prayer of thanks to the Karma gods that told me to turn down that light because low and behold a nearly identical one was staring me dead in the eye at homesense. On clearance for only $80 no less!!!!!! So while I splurged ever so slightly by switching up the kitchen light, I saved over $800 in the end by not buying the front door light. Plus I'll have a fabulous new fixture greeting everyone as I show off the new kitchen, just like in my dreams.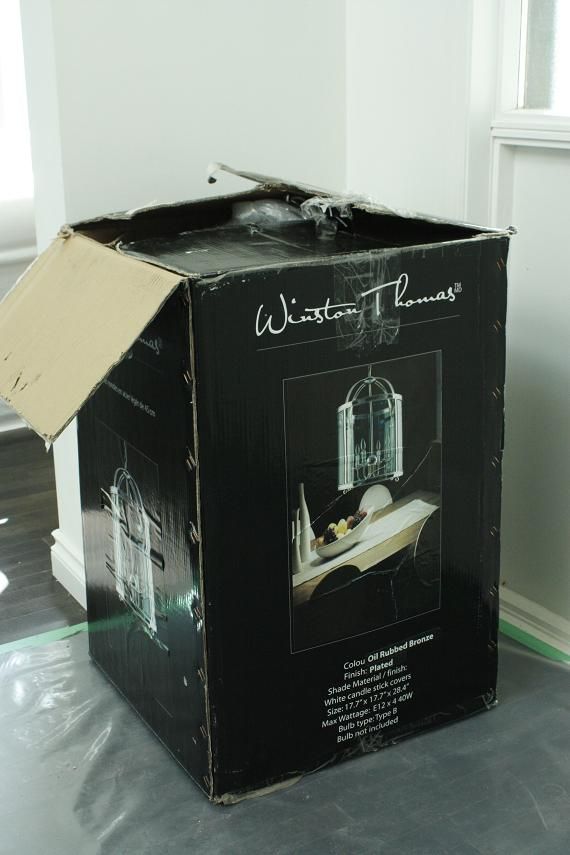 And that part that really makes me smile is that I actually prefer the finish of mine, in a polished chrome that matches my table lamp at the front door, over the oil rubbed bronze of RH's version.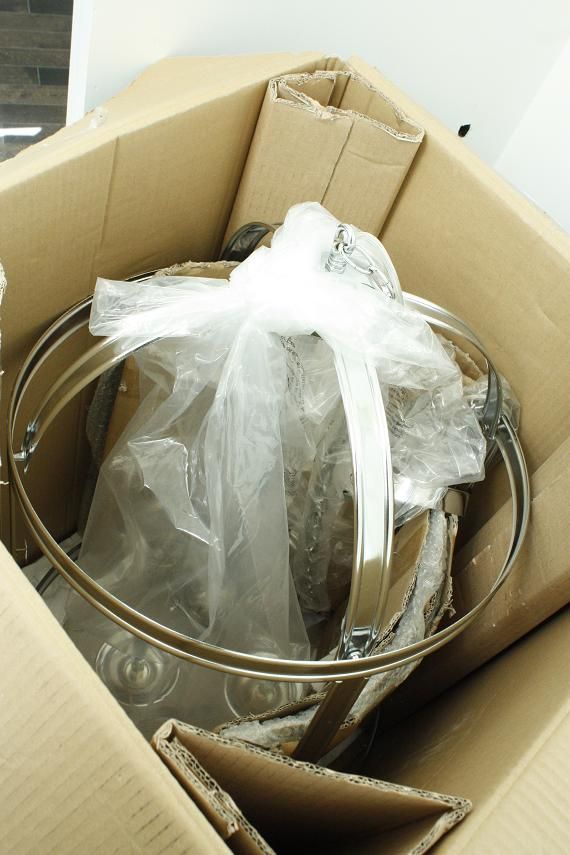 The electrician will be here on Monday (along with our cabinets!) so I am crossing my fingers it will be up then and I can share "the best find of my life"-glory I will be experiencing.