I am a little slow today, sorry guys! I think that maybe it must be the fact that we are coming off a long weekend, which probably saw more margaritas than paint brushes, but we don't have quite as many participants. So please link in if you have anything you want to add (new or just new to us!). Or email me to be in next week's post!
To kick things off I promised to share a project I finished for the living room... but the photos never got taken so I will share a new White Berry piece that I am adding to the site today~
In my current style of cottage-obsessed pieces this one got a fresh coat of cream paint and then some greige (sp?) cabana stripes!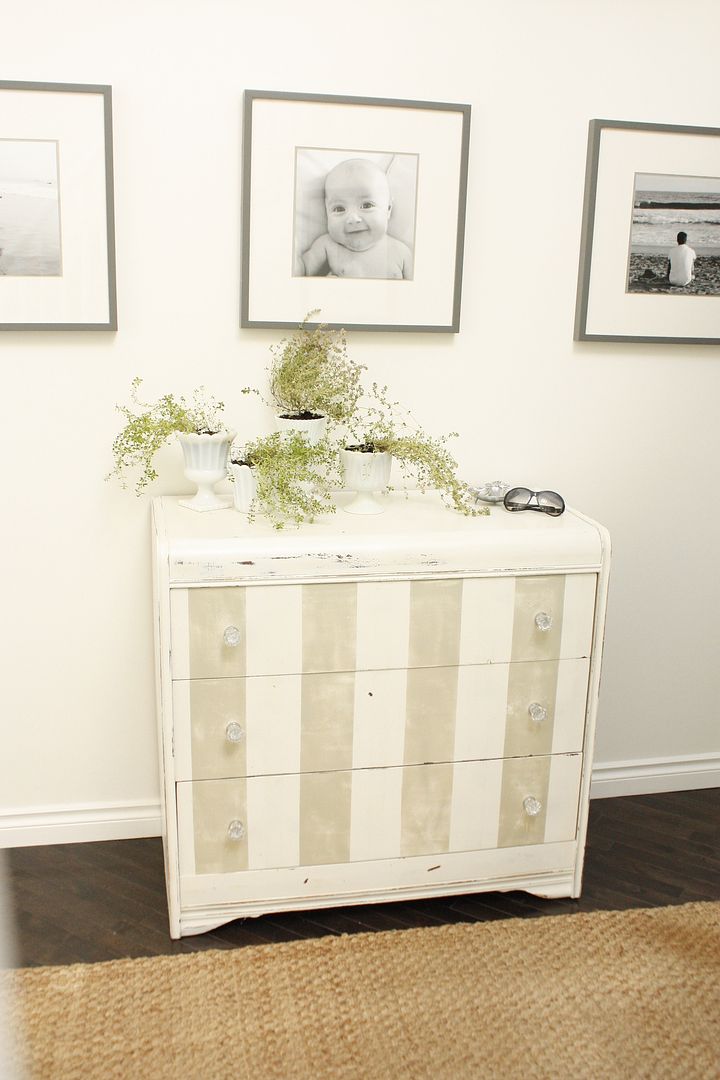 I wanted it to feel really well loved so the stripes are very faded
My mom literally dropped off dozens of these Thyme plants and I have NO IDEA where the other 20 will go... so you will probably be seeing a lot more Thyme around our place because the yard is already covered with it.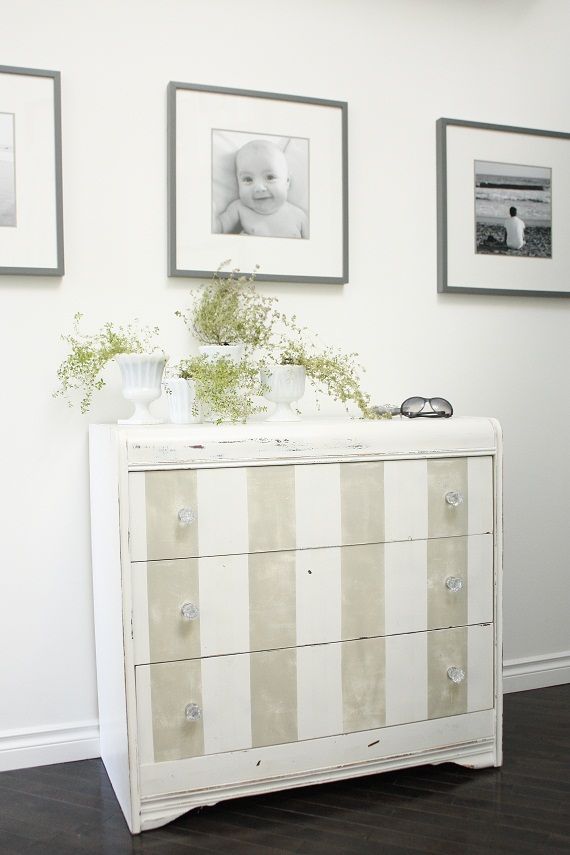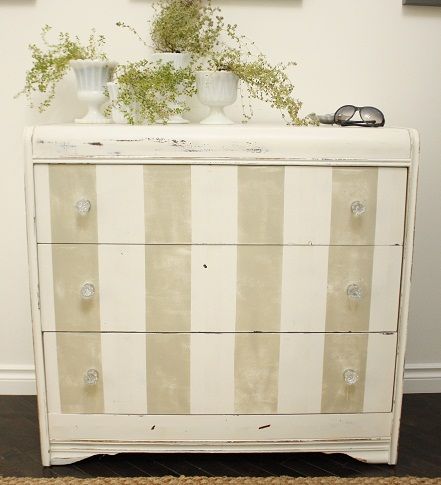 Andie
is a girl after my own heart with this coastal feeling make over. I love seeing people makeover telephone desks as well because they really have no useful purpose these days and often people don't have the room for a chair like that, so kudos to you Andie! And I plan on stealing that seahorse pillow the first chance I get.
Sonia
did a beautiful job with this old 70's looking china cabinet, which always happen to be my favorites when they are done! She added some wall paper to the back as well as some crystal knobs. I love all the cute plants too, it really does feel like a little hot house~
I think my jaw was on the floor the entire time I was reading
Shaunna's
email. Can you believe her hubby, Matt, took this door and made her this bed??? Shaunna did the painting and finishing, and together they must make the perfect couple because this is unbelievable!! (I can totally envision Sean swearing or kicking the wall with a project like that, and me breathing down his neck to get it finished LOL). Beautiful work Shaunna!!
Erin
is due any day now with her baby boy, who is very lucky to be coming home to this fabulous dresser! Erin painted it up, added gorgeous new hardware, and my favorite part, installed cool new feet (actually just 2 wooden pieces mounted together!). Great work Erin, can't wait to hear when you meet your little man!!
I am SOOOO inspired by this project, sent to us from the always charming
Michael the Innkeeper
(LOVE saying that Michael LOL). His blog, Inspired by Charm, is a favorite of mine and I am so happy he let me share this one with you guys! Inspired by a sunrise reflected on the water he took these plain oars and turned them into fun and unique art. Don't they feel like were from an old row team?
Lauren
had a rustic vision for this amazing coffee table and it turned out great! I love the great hardware and lines of this coffee table. Maybe next week Lauren will consider also share those darling blue chairs in the back ground *hint hint*.
Janice
sent me this great before and after a couple weeks back, but in my rush to leave for the cabin her poor dresser was overlooked. Sorry Janice!! But if you want a hilarious, maybe too realistic step by step guide hope over and check out her cute blog~
Thank you to everyone for sharing, and if you want to be featured in an upcoming post just send along an email to
inthefunlane@gmail.com
Update:
My link generator is currently out of commision, but I hope it will be back up for next week!!!