Our week of Haunted Mansion makeovers continues! I took some cheese cloth to our ghost lamps (
instructions on how to make your own are here
) and placed a cute haunted house/tea light holder I found at Marshall's years and years back on the dresser below, along with another bird. I swear, black cheese cloth is the best find for halloween decorating!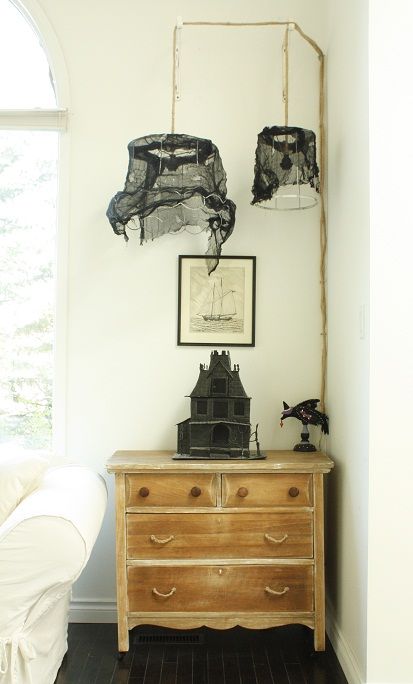 Besides cheese clothing every light fixture in sight we decided to get creative and attempt some crafting.
Warning:
Keep in mind that we didn't find these crafts in magazines or online, and purely came up with them as we went along. Which you will see can turn out badly! But with some trial and error you can always come out with something unique.
All right, let's get going.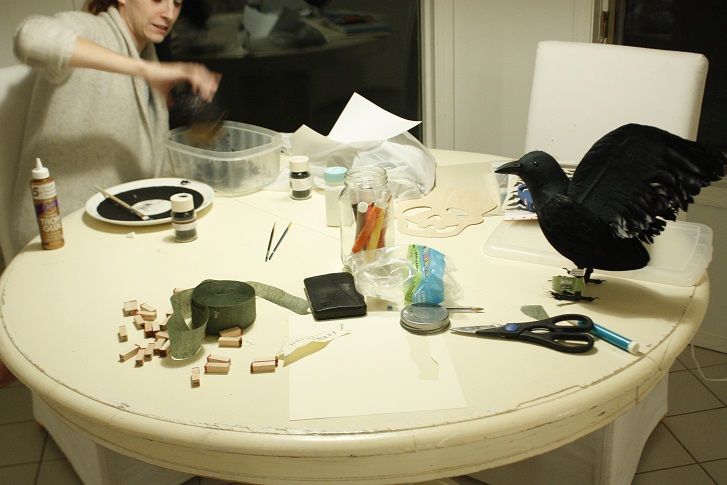 I originally wanted to find some plates to spray paint black (purely for decorative purposes, not to eat off!). So obviously it didn't matter if there was an ugly design on the plates, and if you've been thrift shopping you already know that the ugliest plates have the tiniest price tags. So here's what I dug up for a couple bucks.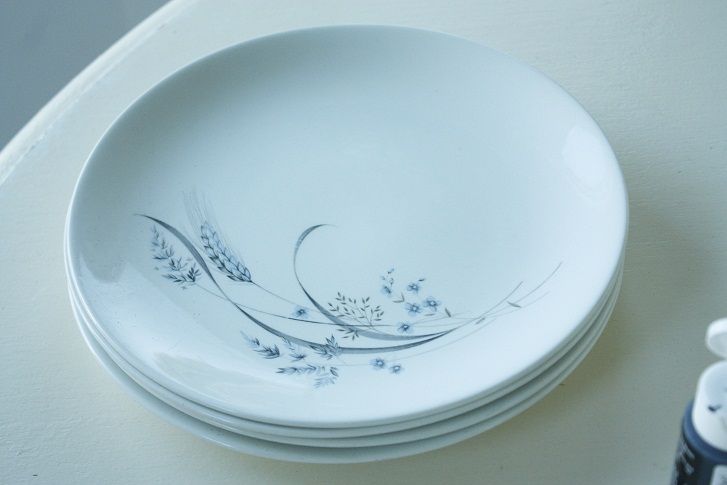 After digging through all the stamp and halloween aisles at Michaels I decided to use transfers on the plates. It seemed much easier and faster than printing anything and decoupaging it to the plates like I originally planned.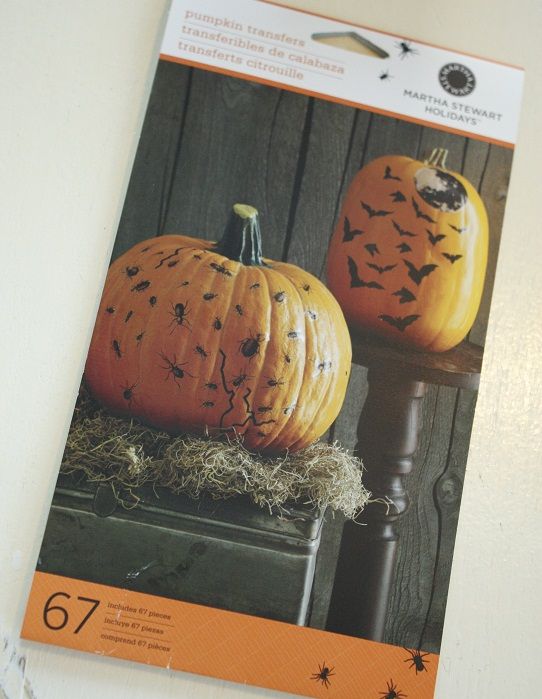 But obviously black transfers would hardly appear on black paint.... so I improvised and painted some areas white, others black. And it pretty much went downhill from there.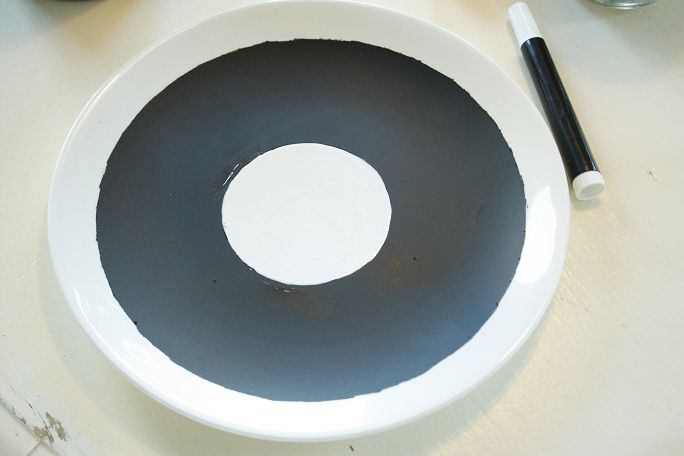 As evidenced here in exhibit a.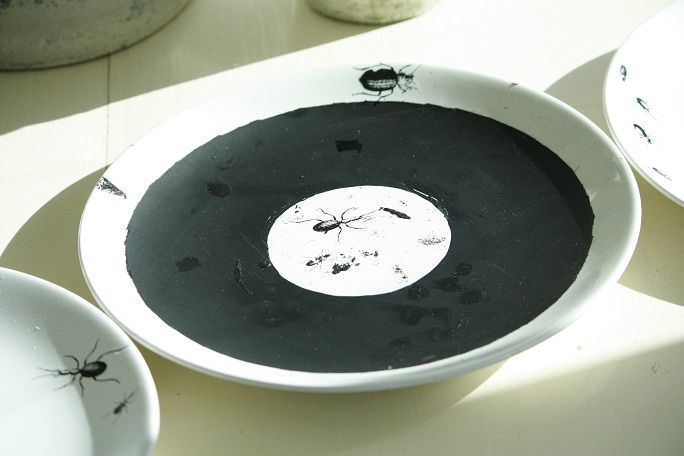 Never one to back down from a challenge, I went back to the drawing board and sprayed the remaining plates in glossy white.
After playing around with the placement of the bugs, then transferring them on to the plates here is what we ended up with.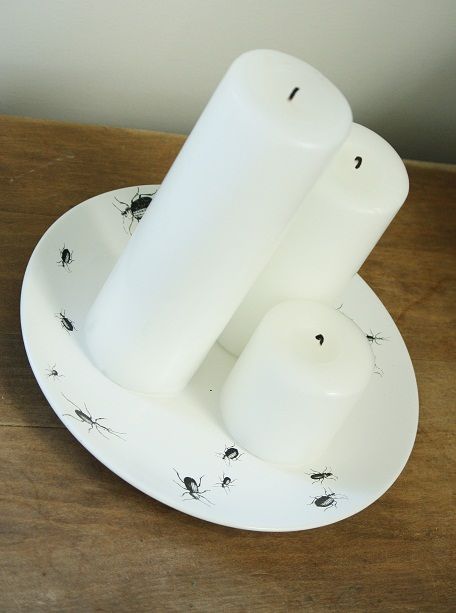 Much better, right? Maybe even cute? I got a few plates out of it and have tons of transfers left over for future projects, but would estimate the total cost to be in the $7 range. Time invested? let's not dwell on that...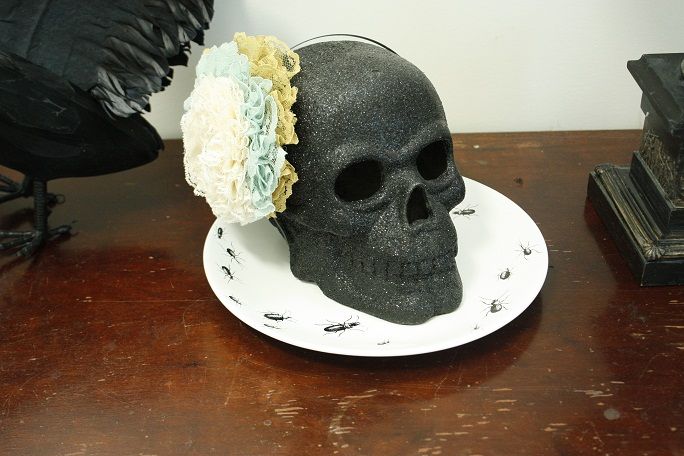 Our second attempt at Halloween crafting originated with an idea I had to make mini-graveyards in our house plants.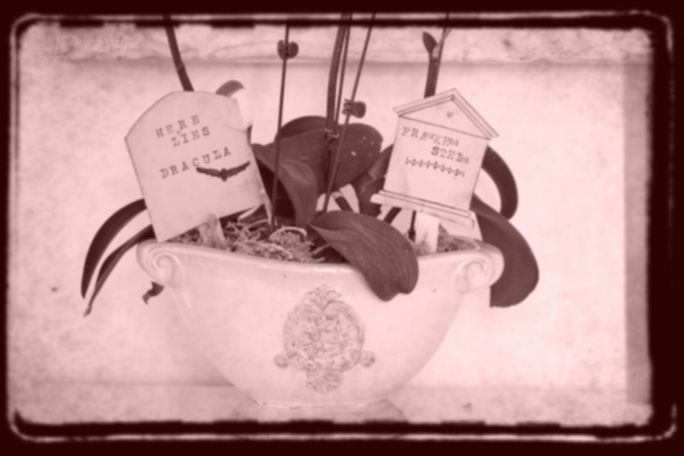 I started with grey construction paper, and folded it in half to trace our my gravestones.
With some stamps and rubbing ink on the edges the graves look old, then we mounted them to popsicle sticks with hot glue. *keep in mind I have lost the N stamp and had to resort to using a sideways z*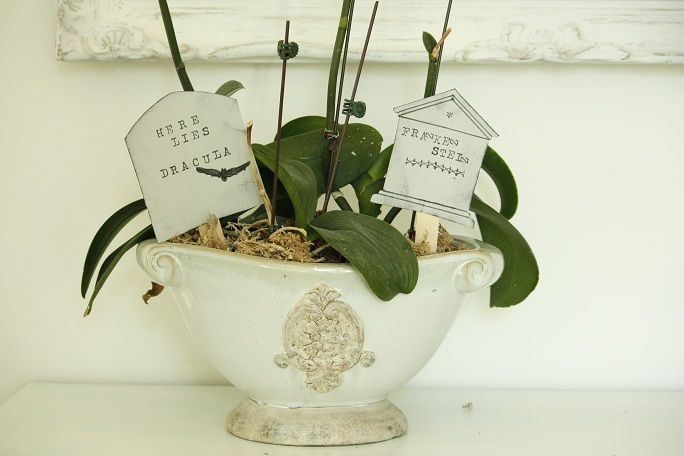 I still really like the idea, but mine totally bombed. With a bit more effort and without a 21 month old tugging at your leg to play with the stamps it may just turn out!
But I decided to give it another shot and just make a cute little sign for another plant with antique colored paper, some pleated crepe paper glued around the edge and again mounted on a popsicle stick.
I think it is cuter, but still not a home run... maybe next year when I can dig up an N.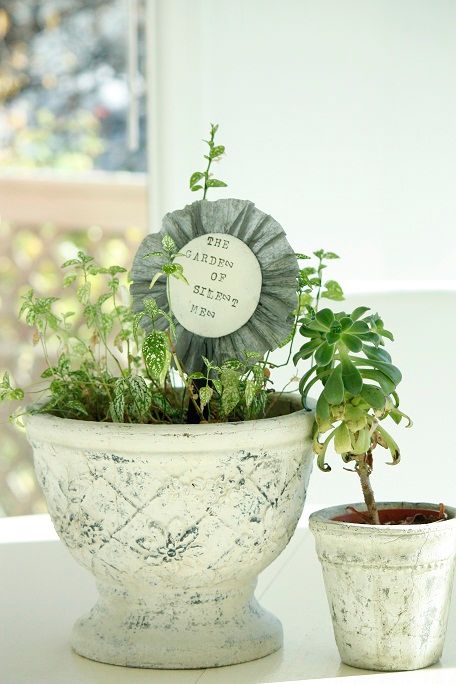 This one was SUPER fast and easy, requiring only a little paper, some crepe paper I crimped up and glued on and then a utility knife to make a slit in the birds plastic mouth.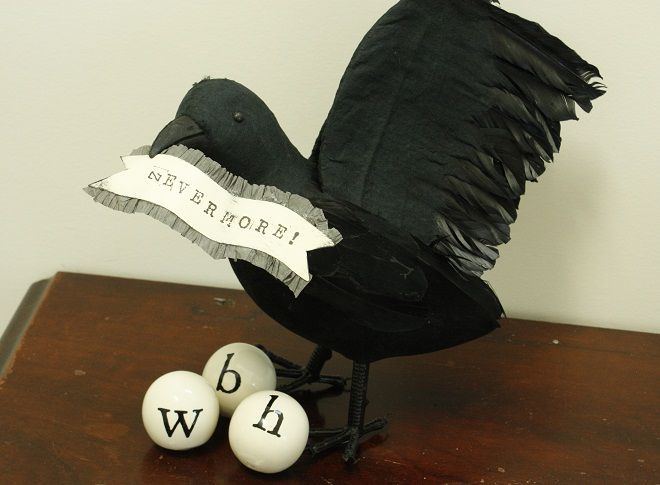 So as you can see, we all have our good projects as well as our bad ones. But I wanted to share in the event you can take the concept and make it fabulous ( I know the potential is there people!!), especially if you want to get your kids involved~
Hope you're having a perfectly haunted day!