No, not on the walls (I still love our silver paisley wall paper, which might be a record for the oldest thing in our bedroom!), but on a few furniture items. Mainly this dresser and a mirror.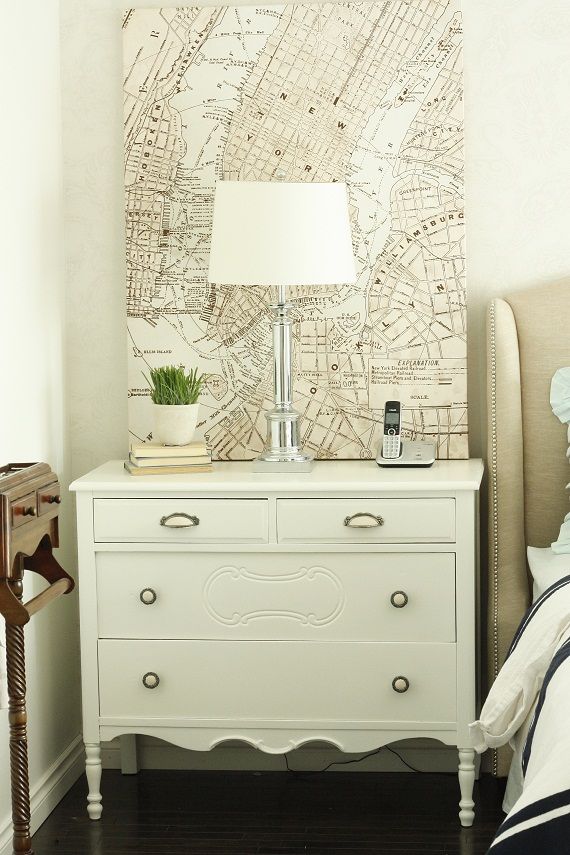 I still want to eventually find a lower dresser for that side, but for a short term solution I repainted it to coordinate a lot better.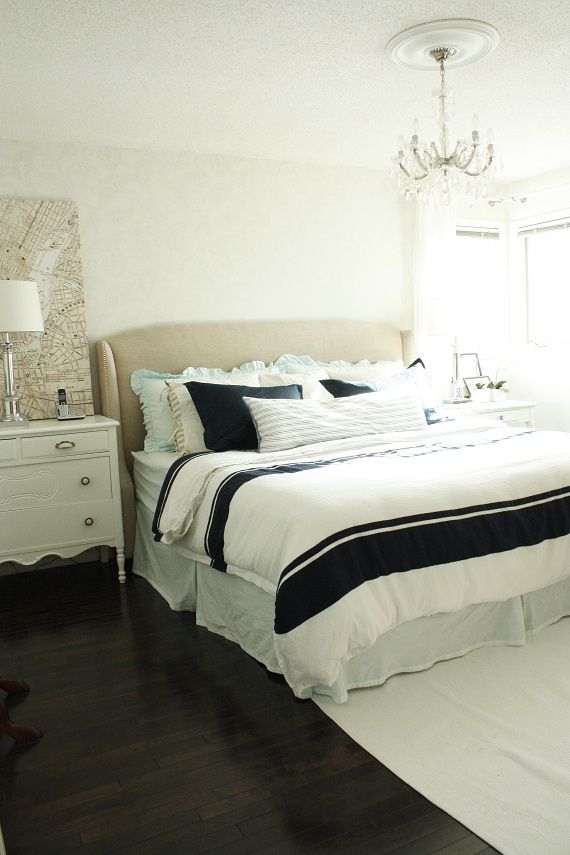 You are probably asking yourself one of two questions:
Doesn't that look familiar?
or
I don't even know what the dresser looked like originally, so who cares?
Originally I brought the dresser home for $15 but got a lot of old peach and gold paint and my thumb sliced open in the bargain (long story, but I can tell you I now have an extreme distrust of bungee ties)
My original makeover was a cool grey paint with the Brockhampton knobs from Anthro. It looked great, but was too much grey for our new white/cream/navy scheme.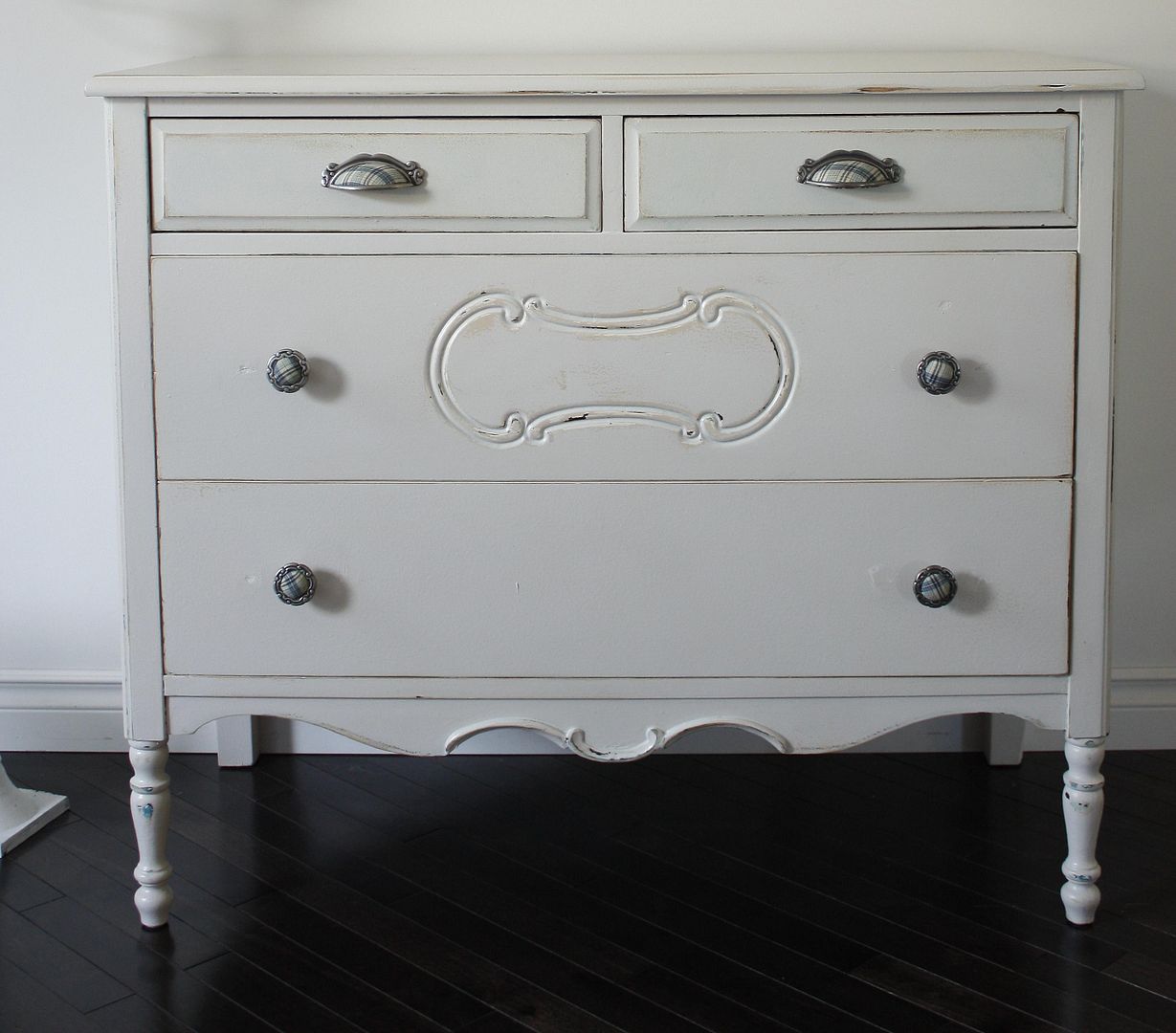 A bright white paint and a semi gloss finish makes it feel clean and sophisticated now. A much better fit for the space.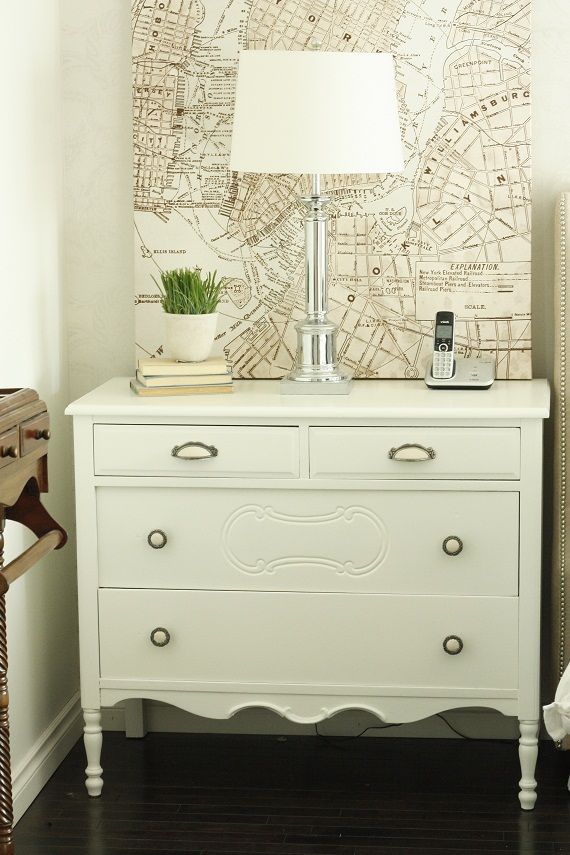 The brockhampton knobs were super cool before, but with a little playing I figured out how to open them up and change out the fabric.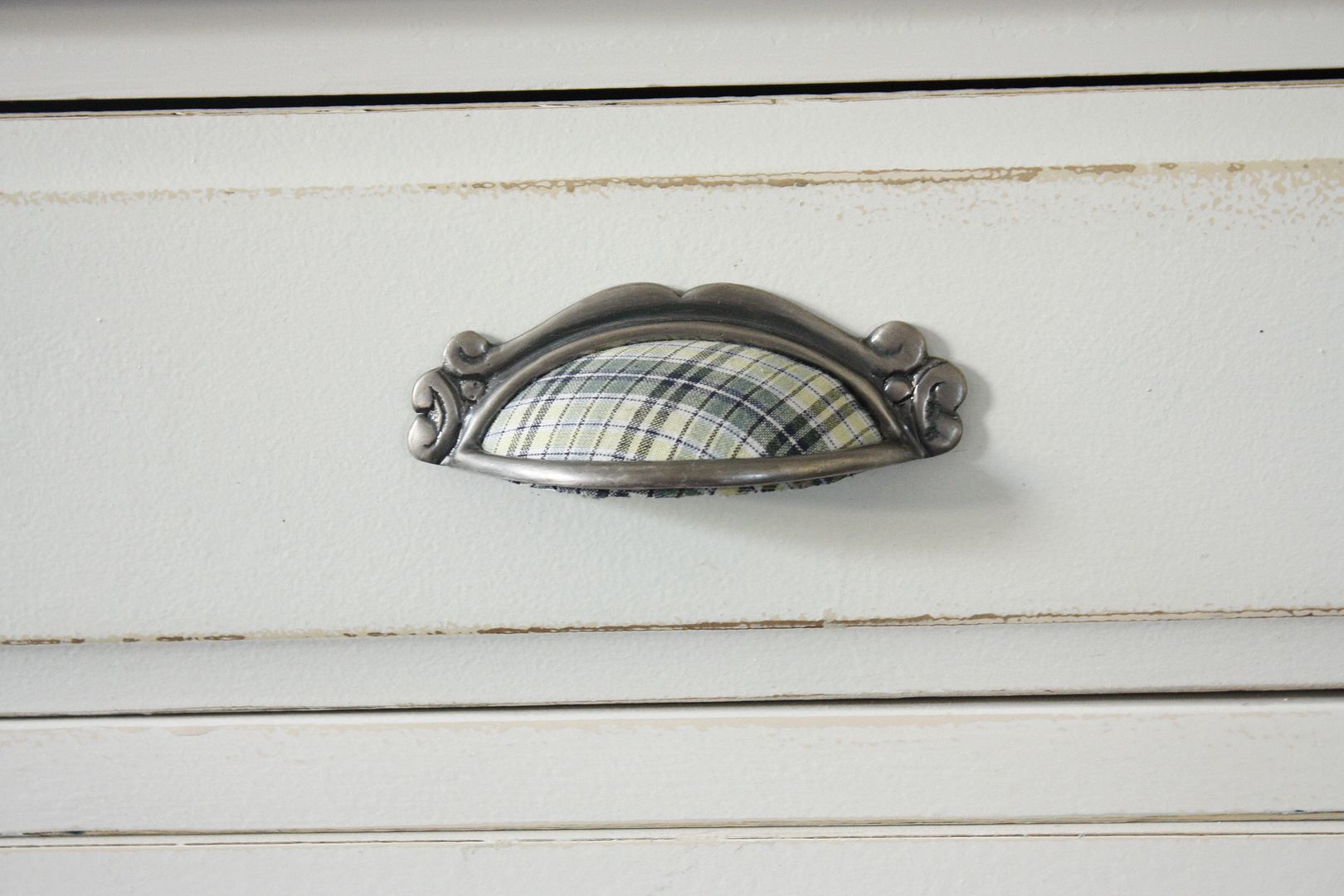 I actually just covered over the plaid with this canvas so that down the line I can go back to the original fabric if I like.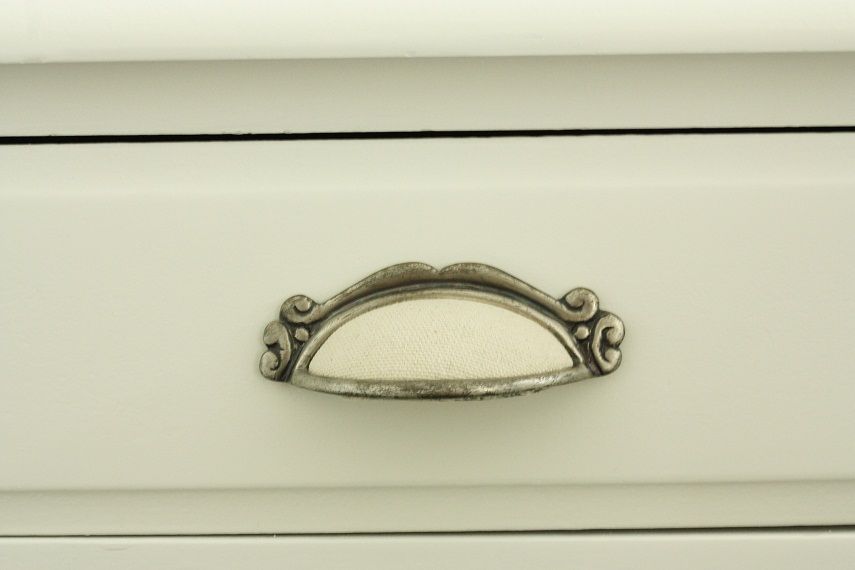 I also painted a new oversized mirror. It was a WAYYY bigger job than the dresser because I always completely remove mirrors from their frames. Just taping and then painting is fine sometimes, but you may notice that when you look at a mirror you can see a bit of the back of the frame reflecting along all the edges so I think it is important to paint the back as well for the best finished product. And let me tell you, this mirror weighs the equivalent of a hippo!
The mirror is actually one of 7 I brought home from an Ethan Allen auction I went to a few weeks ago when they moved to a new location. I was the only bidder and got them for $10! I think I'll put one in the living room at Lexington as well, and you'll love some of the other treasures I bought for it at the auction (which have some how settled in other rooms of our house, funny how that happens).
I painted it Wheat Bread which I think was from CIL. A nice blend between beige and grey, and it ties in well with the map on our dresser without being too matchy.
The sheer height and scale of it really ups the glam factor.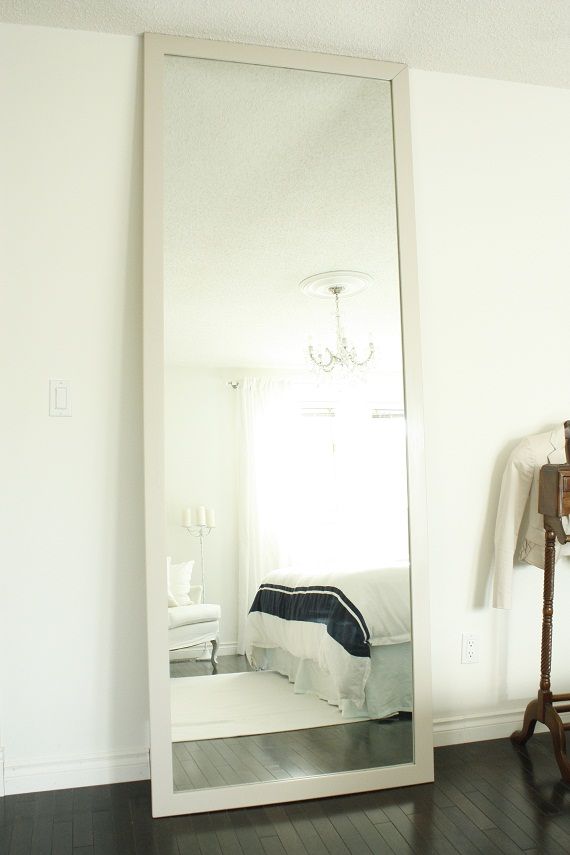 Two other Lexington purchases that have gotten awfully comfy here are these Urban Barn orchids. I got them the weekend all accessories were an extra 50% off so they were only $16 for both. Can you tell I like to arrange things in couples?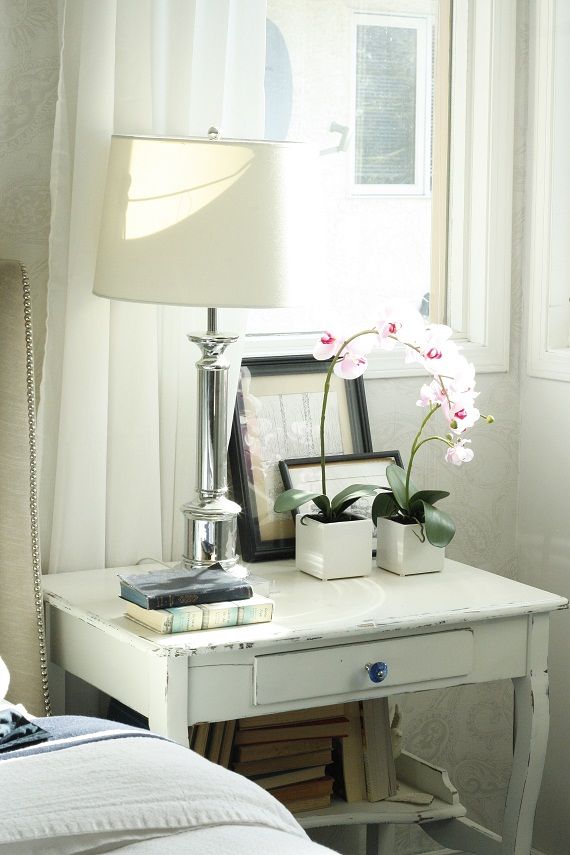 I am really happy with how things have been transforming in here since the start of the year. It is kind of feeling more and more like the calm and soothing hotel suite I never want to leave on a good holiday!
When I get the funny face I know I'm doing something right, so that's a prize unto itself!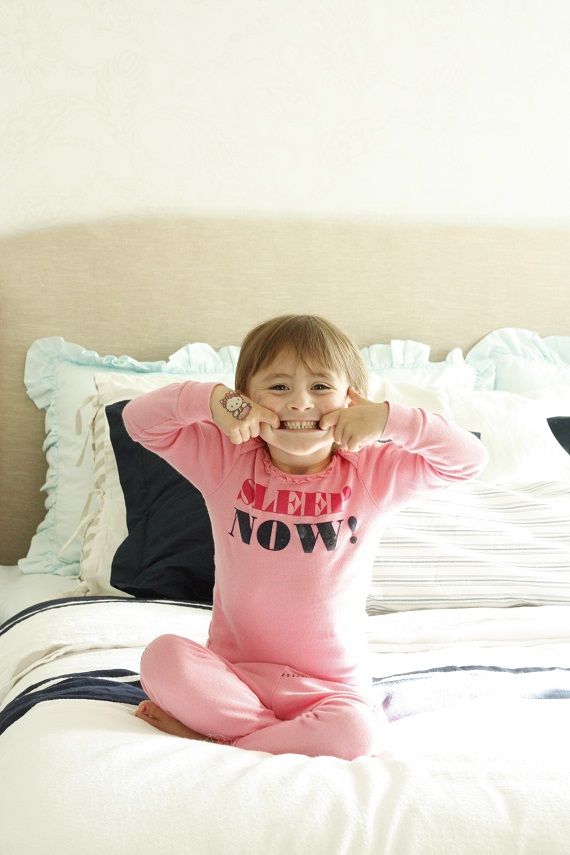 If you have been working on a transformation as well please link me in the comments!